Both Xbox Series X and PS5 have offered some truly next-gen experiences thanks to the power of their lightning fast solid state drives. Compare the loading times of your average PS4 games (that were hindered by a slow HDD) to the seamless SSD start-ups seen in Spider-Man: Miles Morales on PS5, and it's like upgrading from a horse-and-cart to a Bugatti Chiron Super Sport.
And without wanting to sound like a boastful brat, my favorite gaming SSD is considerably faster than the stock NVMe drive that helps load some of the best PS5 games so speedily.
Right now, the Sabrent Rocket 4 Plus NVMe 2TB is on sale for $129 on Amazon — a nice saving of $20 from its usual listing price. If you want your PC to load Windows 11 in a flash, I heartily recommend you look into picking up this super fast SSD if you're in the market for an NVMe drive.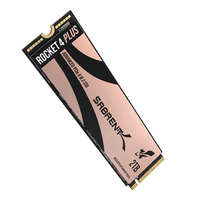 Sabrent Rocket 4 Plus NVMe 2TB: was $149 now $129 @Amazon
This ultra-fast SSD can reach speeds of up to 7,100Mbps, which makes it a great match for the most demanding console and PC games. I currently use my Sabrent Rocket 4 Plus as the main storage drive on my PC, and it's proven to be both a super speedy and super reliable.
The Sabrent Rocket 4 Plus also outguns some of the best PS5 internal SSDs. If you want to install in it Sony's console you'll need a heatsink, and you can buy the Sabrent Rocket 4 Plus NVMe 2TB with M.2 heatsink for $169 on Amazon.
In case you're not up to speed on your SSD lingo, NVMe stands for (Non-Volatile Memory Express). These M.2 drives have been around since 2008, and the latest models are substantially faster than traditional SSDs.
The standard M.2 NVMe that comes preinstalled with the PS5 can read uncompressed data up to 5,500Mbps. By comparison, Sabrent claims the Rocket 4 Plus (which is currently sitting in one of my gaming PC's M.2 slots) can reach read speeds of up to 7,100Mbps.
I've recently been using the Sabrent Rocket Control Panel to run speed tests on my NVMe, and generally I get results of 6,700Mbps, which is still comfortably quicker than PS5's SSD.
There's no question the Sabrent Rocket 4 Plus is a blazingly fast 4th-gen NVMe. Playing the excellent PC port of Ratchet & Clank: Rift Apart the other night, zipping between cross-dimensional portals felt every bit as instant as on the PS5 original.
The Sabrent's NVMe drive is one of the best components I've ever bought for my gaming PC. It loads my favorite games and apps almost instantaneously.
When I think back to the HDDs of old I used to struggle with, I realize just how far PC storage tech has come in a relatively short space of time.
More from Tom's Guide