Just a few months ago finding a PS5 restock for regular retail price was practically an impossible challenge. But after a period of significantly increased availability in recent weeks, retailers are now going a step further and offering Sony's flagship gaming console with its first-ever discount.
We definitely didn't expect to see any sort of PS5 discount until later in the year, but we're very pleasantly surprised to see that the PS5 God of War Ragnarök bundle is on sale for $509 at Amazon. That's a saving of $50 compared to its full price of $559, and easily the best PS5 deal we've spotted to date.
Even better, it's not just Amazon that is offering this discounted price either, Target and GameStop are price-matching the deal. So, whatever your preferred retailer you should be able to score an excellent PS5 bundle at a reduced price.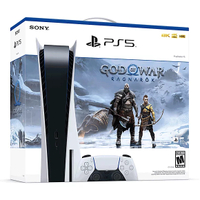 PS5 God of War Ragnarök Bundle: was $559 now $509 @ Amazon
The PS5 God of War Ragnarök bundle comes with a PS5 Disc console, a digital voucher for the full God of War Ragnarök game, and a DualSense controller. This excellent bundle is currently $50 off its full list price at Amazon. Don't worry if the online retailing giant sells out, the same deal is also available at Target and GameStop.
Even two years plus after launch, the PS5 remains one of the hottest tech items on the planet. In fact, as of December last year, it's crossed over the 32 million units sold threshold. Of course, we're not surprised that Sony's flagship console continues to be a best-seller, we labeled it "the future of console gaming" in our PS5 review, and that assessment rings just as accurate now as it did back then.
The PS5 is a phenomenal gaming machine packing seriously cutting-edge hardware, Its flagship component is the lightning-fast SSD that has practically made loading screens a problem of the past, but you shouldn't overlook its excellent DualSense controller either. This premium pad includes inventive features such as haptic feedback and adaptive triggers that do an excellent job of ratcheting up your in-game immersion.
As noted, this $50 discount is on the PS5 God of War Ragnarök bundle rather than the standalone machine, but that's not a bad thing. The follow-up to 2018's God of War reboot, Ragnarök currently tops our list of the best PS5 games for very good reason. In our God of War Ragnarök review we called the game "worthy of the gods" and praised its cinematic storytelling, engaging combat and remarkably impressive visuals.
If you're interested in scoring one of these discounted PS5 bundles we strongly recommend locking in your order as soon as possible. All three retailers note that "quantities are limited" and we expect this deal will sell out fairly quickly. Plus, be sure to check out our roundup of the best PS5 SSD deals to give yourself some extra hard drive space to play with.