The latest PlayStation Store sale has landed, and this one offers particularly good deals for PlayStation Plus subscribers. Called the Double Discounts sale, it's offering up to 80% off top PS5 and PS4 games for members of Sony's online subscription service — if you don't have a PlayStation Plus account you'll have to settle for up to 40% off.
The PlayStation Store Double Discounts sale is set to run until March 1 and is currently offering more than 400 deals across both full games and select downloadable content. There are discounts across just about every single genre of video game from online shooters to arcade racers. Plus, several PS5 exclusives such as Ratchet & Clank: Rift Apart, Demon's Souls and Marvel's Spider-Man: Miles Morales are included in this sale.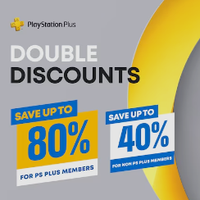 PlayStation Double Discounts: up to 80% off @ PlayStation Store
The PlayStation Store's latest sale is called Double Discounts, and it's a very good collection of deals for PlayStation Plus subscribers. More than 400 games and DLC packs have been discounted, including some of the best PS5 games currently available. Note, the full discounts are reserved for PlayStation Plus accounts of any tier level.
Best PlayStation Store Double Discounts deals
One of our favorite deals in this sale is The Witcher 3: Wild Hunt for just $19. This epic open-world RPG just got an impressive PS5 port last December, and you can also pick up the game's Expansion Pass which contains two essential DLCs for a further $14. Another great pick if you're looking for a game with dozen of hours worth of content is Ghost of Tsushima Director's Cut for $29. This action-adventure epic casts you as Jin Sakai, a samurai on a mission to protect his island home and also seek revenge on those who murdered his clan.
If you've been enjoying HBO's The Last of Us, then you might want to consider The Last of Us 2 for just $9. This is the lowest price ever for the PS4 exclusive, and the game can be played at a full 60fps on the PS5 via backwards compatibility mode. The very underrated Marvel's Midnight Suns is also been discounted with the swanky Legendary Edition dropping to $59 (was $99). Meanwhile, FIFA 23 for $27 is a deal that will surely appeal to soccer fans.
There are also a couple of games that will be compatible with Sony's upcoming PS VR 2 headset included in this sale. The most noteworthy of these is definitely No Man's Sky for $29, that's half-off its full retail price. It's already been confirmed that when the PS VR2 version launches existing owners will get a free upgrade. Plus, check our full guide on how to preorder a PS VR2 if you're wanting to secure a next-gen virtual reality headset this month.
If you're a PlayStation Plus subscriber, this is undoubtedly one of the strongest PlayStation Store sales of the year so far. And the good news is you'll have access to the full discounts at any tier level. So, you don't need a pricey Premium plan to get up to 80% off, even members on the cheapest Essential tier get access to the entire suite of deals.
The PlayStation Store Double Discounts sale runs until the beginning of March which should give you more than enough time to make your selections from the hundreds of games on offer. Check our list of the best PS5 games if you need some further recommendations.