Skechers fans, listen up, we have one of the best early Prime Day deals worth shopping, as this super-comfortable pair of Skechers slip-in shoes just dropped to $24 in an early Prime Day deal on Amazon. Of course, here at Tom's Guide, we like to try before you buy, and these shoes have been given the comfort seal of approval by one editor, who wore them for 30 miles around CES in Vegas.
"Once at the show, the Skechers were ace. According to the Garmin Epix 2 on my wrist, over the course of four days — Tuesday through Friday — I walked a total of 27.1 miles (53,878 steps), averaging roughly 6.8 miles per day. Thursday alone, I walked nearly 10 miles, as I traipsed back and forth from the West Hall of the Las Vegas Convention Center a couple of times. Yet, in all that time, my feet felt incredibly comfortable", writes TG Editor-in-Chief, Mike Prospero. The best part, the shoes currently are 59% off!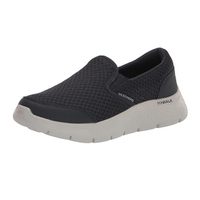 Skechers Go-Walk Athletic Slip-on: was $59 now $24 @ Amazon
At the time of writing, the shoes are available in a number of different colors and sizes, although you'll have to cycle through the colors to find the cheapest one in your size. The shoes come in a medium and a wide fit and are made from the brand's lightweight, responsive Ultra Go cushioning.
As I found when testing a similar pair of Skechers slip-on shoes, by design, these are wonderfully easy to slip on and off, so if you have mobility issues, you're traveling a lot, or you're just looking for shoes you can slip on in a hurry after a yoga class, these are fantastic.
Like most Skechers shoes, these have a memory foam insole, designed to be cushioned underfoot as you walk. During his testing, Mike found the shoes to be extremely comfortable, writing, "the insole, made of what Skechers calls "Goga Max" was very cushiony, and provided a nice little spring in the heel." You can read Mike's full review of the shoes here.
If they're not for you, Amazon also has a number of other Skechers shoes in the early Prime Day sale event.