The LG C2 OLED is one of the best TVs you can buy right now. We gave the Editor's Choice TV such a glowing review, that I purchased a unit myself. If you've been watching its price, there's good news today as the 55-inch model just hit a new price low.
For a limited time, you can get the LG 55-inch C2 4K OLED TV on sale for $1,148 at Amazon. That's the lowest price I've seen for this TV and one of the best OLED TV deals of the year. Note that the TV ships from a third party seller, in this case P.C. Richard & Son. They're a New York-based appliance/electronics store. Alternatively, Walmart and Best Buy offer it for $1,199.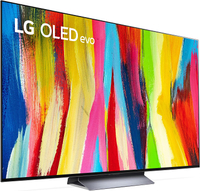 LG C2 55" OLED 4K TV: was $1,799 now $1,148 @ Amazon
The excellent LG C2 OLED TV is now cheaper than it was last week. We named this stunning television the best TV on the market right now. It combines exceptional picture-quality with a stylish design. Ideal for gamers, it packs a 120Hz refresh rate and four HDMI 2.1 ports. It also offers easy access to all the streaming services you could need. It's now at its lowest price ever. Walmart offers it for $1,199.
I've been tracking the price of the LG C2 for awhile now and this is the lowest price ever for the 55-inch model. It even beats a surprise sale from Lowe's, which dropped the price of this TV to $1,199 late last year.
It's no secret that we love the LG C2 OLED. It's our choice for the best TV on the market, and it's a seriously tempting option whenever it goes on sale. No, it's not as bright as the LG G2 OLED, but most users wouldn't notice the difference unless they looked at both TVs side by side. This combined with the C2's more affordable price makes it the better choice for most people.
The LG C2 OLED offers truly stunning visuals, with a huge range of vibrant colors on display as well as deep blacks. No matter what you choose to watch on this TV, it will look incredible, and no detail will be lost.
The LG C2 OLED is also one of the best gaming TVs we've tested. It has a 120Hz refresh rate, four HDMI 2.1 ports, and incredibly low lag time. That makes it great for displaying the best Xbox games or the best PS5 games.
If I had to nitpick, my one gripe is that the TV has tinny sounding speakers. It's also very glossy, which means you can't help but see the reflections of lights in your room or light coming in from the outside. Despite those small setbacks, it's still an amazing TV and one that I'd recommend to just about anyone.