When I bought the LG C2 OLED TV late last year, I did so after a thoroughly exhaustive amount of research — or so I thought. But, in the end, I actually missed one marginally annoying issue about the LG C2 OLED TV's display, possibly because it's something that happens on a case-by-case basis.
To make things clear, this isn't a case of buyer's remorse, as I don't regret my fancy TV purchase. It's more a realization that this new TV comes with a new set of needs for how my apartment needs to adjust to my TV. Yes, sadly, that's how much I'm letting technology control my life.
But allow me to present my story as a bit of a teachable moment. If you're going to buy a new TV — especially an OLED TV, as I'll get to in a minute — you need to think about how that TV will interact with the environment around it. Because I'm tired of how my LG C2 OLED is too damn glossy.
I bought the LG C2 to watch shows and movies, not the objects around me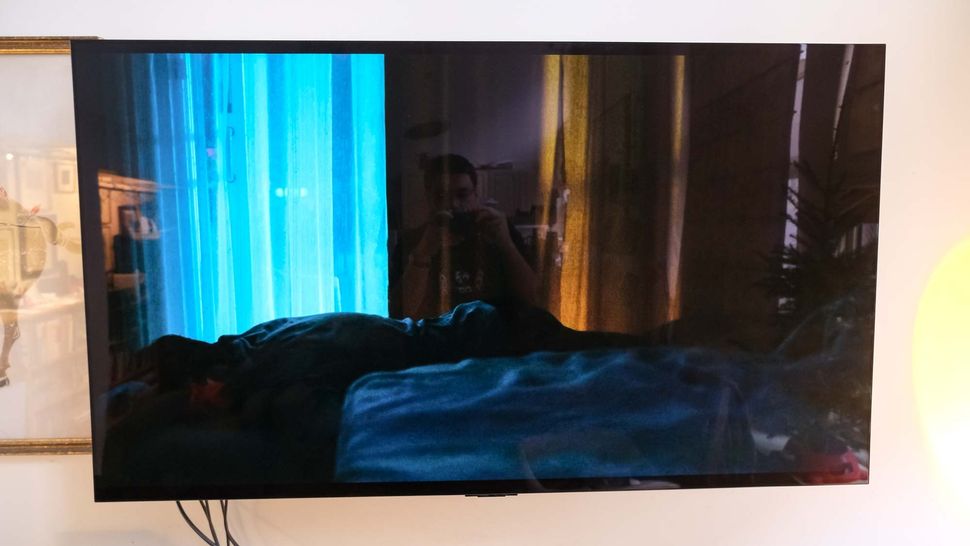 To be clear one last time: watching my favorite movies and shows on the LG C2 is amazing. But this TV is almost mirror-like in its glossiness. The issue is most prominent when I watch dark scenes in movies.
OLED TV panels, as you may know, get raves for their pure, inky black tones. And that sounds like a good thing... until you watch movies that have a lot of darker scenes, and you can't help but see the reflections of lights in your room, or light coming in from the outside. I recently experienced this watching the film Aftersun, during one of the many dark scenes where the characters are asleep in their hotel.
Dark scenes such as the above might be a rarity, you'd say. I'd say "not rare enough." Because about 10 minutes later, I noticed more reflections in a scene where the main characters are simply enjoying a meal. Look on the right side of the screen, to see for yourself.
And it keeps happening as I watch sitcoms and simply navigate menus. It doesn't ruin the experience during the latter, but it is definitely a distraction.
Other TVs aren't as similarly reflective
Not all OLEDs are the same. Respected TV reviewer Vincent Teoh has shown how reflections (here in the form of light) on the Sony A80K (currently $1,499 at Amazon) differ in the below video. The Sony TV has an anti-glare coating makes reflections appear more diffuse, while the glossier C2 practically mirrors the light.
That said, I'm still confident I made the right purchase. The Sony A80K TV costs $200 more than the LG C2, and I already felt kinda nauseous spending $1,299 on the C2. Also, the Sony model only features two HDMI 2.1 ports, and requires you to manually change HDMI signal settings to enable Dolby Vision or VRR.
And, as Teoh points out, the C2 maintains higher contrast in brighter environment.
Outlook: What to think about when buying an OLED TV
This experience has all made me think one thing: brightness matters more than I'd previously thought. The brighter a TV, the more likely it's able to combat reflections. That said, I really wish LG offered a matte-finish option for its TVs, much like how Apple used to for its laptops.
If you have high and/or tall windows — or just lamps and lighting nearby — it's time to start thinking about how everything is positioned. Me, I'm thinking about getting blackout curtains. Still, I'm a little resistant to having a pitch-black room for when I watch TV, so I'm trying to light the wall behind my LG C2, bringing in light in a place that won't be reflected on my television set. Time to look at the Tom's Guide picks for best smart lights. In fact, check out how my colleague put this smart lamp together for under $75 — and it completely surprised him.
Next: This is the TV I'm most excited for this year — and it's not from LG or Samsung.