The Samsung Galaxy Z Fold 4 is our choice for the best foldable phone on the market, but it's under tough competition with the Google Pixel Fold on the way. However, will we see a Google Pixel Fold deal as good as this one any time soon? I doubt it.
The Samsung Galaxy Z Fold 4 is just $1,349 at Amazon right now. This phone has hit a new all-time price low after a huge $450 discount. It's easily one of the best phone deals you can get right now.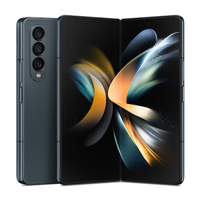 Galaxy Z Fold 4: was $1,799 now $1,349 @ Amazon
Lowest price: The Galaxy Z Fold 4 makes multitasking from your phone easier than ever. It sports a new taskbar and makes it easy to run multiple apps at once. It features a 7.6-inch Dynamic AMOLED main screen, 6.2-inch Dynamic AMOLED cover screen, Snapdragon 8 Plus Gen 1 CPU, 12GB of RAM and 256GB of storage. You also get a 50MP wide camera lens, 12MP ultra-wide lens and 10MP telephoto lens. In our Samsung Galaxy Z Fold 4 review, we called the Editor's Choice phone the best foldable you can buy right now.
In our Samsung Galaxy Z Fold 4 review, we praised this phone for its bright display, improved cameras and great performance.
The Samsung Galaxy Z Fold 4 packs a 7.6-inch AMOLED inner display and a 6.2-inch AMOLED outer display. Colors and details pop on these screens, and we loved the Z Fold 4's improved brightness and 120Hz variable refresh rate. The crease is still very much visible on the screen, but it's an easy trade-off if you want the increased productivity this foldable phone brings.
Running on the Snapdragon 8 Plus Gen 1 CPU, this phone was snappy and responsive during everyday tasks. Gaming performance was similarly good, even for demanding titles like Asphalt 9. If you want a gaming phone with a big screen that really lets you appreciate the details, the Samsung Galaxy Z Fold 4 is it.
As for the cameras, the Samsung Galaxy Z Fold 4 has a 50MP (f/1.8) wide camera lens, a 12MP (f/2.2) ultra-wide lens, a 10MP (f/2.4) telephoto lens, a 4MP (f/1.8) under-display camera, and a 10MP (f/2.2) cover camera. The 4MP under-display camera is the weak point here, but the 10MP cover camera is awesome for selfies. The outer cameras take great shots, too.
The Samsung Galaxy Z Fold 4 lasted 9 hours and 28 minutes in our battery life test, with adaptive mode turned off. This doesn't come close to the best phones for battery life, but at least the Z Fold 4 charges fairly fast: it reaches 50% in around 30 minutes. There's also wireless charging and Wireless Powershare support.
We're expecting to hear more about the Galaxy Z Fold 5 and the Google Pixel Fold later this year, but there's no way they'll match the Samsung Galaxy Z Fold 4's current asking price of $1,349. So, if you want a foldable phone at a deep discount, grab this deal before it's gone. Plus, stay tuned to our Memorial Day sales coverage for more deals.