Update: See our full Google Pixel Fold review for our detailed report on how it performs.
The Google Pixel Fold is here to show that there can be more than one major player when it comes to the best foldable phones. Google's first foldable is a well-thought-out device, but one that can't quite escape the shadow of long-standing rival Samsung and the Galaxy Z Fold 5, or the new upstart in the form of the OnePlus Open.
So was the Pixel Fold worth the wait and what makes it stand out? Let's break it down.
The Pixel Fold boasts a wide cover display that's easy to use, plenty of optimized apps to make the most of the inner display with and, of course, Pixel-grade cameras. However, at $1,799, the Pixel Fold doesn't come cheap. Here's everything you need to know, and check out our roundup of 5 reasons to buy the Pixel Fold and 3 reasons to skip. And check out our interview with the Pixel Fold's project manager to get the inside scoop on this device.
Google Pixel Fold specs
Swipe to scroll horizontally
| | |
| --- | --- |
| Starting price | $1,799 |
| Cover display | 5.8 inches OLED (2092 x 1080) |
| Main display | 7.6 inches OLED (2208 x 1840) |
| Refresh rate | Up to 120Hz for both |
| CPU | Tensor G2 |
| RAM | 12GB |
| Storage / Expandable? | 256GB / 512GB |
| Rear cameras | 48MP (f/1.7), 10.8MP ultrawide (f/2.2), 10.8MP telephoto (5x optical zoom) |
| Front camera | 9.5MP (f/2.2) |
| Inner camera | 8MP (f/2.0) |
| Video | 4K video up to 60 fps |
| Battery size | 4,821 mAh |
| Wired charging speed | 30W |
| Wireless charging? | Yes |
| Size open | 6.2 x 5.5 x 0.2 inches |
| Size closed | 5.5 x 3.1 x 0.5 inches |
| Weight | 10 ounces |
| Colors | Obsidian, Porcelain |
Google Pixel Fold release date, pre-orders and price
Going on sale as of June 27, the Pixel Fold price starts at $1,799 for the 256GB model and goes up to $1,919 for 512GB. At this price, it's on a level with the Galaxy Z Fold 5 for cost, but is a little more expensive than the $1,699 OnePlus Open.
We asked Google about the Pixel Fold's high price in an interview and the product manager provided some interesting answers.
Google Pixel Fold design and durability
Similar to the Galaxy Z Fold 5 (the Pixel Fold unfolds in a book-like fashion to reveal a large 7.6-inch display. But Google's design is actually quite different from what Samsung offers.
The Pixel Fold has a slim profile, as it measures just 6.2 x 5.5 x 0.2 inches when open. The current Z Fold 5 measures 6.1 x 5.11 x 0.24 inches.
When closed, the Pixel Fold is 5.5 x 3.1 x 0.5 inches compared to 6.1 x 2.64 x 0.53 inches for the Z Fold 5. The Pixel loses in terms of weight, though — the Pixel Fold weighs 10 ounces compared to 8.92 ounces for Samsung's current foldable.
In terms of durability, Google says that the Pixel Fold has the most durable hinge available. The 180-degree fluid friction hinge improves dust resistant and helps this device be rated for up to 200,000 folds. In addition, the Pixel Fold is IPX8 rated, so it can stand up to a spill or rain.
That hinge also enables tabletop mode, which allows you to go hands-free when watching videos, taking photos or doing a quick video call. Similar to the flex mode on the Galaxy Z Fold series, you'll get controls on the bottom half and the main content area up top.
The Pixel Fold comes in two colors: Porcelain and Obsidian. It would have been nice to have more options.
Google Pixel Fold displays
Another big way the Pixel Fold stands out versus the Galaxy Fold series is the front display. The 5.8-inch OLED cover display uses a fairly wide aspect ratio of 17.4:9 (compared to 21.6:18 for Samsung), which makes for a less cramped experience when using the device closed.
This OLED panel supports up to a 120Hz refresh rate, always-on display functionality and is rated up to 1,550 nits of peak brightness and 1,200 nits with HDR content.
The fuller 7.6-inch display has a resolution of 2208 x 1840 pixels, also goes up to 120Hz and supports up to 1,450 nits of peak brightness and 1,000 nits with HDR content.
The Pixel Fold's front is protected with Gorilla Glass Victus while the inside panel uses ultra thin glass with a protective plastic layer. Nearly everything about the display looks gorgeous, but relatively thick bezels around the internal display are an eyesore.
Through our own testing, we found that the Pixel Fold's inner display reached a maximum of 900 nits of brightness, while the outside 5.8-inch display reached as high as 1,172 nits.
Google Pixel Fold cameras
The Pixel Fold promises the same quality camera experience you get from other Pixel phones, complete with Real Tone for more accurate skin tones and Night Sight for stellar low-light images. You get a 48MP rear camera, 10.8MP ultrawide camera and a 10.8MP telephoto camera with a 5x optical zoom and 20x Super Res Zoom (digital).
There's also a 9.5MP front camera for selfies and a 8MP inner camera for selfies and video calls. Using the Rear Camera Selfie feature, with the back of the foldable open and facing you, you can use the front display as your viewfinder and snap 48MP selfies.
We took several snapshots with the Pixel Fold and found it held up well against other top camera phone contenders in the space. You can taker a look at a few of the snapshots above we took with the Pixel Fold to see how it performs.
Most notably, it has the best zoom lens in any foldable around, offering exceptional details and clarity with its class leading 5x optical zoom. We were able to get closer to subjects without sacrificing details. It also performed well under low light, producing better exposure to draw out details in the shadows.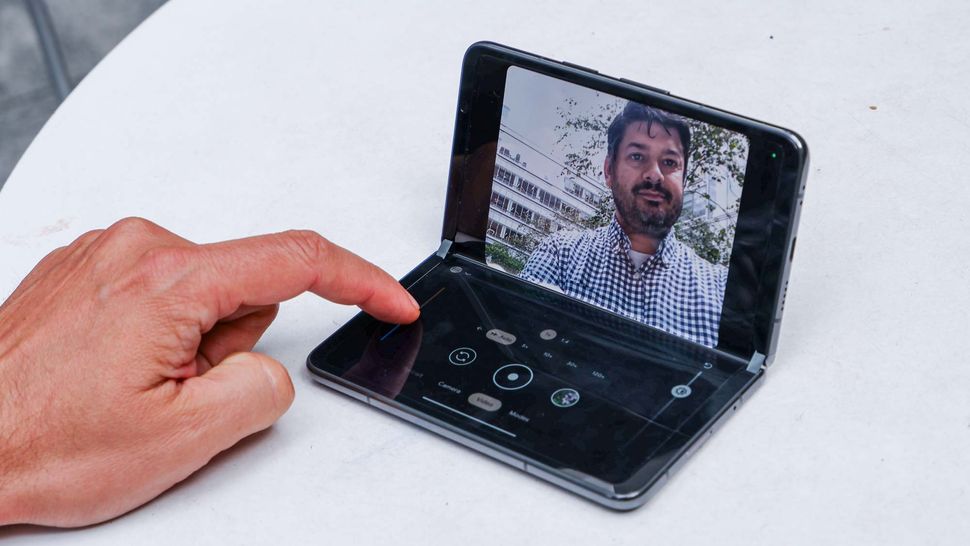 Other foldable camera features include a tabletop mode that lets you prop the Pixel Fold up on a table or shelf and use a palm gesture to snap a group shot on the fly — no timer required. Or you can put the Fold in tent mode to capture shots of the night sky.
Just as with the Pixel 7, Pixel 7 Pro and Pixel 7a, you can take advantage of special photo features like Magic Eraser and Photo Unblur in the Google Photos app to remove unwanted subjects and sharpen your pics.
Google Pixel Fold software and apps
The Google Pixel Fold runs Android 13 out of the box but will get Android 14 later this year. But there's plenty of foldable optimizations available now with the Pixel Fold.
For example, the Pixel Fold features a taskbar just like the Galaxy Z Fold, making it easy to switch between apps, and it's dynamic so the taskbar disappears when you're not using it. The Pixel Fold also makes it easy to run two apps side by side and drag and drop content or files between the windows.
Google also says that more than 50 of its apps have been optimized for large screens, and it's working with several third-party developers to enhance their apps for foldables, including TikTok, Spotify and Disney Plus.
Things will get even better once Android 14 rolls out, because the Pixel Fold will offer a very cool live translation feature that leverages the front and rear displays at the same time as you speak.
Google Pixel Fold performance
The Pixel Fold features the same robust Tensor G2 chip as the Pixel 7 series, which means you should expect fairly swift performance. However, don't expect the same speed as the Snapdragon 8 Gen 2 chip that powers the Galaxy Z Fold 5.
The Tensor G2 is backed up by 12GB of RAM, which is good, and you get your choice of 256GB or 512GB of storage when ordering.
There were some quirks with the Pixel Fold during our testing, like how the camera app got stuck in an odd aspect ratio. Furthermore, its performance in various synthetic benchmark tests failed to eclipse its main rivals in the space.
For example, it pulled in scores of 1,390 and 3,291 respectively with GeekBench 6's single-core and multi-core tests. Those results were lagging behind the scores put up by the Galaxy Z Fold 4's year-old Snapdragon 8 Gen 1 chip.
Google Pixel Fold battery and charging
The Pixel Fold packs a 4,727 mAh battery, which is bigger than the 4,400 mAh battery in the Galaxy Z Fold 5. However the Z Fold 5 lasts slightly longer on a charge, surviving 10 hours and 55 minutes on our battery test while the Pixel Fold achieved 10 hours and 21 minutes.
In our real-world testing, we still pleased by the Pixel Fold's battery life. At the very least, you'll get a solid one-day's use out of a full battery with the Pixel Fold. Even though it trails some of the other devices on our best phone battery life list, it's expected because foldables drain more due to their larger displays.
You get 30W wired charging for the Pixel Fold, which is the same as the Pixel 7 and Pixel 7 Pro. And the Pixel Fold supports Qi wireless charging on top of that.
Google Pixel Fold outlook
The Pixel Fold certainly seems like a promising entry into the foldable phones market. It offers a durable and flexible hinge, a front display that looks easy to use and a premium camera experience in the thinnest foldable design yet.
It's also encouraging to see Google optimizing its own apps for foldables and pushing developers to do the same. However, the $1,799 price will give anyone pause because Google is known for undercutting Samsung and other flagships.
So far after testing the Pixel Fold, it's proving more to be a champ among foldables and should be in consideration for the best phones this year.