The Samsung Galaxy Watch 6 is a wearable worth getting excited about. We've already had some hands-on time with the smartwatch and our early impressions are extremely positive. This sixth-generation watch is shaping up to be Samsung's best effort yet, and courtesy of Amazon you can order yours and get a little extra back.
For a limited time, the Samsung Galaxy Watch 6 comes with a free $50 gift card at Amazon. This deal applies to all models of the device including both the regular Samsung Galaxy Watch and the larger Samsung Galaxy Watch 6 Classic. Plus, if a free Amazon voucher wasn't enough of an incentive, all variations of the wearable also come with a free fabric watch strap.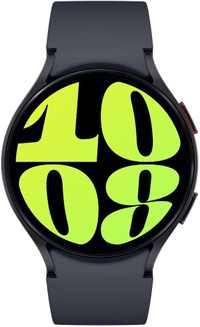 Samsung Galaxy Watch 6: from $299 w/ $50 Gift Card @ Amazon
The Samsung Galaxy Watch 6 is set to launch on August 11 starting from $299. All orders at Amazon come with a free $50 Gift Card and a fabric band. The latest Galaxy Watch lineup makes meaningful upgrades with a slightly refreshed design, additional fitness and wellness features and a brighter display. But all this new tech doesn't come at the cost of battery life, with the Galaxy Watch 6 still rated for 40 hours on a single charge.
The Samsung Galaxy Watch 6 is set to launch on Friday, August 11, priced from $299 for the standard 40mm model up to $479 for the larger 47mm Classic version. In our hands-on review, we labeled the wearable the "most polished Samsung smartwatch yet" and were impressed by its "thoughtful design and wellness upgrades." We're particularly pleased to see that the latest Galaxy Watch offers a few substantial upgrades after the previous generation was more of an iterative update on what had come before.
Powered by the excellent Wear OS, the Galaxy Watch 6 is well-positioned to be included in our roundup of the best fitness trackers, and places a particular emphasis on sleep and heart health tools. We also love the reworked design that aligns more flush with the display and bezels that are around 30% slimmer than the Samsung Galaxy Watch 5. Plus, the display is brighter with a peak of 2,000 nits. The new interchange band mechanism is another win for the Galaxy Watch 6.
Meanwhile, the slightly more expensive Samsung Galaxy Watch 6 Classic boasts a 15% thinner rotating bezel, and once again sports a physical dial that is highly satisfying to use thanks to its audible clicking sound. The Classic is a great pick if you're looking for a slightly larger device that more closely resembles a traditional timepiece.
Based on our time with Samsung's latest smartwatch, it appears to make meaningful improvements that have a tangible impact on the overall user experience. It seems a near shoo-in to claim a high spot in our best Samsung watch rankings, and if you're looking to buy one we definitely recommend scoring this Amazon deal while it lasts. Not only are you getting a solid smartwatch at launch, but you can use that $50 gift card to buy accessories and extras.