I search for deals every day for Tom's Guide, and this one had me doing a double take. No, the Samsung Galaxy S22 is no longer the latest flagship, but it's still an excellent phone and this huge discount makes it a seriously compelling purchase.
The Samsung Galaxy S22 Ultra (128GB) is $697 at Woot right now. The phone is sold unlocked, and it's one of the best cell phone deals I've seen all year. There's no telling how long stock will last, so don't hesitate if you want this phone. (Amazon is selling the phone for $899, which is also a great discount.)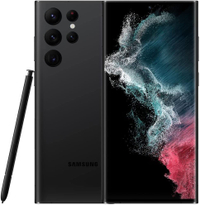 Samsung Galaxy S22 Ultra (128GB): was $1,199 now $697 @ Woot
Lowest Price! It's no longer the latest model, but the Samsung Galaxy S22 Ultra is on sale for an incredible $500 discount at Woot. It sports a beautiful display, a speedy chipset and powerful cameras. And there's a S Pen built in. The battery life could be better, but overall this is a smartphone worthy of of its Ultra moniker. Amazon sells the phone for $899.
Before Samsung Galaxy S23 Ultra came along, we ranked the Samsung Galaxy S22 Ultra as the best Android phone on the market. If you don't mind not having the latest model, the Samsung Galaxy S22 Ultra is still an awesome phone.
In our Samsung Galaxy S22 Ultra review, we praised this device in almost every aspect. It packs a gorgeous 6.8-inch AMOLED display, with a variable refresh rate of up to 120Hz. Plus, the Snapdragon 8 Gen 1 delivers excellent performance, even during tough tasks like gaming.
The Samsung Galaxy S22 Ultra is an awesome camera phone, too. It packs a 108MP main lens, a 12MP ultrawide lens, a 10MP 10x telephoto and a 10MP 3x telephoto lens. These produce some incredible shots, especially in low-light conditions. The 40MP front camera is also excellent for selfies and video calls.
Also included with the Samsung Galaxy S22 Ultra is the S Pen. This stylus can be used to write or draw on the phone's screen, with an extremely low latency of 2.8 ms. This is an invaluable feature for artists on the go and those who like to take notes by hand. You can also dock the S Pen inside the phone when you're not using it.
Battery life is the only slight stumbling block for this phone. We got a maximum battery life of 10 hours and 18 out of this phone in our tests, with the refresh rate to 60Hz. That's not bad, but it can't beat the best phones for battery life like the iPhone 14 Pro Max at 13:39.
This is a truly awesome deal on an excellent phone that I'm not sure will be beaten any time soon. However, if you're still looking for your perfect phone, check out our iPhone deals coverage.