The best microphones for gaming, streaming and podcasting make it brilliantly easy to create your own home recording setup, with sound quality that can beat the mics built into even the best gaming headsets. From in-game comms that cut through the chaos to crystal-clear podcast recordings, even with with multiple guests, these mics will deliver.
For these rankings we've focused on desktop microphones. One of the great things about these kinds of microphones is that they're easy to use: just plug them in, power up and start speaking.
To find out more about the best microphones for gaming, streaming and podcasts that we've recorded, read on — and consider the best webcams for streaming as well.
Top 3 best microphones for gaming, streaming and podcasting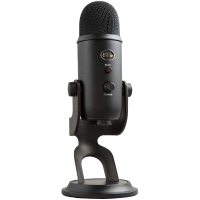 Best overall: Blue Yeti
The Blue Yeti has been the king of affordable USB microphones for years, and it tops the list here too. Its sound quality far exceeds its pricing, and with multiple recording patterns to choose from, you can adjust the Blue Yeti for group podcasts and interviews as well as the kind of solo recording you'd perform when gaming or streaming.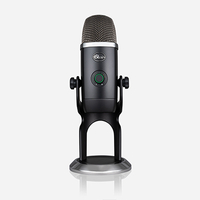 Best features: Blue Yeti X
The upgraded Blue Yeti X version ranks highly. It doesn't provide drastically improved sound, but does manage to take the Yeti's broad design and make it even easier to use, with a gain control that allows fine adjustments and an LED display that usefully shows your mic level.
The best microphones for gaming, streaming and podcasting you can buy right now
Blue microphones are held in high regard for their gaming and streaming performance, and you can see why from the number of them on this list. The flagship Blue Yeti is the best of the best in terms of quality and value, combining top-notch recording and a range of recording pattern options with an affordable price.
It's not just ideal for gaming and streaming, either. The Blue Yeti's omnidirectional and bidirectional modes also make it an excellent choice for podcasters, especially if you want to record someone multiple speakers with a single mic.
Read our full Blue Yeti review.
The JLab Talk is absolutely worth considering if you want the flexibility and recording quality of the Blue Yeti at an even lower price. Its only real drawbacks compared to its big rival are a more plasticky design and a less impressive bidirectional mode — but the former is balanced out by the Talk's more adjustable stand, and the latter can largely be ignored if you just use omnidirectional recording instead.
Otherwise, this is a fantastic debut microphone from JLab. Voice recordings sound a little richer than the identically-priced Blue Yeti Nano, and it's as simple to get up and running as a USB microphone can get.
Read our full JLab Talk review.
While a lot of USB mics can handle a lot of different roles, the Rode PodMic excels as a specialized podcasting microphone. Its integrated pop filter helps produce clean, clear sound, with background noise kept to a minimum. This latter detail is important on any microphone, obviously, but avoid distractions is especially vital when recording a podcast.
The PodMic's laser-focus means it's not for everyone. Besides lacking a stand, presumably on the grounds that any serious podcaster will add their own preferred stand, its XLR connection means you can't just plug it into your PC or laptop. But if you have the hardware to support the PodMic, it's worth buying and then some.
Read our full Rode PodMic review.
This souped-up Blue Yeti spinoff adds a handful of design improvements, like a set of customizable LEDs that can give you real-time feedback on how loudly you're speaking. The gain control also moves to the front, which is a more sensible position than the rear-mounted gain dial of the standard Blue Yeti.
Why, then, is the Blue Yeti X not at the top of this list? Considering how much more expensive it is than both the Blue Yeti and the JLab Talk, it doesn't quite make the same value proposition, even with its various tweaks. That said, if you can afford the premium, there's no arguing against this being the most advanced gaming, streaming and podcasting microphone of the three.
Read our full Blue Yeti X review.
The Movo UM700 is billed as a "Blue Yeti killer," and while we found it falling a little short of such a feat, it's still one of the best microphones for gaming, streaming and podcasting. At the very least it's cheaper than the standard Blue Yeti, and is about a pound lighter too.
You also get all of the same recording patterns, so there's plenty of flexibility for switching between a solo streaming setup and group podcasts. Other than needing some gain tweaks, the UM700 makes for a good beginner's mic, thanks to its simple plug-and-play design and straightforward controls.
Read our full Movo UM700 review.
Sitting somewhere between the standard Blue Yeti and the Blue Snowball Ice, the Blue Yeti Nano aims to offer to the same recording quality as namesake — but in a smaller package, and at a lower price.
Sure enough, the Blue Yeti Nano sounds great and remains enticingly affordable. The JLab Talk delivers slightly better audio, a couple of extra directional patterns and an adjustable stand, but the Nano is still a respectable alternative. Cardioid recording works well for gaming and streaming, while its omnidirectional mode caters for podcasts with multiple speakers.
Read our full Blue Yeti Nano review.
Aspiring streamers, here's a microphone specifically for you. The Wave: 3 is accessibly priced, uses a cardioid recording pattern that's ideal for solo streaming, and is built to work seamlessly with the Elagto Stream Deck: a 16-button keypad that's become a staple of many professional streaming setups.
By using the Stream Deck to control your mic's recording properties, you can adjust the sound input using the same interface for controlling the stream itself. And the Wave: 3 itself isn't half bad either: it's got high sound quality, easy USB connectivity and a more tasteful look than the HyperX QuadCast.
Read our full Elgato Wave: 3 review.
Yes, the standard QuadCast is cheaper, but if you want to add some flair to your on-screen streaming setup — or you just have a soft spot for RGB lighting — the more colorful, customizable HyperX QuadCast S is a good choice as well.
This delivers the clean, crisp recording quality you'd expect for the price, and with its integrated pop filter and shock mount, there's added protection against unwanted sounds. There's a good range of directional patterns too, though the RGB lighting really is the star of the show. You can enjoy its gently pulsing default effect or download HyperX's NGENUITY software to choose your own colors and effects.
Read our full HyperX QuadCast S review.
How to choose the best microphone for gaming, streaming and podcasting
The qualities that make a microphone ideal for gaming also tend to make it ideal for streaming: when you're the only person speaking into the microphone, the only directional pattern you really need is cardioid, so as long as overall sound quality is up to standard you can go without omnidirectional, bidirectional or stereo modes. You should be able to simply plug the microphone in, tilt it towards your mouth and focus on playing.
Conversely, you should choose a microphone with bidirectional and/or omnidirectional modes if you're going to be recording podcasts by having multiple people speak into the same mic. The bidirectional patten records directly in front of and behind the microphone, while omnidirectional pattern picks up everything in a 360 degree radius. As such, bidirectional is better for one-on-one conversations like interviews, while omnidirectional is better for group chats.
Alternatively, if you can afford multiple microphones for each speaker, make sure they're all in cardioid mode so they only pick up their respective user.
Many of the microphones on this list are capable of gaming, streaming and podcasting. You only need to spend more on a specialized device, like the Rode Podcaster, if you know you're only going to focus on just one of these applications. Still, you should consider any features you might want outside of sound quality and supported directional patterns, like onboard controls. These can help you adjust how you sound on the fly without needing to dive into potentially confusing software.
How we test the best microphones for gaming, streaming and podcasting
We test microphones is conditions as close to their intended use cases as possible. For gaming, streaming and podcasting microphones, that naturally means trying each mic in a variety of situations.
Besides simply gaming, usually with our headset mic disabled and using the microphone on test as the input instead, we'll also use each model in meetings and on group calls so we can solicit feedback on how each one sounds.
We'll also record ourselves speaking, using the various directional patterns if available, and listen back to judge for ourselves. This also lets us see whether every microphone plays nicely with recording software, like you might use while streaming, though since plug-and-play simplicity is a hallmark of USB microphones there are rarely any hiccups.
Contributions from: Jame Archer