Working from home is a great perk, and more common now than it was a few years ago. Distractions are difficult to avoid, though, especially in the confines of the home when working alongside fellow housemates. From constant iPhone notifications to Netflix binges, to my young son seeking daddy's attention seemingly every minute, getting through the work routine in my home environment can present daily challenges. Even enjoying short stretches of downtime can also present difficulties, but I found that headphones are a great tool to help me optimize my productivity.
Now, with the right headphones, I can participate in Zoom meetings and presentations with the best call quality, focus on my work free from distractions with elite active noise cancellation (ANC), and enjoy the highest quality sound when taking some downtime listening to music on my lunch breaks. Headphones have proved as essential a tool for my home working as one of the best business laptops. They can work for you too, depending on your priorities.
Whether for business or entertainment, ambient immersion or complete silence, read on to discover the top models I recommend for working from home. They all help bring balance to my working day and to stay productive.
Best for noise cancelling
1. Bose 700
When asked how I kept my sanity working from home and raising a toddler during the pandemic, my response remains the same: noise-cancelling headphones. The Bose 700 headphones are the most powerful noise neutralizer out there, offering up to 10 levels of adjustable ANC and eliminating up to 90 percent of external sounds. They've kept me focused on assignments during chaotic times; writing while my son watches Encanto on repeat and plays with loud electronic toys is tough.
I love using the 700 headphones as a calling headset, too, since they produce grade-A call quality. There's also an enhanced version called the 700 UC that comes with stronger connectivity and video conferencing integration for Microsoft Teams, Google Meet, and Zoom via USB dongle.
Sound is clear and dynamic for music listening, plus you can customize the soundstage through the built-in EQ. Other noteworthy hallmarks include terrific touch controls and voice assistance.
Best for professional calls
2. Jabra Connect 5T
I often switch between headphones and earbuds, mainly because the former becomes fatiguing on the skull after several hours of wear. All of my afternoon chats are taken on the Jabra Connect 5T earbuds. They were designed as an enterprise alternative to the favorably reviewed Elite 5, and have outstanding call quality.
Every client, co-worker, and family member has praised the clarity and noise-free backdrops of my calls. Communications sound clear in all environments; I've yet to experience any background interference when chatting on my balcony.
Features like Call Experience increase loudness on calls, while wear detection lets you answer or mute calls through wear detection. HearThrough makes up for the model's lackluster ANC by delivering some of the best ambient hearing in the category, which kept me alert of the baby and deliveries during office hours. Since these buds share nearly the same architecture as the Elite 5, they also benefit from well-balanced sound.
Jabra even bundled the Connect 5T with a cool-looking wireless charger that sits handsomely on any desk and takes up little space.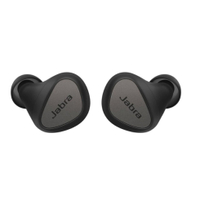 Jabra Connect 5T: $169 @ Best Buy
This Best Buy exclusive is a terrific option for those who want a premium calling headset in true wireless form. Jabra's technologies perform up to par on the audio and calling fronts. In addition, productivity features like Bluetooth multipoint let you pair to two devices at the same time.
Best for time-out listening
3. Sony WH-1000XM5
Music is the soundtrack to my life. Some studies show it acts as a productivity booster, which makes owning a pair of great-sounding cans even more ideal. My recommendation is the WH-1000XM5 for its balanced, spacious audio. Sony's sound profile has been tweaked to produce crisper mids and highs, while maintaining its signature punchy and energetic presence.
Proprietary technologies like Digital Sound Enhancement Engine (DSEE) significantly upscale lo-fi recordings, and 360 Reality Audio is a solid spatial audio alternative for cinematic sound. This is also one of the few models that integrate with popular music streaming services; you can enable 360 Reality Audio on Tidal and seamlessly connect to Spotify with the push of a button.
The WH-1000XM5's ANC has kept noise to a minimum, never compromising my attention or the soundscape. However, it is Sony's Transparency Mode that steals the show, granting up to 20 levels of ambient attenuation, and is strong enough to pick up conversations around me. You'd be surprised how handy this comes when listening out for fast food deliveries on the clock.
Best working from home headset
4. Anker PowerConf H700 Upgraded Version
I could have placed conferencing staples like the Bose 700 UC or Microsoft Surface Headphones 2 in this slot, but the latest entry in Anker's popular headset line is the better investment based in price and performance. Although I haven't reviewed the the Anker PowerConf H700 for Tom's Guide, I've use them regularly with video conferencing platforms, including WebEx, Google Meet, FaceTime, and Zoom. They boast one of the comfiest designs out there, highlighted by lightweight materials and plush cushioning for all-day wear. Bluetooth connectivity is strong, plus the bundled USB adapter extends wireless range by up to 100 feet.
But it's the PowerConf H700's practical features that keep the headset and the gorgeous charging dock sitting at my desk. Meeting Transcription decently records and transcribes conversations. The headset also supports simple muting options; lifting the boom mic to silence myself on calls is so convenient.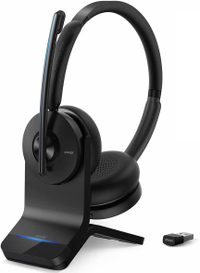 Anker PowerConf H700 Upgraded Version: now $149 @ Amazon
Built-in productivity tools and user-friendly controls keep the PowerConf H700 in the conversation for best work-from-home headset. Battery life is solid at 24 hours. Comfort is superb. Sound is surprisingly good for music and voice chats. In addition, accessories like the charging stand double as nice desk décor and power up the headset in minutes.
Best backup earbuds
5. Apple AirPods Pro 2
It's easy to lose track of how much juice your go-to headphones have left when you're on a time crunch, and I always need a backup pair on hand. My backup pair are Apple's AirPods Pro 2. Not only have the next-gen flagship buds been clutch when taking last-minute calls on my iPhone and MacBook, thanks to instantaneous pairing, but as Tom's Guide's audio editor Lee Dunkley put it, "the audio quality from the AirPods Pro 2 is exceptional."
The upgrades introduced on this sequel continue to serve me well. Having an hour more of playtime with ANC on lets me enjoy Apple Music a little longer. Find My (AirPods) support for the new MagSafe charging case keeps the buds close by at all times. Then there's Personalized Spatial Audio that creates an intimate 3D soundscape tailored to my hearing. The new ear tip kit has also made a big difference, forming a tighter seal around the ear, which also helps to make these perfect for running.
More from Tom's Guide