Apple's latest iPhone 11, iPhone 11 Pro, and iPhone 11 Pro Max will surely be a hot items this holiday season. So if you're due for a phone upgrade and hunting for the best iPhone deals in town, you've come to the right place.
We're rounding up the best iPhone deals you can get today along with a sneak peek at what kind of iPhone Black Friday deals you can expect in the coming weeks.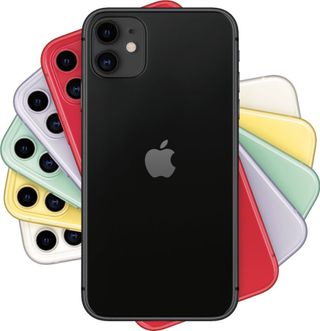 iPhone 11: Up to $850 off with Trade-in @ Best Buy
If you have your heart set on the latest iPhone, Best Buy offers a mix of iPhone 11 carrier deals from AT&T, Sprint, and Verizon. With activation discounts and trade-in credits, you can score the new iPhone 11 for as little as $249. This is one of the best iPhone 11 deals we've seen since its release.
Apple iPhone XR: was $25/mo. now $8/mo.
If you want the most affordable iPhone, for a limited time, you can lease iPhone XR (64GB) for $8/mo. with no money down via Sprint's 18-month Flex plan. (Scroll down to "Flash Sale" to see this deal). Normally, you'd pay $25/mo. to lease this phone, so that's a total of $306 off.View Deal
iPhone 11
The Apple iPhone 11 boasts a 6.1-inch Retina Display, Apple's new A13 Bionic chip, and the base model offers 64GB of storage. On the back, you'll find a 12MP wide and 12MP ultra-wide lens. It's available in a range of new colors and offers silky smooth performance no matter what you're doing.
iPhone 11 Pro
The iPhone 11 Pro is a compact phone that delivers premium performance. Unlike the iPhone 11, the iPhone 11 Pro packs a third telephoto lens, which gives you more range. It also ditches the LCD screen for a 5.8-inch OLED display. In terms of performance, it sets a new standard for low light photography.
iPhone 11 Pro Max
The iPhone 11 Pro Max is Apple's top-of-the-line smartphone boasting a gorgeous 6.5-inch Super Retina XDR display. If you want the longest battery life, the iPhone 11 Pro Max is the iPhone for you as it lasted nearly 12 hours on our web surfing test. By comparison, the regular iPhone 11 Pro lasted 10:20.
iPhone XS Max
The iPhone XS Max is Apple's former big-screen iPhone. Although it's now a year old, it still packs a powerful A12 Bionic CPU that can smoke most Android phones. Its 6.5-inch OLED screen is a sight to behold and makes everything from movies to games pop from the screen.
iPhone XS
The 5.8-inch iPhone XS is a smaller version of the iPhone XS Max. Both phones pack the same processor, an OLED screen, and start with 64GB of storage. I personally own this phone and find it offers excellent performance, wether I'm playing Mortal Kombat or streaming from Netflix.
iPhone X
Now two years old, the iPhone X still remains an iconic iPhone as it was the first iPhone with Face ID and an edge-to-edge screen. It was also the first iPhone to ditch the home button. Its 5.8-inch OLED screen is better than the iPhone 8's, but it doesn't compare to the better quality you'll get from Apple's newer OLED-based iPhones.
iPhone XR
With its new $599 price tag, the iPhone XR is one of the best values in Apple's iPhone family. It also sports a large 6.1-inch Liquid Retina display, although the LCD screen doesn't compare to the better OLED screens found in Apple's higher end phones. That said, the A12 Bionic chip is still a serious contender and offers superfast performance that won't disappoint.
iPhone 8
With its thick bezels and prominent home button, the iPhone 8 looks downright outdated compared to today's newer iPhones. But this A11 Bionic-based iPhone still has plenty of life left offering fast performance for everything from streaming to gaming. Just don't expect it to break any speed records.