The Steam Summer Sale is back, and you have until July 13 to stock up on its discounted goodies. After all, why go out in the actual summer sun when you could be adding to your Pile of Shame with a huge number of compelling reduced price games. Sunshine is so overrated.
Below, you'll find the very best PC games that are available in the Steam Summer Sale 2023. Yes, it's a small list, but every game below is an absolute classic. We've picked a different genre for each entry, and every title below is at least 30% off its regular sales price.
Whether you're craving an open-world wonder, a savage shooter or an expertly crafted horror remake, these games are all worthy of your hard-earned cash.
Elden Ring
This ambitious rejig of the tried and tested Dark Souls formula took the world by storm upon release. And with good reason: Elden Ring is a modern classic. Mounted combat is perhaps a little messy at times, but hoo-boy what a world. Legendary game director Hidetaka Miyazaki takes everything he learned over the course of the Souls trilogy, infuses it with assured story flourishes added by George R. R. Martin and spreads these fantasy themes across an astonishing map. The Lands Between can take you from serene to suffering in mere seconds, with sights and sounds that dovetail between beauty and barbarism. Oh, and stabbing monsters who look like mummified hyenas is fun, too.
Elden Ring: was $60 / £50, now $42 / £35
Doom Eternal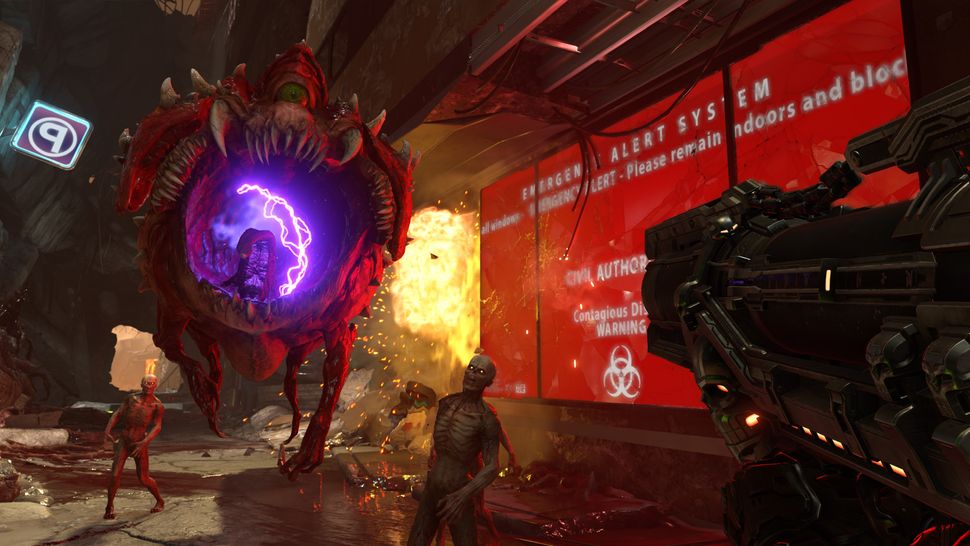 Even though it only came out in 2019, Doom Eternal is already iconic. This fast-paced shooter is lean, brutal and utterly relentless. Playing as the Doom Slayer, your mythical mercenary stomps, gouges and garottes anything in his absurdly macho path. This is gaming as its most primal; all searing flashes of violence and instinctive acts of murderous muscle memory. You come, you conquer… you leave every hell beastie in a puddle of its own excrement. Gunplay is tight, monsters are gloriously squishy and every 'Glory' kill strings you from one exhilarating shootout to the next in seamless fashion. This is a grimly gleeful celebration of campy monster murder.
Doom Eternal: was $40 / £35, now $13.19 / £11.54
Crusader Kings 3
This sweeping strategy game is pure soap opera. If you can push past the intimidating opening of Crusader Kings 3, you'll soon discover a grand RTS that's seriously messed up. And that's absolutely a compliment. A twisting game of mediaeval politics and global warfare, one minute you're crushing the Byzantine Empire, the next you're worrying about an endless line of backstabbing would-be usurpers. It's basically Succession: The Game… it just replaces all the "f**k offs'' and sharp suits with old timey treachery and turn-based tactics. It's also a perfect game for Steam Deck.
Crusader Kings 3: was $50 / £42, now $25 / £21
Forza Horizon 5
The best arcade racer of the past few years is now 50% off in the latest Steam Summer Sale. Playground Games is now a master of the open-world racing genre, and Forza Horizon 5 is as well polished a driving game as you'll find in 2023. Is the toe-curling 'niceness' of the tourist-focused campaign a little patronising? Sure. But the odd annoying co-driver can't dent the appeal of losing yourself in the astonishing terrain of that sprawling, hugely detailed Mexican map. The PC version of Xbox Series X's premier racer runs brilliantly, with Horizon 5 boasting the most accessible, instantly enjoyable arcade handling model around.
Forza Horizon 5: was $60 / £60, now $30 / £30
Dead Space
The newest entry on this list, this year's Dead Space remake serves up spine-shredding survival horror of the highest order. This is a pitch perfect redux of the 2008 classic. All the best scares are left in place, space engineer Isaac Clarke gets fleshed out with a fully voiced performance and EA's Frostbite Engine breathes new life into the claustrophobic corridors of the USG Ishimura. All these years on, the concept of 'Resident Evil in space' is still an electrifying idea, and this superb remake improves on the pacing of the original, while massively improving several annoying boss encounters.
Dead Space: was $60 / £50, now $42 / £35