Yamaha YAS-209 specs
Price: $350
Colors: Black
Ports: HDMI (with ARC) in; HDMI out; Optical in
Speakers: 4x 1-3/4-inch mid drivers; 2x 1-inch tweeters; 1x 6-1/2-inch subwoofer
Smart assistant: Alexa
Wireless: Wi-Fi; Bluetooth 4.2
Size: 36.6 x 4.3 x 2.5 inches (soundbar); 36.6 x 4.3 x 2.5 inches (subwoofer)
Weight: 6 pounds (soundbar); 17.4 pounds (subwoofer)
The Yamaha YAS-209 can count itself among the very best soundbars, and for good reason. Packaged with a wireless subwoofer to boost low-end frequencies and with Alexa integration onboard, this is a smart and versatile combo system that sounds rich and powerful, yet manages to stay relatively affordable.
Read our full Yamaha YAS-209 review to find out more.
Yamaha YAS-209 review: Price and availability
Launched in 2019 and still going strong, the YAS-209 soundbars is aimed at delivering great features at an affordable price. Its available directly through Yamaha dealers priced at $350 or can be found at Amazon.
Yamaha YAS-209 review: Design
The 36.6 x 4.3 x 2.5-inch YAS-209 is a slim soundbar, but it doesn't sound thin, thanks in part to its very large 16.5 x 16 x 7.5-inch wireless subwoofer. While many soundbars try to find ways to shrink the sub, this one will definitely take up some space in your room. The main unit includes four 1.75-inch drivers and two 1-inch tweeters, while the sub houses a 6.5-inch woofer.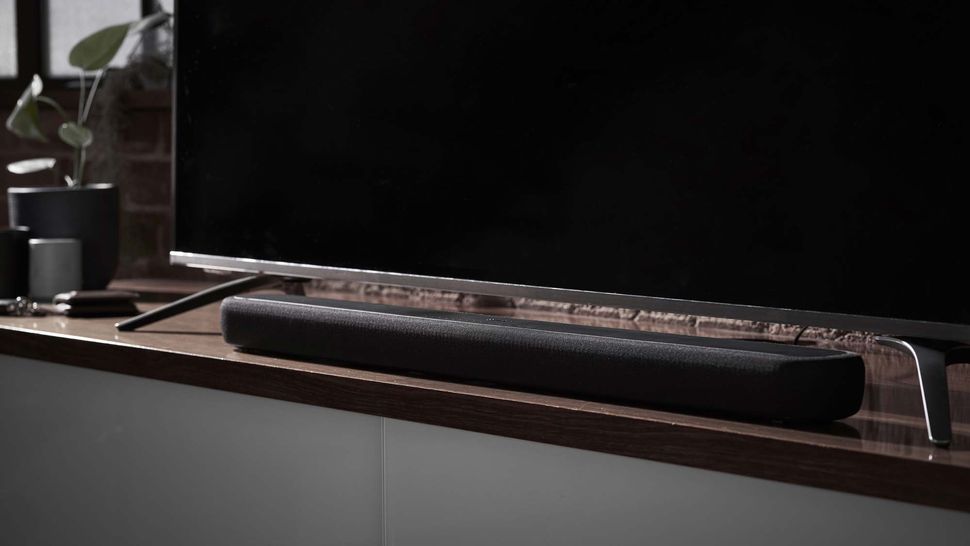 The YAS-209 has one HDMI output and one HDMI input, along with optical digital audio and Bluetooth. To use Alexa — as well as stream from Spotify or Amazon Music — you'll need to connect to the internet via Wi-Fi or Ethernet.
The top of the soundbar features LED indicators for the selected input and sound modes; those LEDs also show the volume level when you change it. You can control power, select the input and activate (or mute) Alexa through touch-sensitive buttons. You can also change the settings through the included remote or the free Yamaha Sound Bar app.
Yamaha YAS-209 review: Installation
Connecting the YAS-209 to my TV using an HDMI cable was straightforward. To enable Alexa and music streaming, you need to download the free Yamaha Sound Bar app (previously Yamaha soundbars used its HT Controller app), and it walks you through the process of connecting to your network. The YAS-209 can connect to only 2.4-GHz wireless networks, or you can use a wired Ethernet cable.
Yamaha YAS-209 review: Voice control
Alexa was responsive to my requests — it changed the volume and input on the soundbar and handled typical requests of the assistant as well, such as providing the weather and turning on a Wemo switch. Alexa works even when the soundbar is powered off. However, it couldn't do everything I wanted it to; for example, it couldn't turn the soundbar on or off.
Make sure you update the firmware on the soundbar when you install it, as previous versions had a bug that caused Alexa responses to be very loud when video is played. The latest version fixes that.
Yamaha YAS-209 review: Performance
The YAS-209 delivered very good sound when I watched TV shows and movies. Dialog has excellent depth and gravitas, thanks to the subwoofer, and it produces a wide sound when using the 3D Surround mode. It isn't quite as encompassing as the Sonos Beam, but it delivers better bass — though, considering it has a separate subwoofer, I would have liked it to deliver more low end.
During Avengers: Endgame, the YAS-209 made the quiet dialog scenes easy to understand. But in the big battle between the Avengers and Thanos, I expected to feel more floor rattling from the low-frequency effects. The witty dialog of the various Spider-men, women and pigs of Spider-Man: Into the Spider-Verse was easy to hear above the bass-heavy soundtrack.
I was more impressed by the way the YAS-209 handled a variety of music in Stereo mode. The bass on Billie Eilish's "Bad Guy" rattled the floor, and her vocals were still clear. The finger-picked acoustic guitar on Fleetwood Mac's "Never Going Back Again" was crisp and full.
The YAS-209 offers several modes to adjust the sound to your liking, including Movie, Music, Sports, TV Program and Game. You can switch to Stereo mode for listening to two-channel sources. In addition, you can enable 3D Surround for a wider sound, Clear Voice to boost dialog and Bass Extension for deeper low-end sounds. You can also set the subwoofer level.
Yamaha YAS-209 review: Verdict
Among the options for a smart soundbar in the $300 to $400 range, Yamaha's YAS-209 rises toward the top with good overall sound — especially for music — and responsive voice controls. The Sonos Beam has a wider sound and also offers Google Assistant, but costs more and can't match the YAS-209 in sound quality. Of the current choices at a similar price, the YAS-209 hits an attractive middle ground.
Next: Yamaha unveils SR-C30A entry-level soundbar to rival the similarly priced Sonos Ray.