After weeks of speculation, Google has finally lifted the veil off its first foldable phone. Even better, you don't have to wait long to purchase it. Pixel Fold preorders are available now. The device is slated to ship in June (Verizon's release date is June 27).
Announced alongside the Pixel 7a, the new Pixel Fold costs $1,799. It's Google's latest flagship phone sporting a 7.6-inch internal display and a 5.8-inch outer display. When closed, its exterior screen will let you respond to messages or browse Chrome. When opened, the larger screen provides a more immersive, tablet-like experience for streaming shows or playing games. The Pixel Fold's design also lets you use the device in tabletop mode, so you can sit back and relax while you watch or record content — all without the help of a tripod.
Note that only the Google Store is offering Pixel Fold preorders right now. In the coming days, we expect to see more preorder deals from both carriers and retailers. We'll update this page with the latest deals as they're announced. Also, make sure to check out our Google I/O 2023 coverage for a recap of Google's event.
Pixel Fold preorders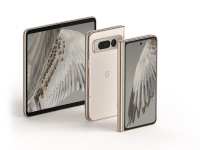 Pixel Fold preorder: from $1,799 @ Google
Free Pixel Watch! The Pixel Fold is Google's first foldable phone sporting a 7.6-inch internal display and a 5.8-inch outer display. Preorder the new Pixel Fold from the Google Store and you'll get a free Pixel Watch (LTE or Wi-Fi) for free. That's a $349 or $399 value, respectively. The phone is available in Porcelain or Obsidian. This preorder deal is valid through July 2.
Don't forget to take advantage of Google's excellent trade-in bonuses too.
Pixel Fold — what do you get?
Swipe to scroll horizontally
| | |
| --- | --- |
| Starting price | $1,799 |
| Cover display | 5.8 inches OLED (2092 x 1080) |
| Main display | 7.6 inches OLED (2208 x 1840) |
| Refresh rate | Up to 120Hz for both |
| CPU | Tensor G2 |
| RAM | 12GB |
| Storage / Expandable? | 256GB / 512GB |
| Rear cameras | 48MP (f/1.7), 10.8MP ultrawide (f/2.2), 10.8MP telephoto (5x optical zoom) |
| Front camera | 9.5MP (f/2.2) |
| Inner camera | 8MP (f/2.0) |
| Video | 4K video up to 60 fps |
| Battery size | 4,821 mAh |
| Wired charging speed | 30W |
| Wireless charging? | Yes |
| Size open | 6.2 x 5.5 x 0.2 inches |
| Size closed | 5.5 x 3.1 x 0.5 inches |
| Weight | 10 ounces |
| Colors | Obsidian, Porcelain |
The Pixel Fold is unlike any other Pixel phone. Like its Galaxy Z Fold 4 rival, the Pixel Fold unfolds in a book-like fashion. But the similarities end there. Google claims the Pixel Fold has the thinnest profile of any foldable. It measures just 6.2 x 5.5 x 0.2 inches when open (158.7 x 139.7 x 5.8 mm), whereas the Galaxy Z Fold 4 measures 6.11 x 5.12 x 0.25 inches (155.1 x 130.1 x 6.3 mm). When closed, the Pixel Fold is 5.5 x 3.1 x 0.5 inches compared to 6.1 x 2.6 x 0.55-0.62 inches for the Z Fold 4.
The Pixel Fold's front display also stands out amongst the competition. The 5.8-inch OLED cover display uses a fairly wide aspect ratio of 17.4:9 (compared to 21.6:18 for Samsung), which makes for a less cramped experience when using the device closed. The always-on OLED panel also supports up to a 120Hz refresh rate. The fuller 7.6-inch display has a resolution of 2208 x 1840 pixels and also goes up to 120Hz refresh.
With Memorial Day sales around the corner, there's a small chance we'll see some Pixel Fold preorder deals in the days to come. Make sure to follow our coverage for the latest deals.