Spider-Man: Across the Spider-Verse is web-zipping its way into theatres on June 2, but if the wait for the greatly-anticipated sequel already feels endless Disney Plus has the ideal distraction to keep you entertained.
The complete two-season run of The Spectacular Spider-Man hit Disney Plus last October, and it's pretty much the best Spidey TV show ever made. Yes, it's even better than the '90s animated show that many of us fondly remember from our childhood.
There are a whole bunch of reasons that The Spectacular Spider-Man is… spectacular, and I'll get into several of them down below, but the cliff notes version is that this animated show really gets Peter Parker as a character. Plus, it masterfully weaves villain-of-the-week storytelling with several larger overarching plotlines.
In short, The Spectacular Spider-Man is a must-watch for all superhero fans, but especially those with an affinity for the friendly-neighborhood webhead. And watching (or rewatching) now is especially timely as the show's version of Spider-Man is confirmed to feature in Spider-Verse 2 as part of the Spider-Force group.
Why you need to watch The Spectacular Spider-Man on Disney Plus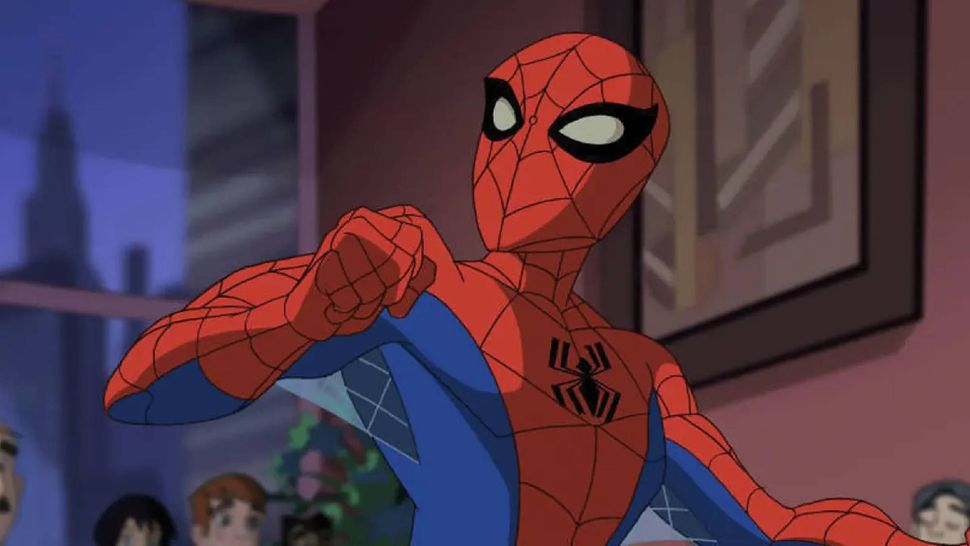 Opening a few months after Peter Parker has been bitten by a genetically-enhanced arachnid and donned the mantle of Spider-Man, The Spectacular Spider-Man follows the high schooler as he attempts to juggle his personal life and being a full-time superpowered crimefighter. Naturally, his two lives often mix at the least opportune moments.
The show features many of the trappings you'll be familiar with if you've consumed just about any Spider-Man media over the last few decades. You won't be surprised to know that many episodes see Parker flake on his friends and loved ones because he's called into action as Spidey. And each individual installment typically sees the web-slinger take down a new threat to the Big Apple.
However, what The Spectacular Spider-Man gets so right is the character of Peter Parker (voiced by Josh Keaton). He's a well-meaning kid that is instantly likable and is just the right amount of dorky to make him very endearing. Plus, his budding romance with Gwen Stacy (Lacey Chabert) is compelling, and the show throws in Mary Jane Watson (Vanessa Marshall) and Liz Allan (Alanna Ubach) to give Pete a real headache when it comes to untangling his love life.
Many of Spider-Man's classic rogues are featured including heavy-hitters like Dr. Otto Octavius, Vulture, Electro, Mysterio, Kraven the Hunter and the Lizard. Plus, the show absolutely nails some classic spidey storylines including Eddie Brock's transformation into Venom, as well as the troubled relationship between Norman Osborne and his son Harry.
It's clear from the very first episode that the creatives behind this show are huge Spider-Man fans and have a deep respect for the character.
If there's one element of the show that I'm not totally sold on, it's the animation style. While it was praised by critics when the show debuted in 2008, it's a little basic and lacks the striking impact of something like Batman: The Animated Series.
Nevertheless, the show's animation is far from a dealbreaker and it's still serviceable. And I'm pleased to report that the action sequences are all easy to follow and cleverly choreographed, which is not always a given in animated comic book shows.
The Spectacular Spider-Man was criminally cut short
I should mention that The Spectacular Spider-Man was an unfortunate victim of Disney's purchase of Marvel in 2009. A third season was planned but canceled due to a rights disagreement that sprung up in the wake of the high-profile acquisition. This does leave a few dangling plot threads in the show's final few episodes, and these will almost certainly remain forever unresolved.
Sadly the still ongoing #SaveSpectacularSpiderMan movement hasn't managed to convince Disney to revive the show, and co-creator Greg Weisman confirmed last year that the odds of the series ever returning are pretty slim. However, the fact fans are still campaigning for more episodes 14 years after its premature cancelation really is a testament to its overall quality.
Even with if we never get a proper resolution, The Spectacular Spider-Man certainly lives up to its name and then some. It may not offer a fresh take on the character, but it nails the fundamentals better than any Spider-Man show before (or after) it. Binging its 26-episode run on Disney Plus really is the ideal way to fill the time until Miles Morales, Spider-Gwen and their pals return to the big screen next month.
More from Tom's Guide