There are a lot of big changes coming to the iPhone 15 series, according to rumors. So far we've heard about the possibility of USB-C connectivity, a Dynamic Island on non-Pro models, improved cameras on the iPhone 15 Pro models and plenty of other exciting things.
But there's one persistent rumor that I'm not so excited about: the possibility Apple will ditch its flat-edged design. So instead of those smooth, squared edges, some rumors claim Apple will revert to the curved edges that are so common on other phones.
The thing about this rumor is that they can't really decide whether the iPhone 15's design will change or not. And frankly, I hope that the flat edged design doesn't go anywhere anytime soon.
Flat edges could be out, replaced by the curves
The current flat-edged iPhone design has been in use since the launch of the iPhone 12 in 2020. That means three generations of iPhone share that common look, and one that I find myself rather fond of.
As much as curved design can be aesthetically pleasing, the straight no-nonsense look the iPhone 14 and its predecessors share looks and feels much nicer. In fact, out of its case, I find the iPhone's flat feel far more secure than any round-edged phone I've used.
Plus the whole look is even nicer when paired with the rounded corners which, unlike a Galaxy S23 Ultra, don't look like they could take out somebody's eye.
But we've been hearing rumors as early as last November claiming that Apple will be shaking up the design of the iPhone 15. In fact it may be more than the edges losing their straight and flat visage. ShrimpApplePro claimed that the iPhone 15 family would have a rounded back panel as well.
Frankly that would be horrifying, even more so than simple curved edges. Much as I'd rather not have them, they don't make a phone look like a budget model from the nearly 2010s. A curved back panel comes across as cheap and antiquated compared to flat glass panels.
The fact ShrimpApplePro likened this look to the iPhone 5C, which was the original "cheap" iPhone, is pretty telling of what that design choice represents.
Curved edges may not be guaranteed
It didn't take long for the curved edge rumor to be refuted by someone else. LeaksApplePro told Forbes that Apple could still add rounded edges to the iPhone 15, and apparently the company wanted to, but it wasn't guaranteed at the time.
However we noted at the time that rounded edges could cause problems. Flat edges are more durable, for instance, while a rounded glass back panel can make it more difficult to offer wireless charging. That's one feature that is reportedly non-negotiable, and with good reason.
If Apple can't handle that obstacle in time, it means the flat-edged (and backed) iPhone design would be here to stay for the immediate future.
But that news hasn't deterred ShrimpApplePro. Earlier this year they maintained, based on information from their supply chain sources, that curved edges were still happening. Apparently screen sizes would also remain the same, compared to the iPhone 14, while the bezels would shrink. However, this time they likened the design to the iPhone 11 Pro Max, rather than the iPhone 5C.
ShrimpApplePro was later backed up by fellow leaker Max Weinbach, who worked with artist Ian Zelbo to develop renders illustrating this new curved design. They don't look terrible, especially since the curves seem to be absorbing the camera bump, but I know I'd rather stick with the flat edges of iPhones 12 through 14.
But, no matter what happens, I'm grateful that the leakers all seem to agree that the iPhone 15 will stick with a flat screen design. Curved displays are, in my own view, pointless at the best of times, and wildly impractical. All for the sake of trying to hide the side bezels a little better. But I could rant about that particular topic all day, so I digress.
The fact Apple is apparently continuing to ignore that ridiculous design choice will only prove to be a good thing —no matter what shape the iPhone 15's edges end up being.
Bottom line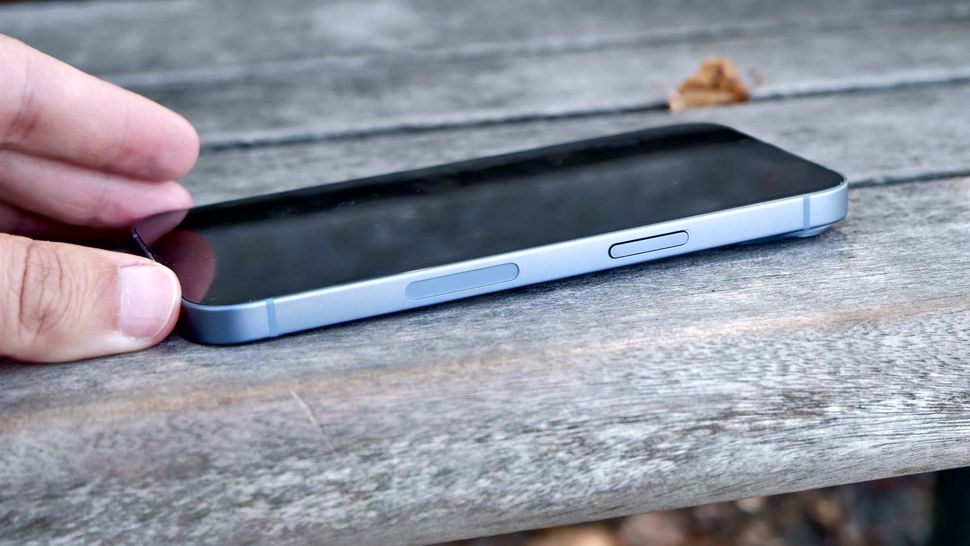 Granted, this is Apple we're talking about — a company that is well known for its appealing designs across a wide range of products. It's not likely that the company will be so callous with its flagship product, and potentially cause a dip in sales. Apple's had enough issues with that the past year, and it doesn't need a horrible design further damaging sales.
While Apple doesn't have a flawless track record where design is concerned, it generally has more hits than misses. So it's almost guaranteed that the iPhone 15 will look good, no matter what curves have been worked into the design. And considering the iPhone 15 is all but guaranteed to switch over to USB-C, now is as good a time as any to roll out a brand new design — one that will no doubt last a few more years.
But that doesn't mean I have to be happy about it.
More from Tom's Guide