Wondering if now's the right time to upgrade to one of the best iPhones? That's a question that can come up at any point in the year, but it takes on a special urgency in the spring.
We're more than seven months removed from the fall iPhone launch that brought us the iPhone 14 lineup the last time around. That means the next batch of iPhones is set to launch in several months, but their arrival is still far enough way to make you feel like your new phone won't become instantly obsolete. And there are enough iPhone 15 rumors floating around out there to help you make an educated guess on whether you'd be missing out on something by grabbing a phone now.
So if the question on whether to upgrade your iPhone to a new model is weighing on your mind, let's help you answer it. Here's why you should consider making a jump to a new iPhone without waiting to see what new models are coming this fall.
You've got an iPhone to trade in
Apple bumped up the trade-in values for some of its older iPhones in March, and now it's made the same move again. Clearly, Apple is hoping the improved offers will tempt current iPhone users to upgrade their phone. As a result, you could use your trade-in rebate to knock a significant chunk of change off the cost of your new iPhone purchase.
The caveat, of course, is that not every model has gone up in trade-in value. Some models — particularly older ones — have the same trade-in value as before. Here's a closer look at the iPhones that can fetch you a bigger discount on your next purchase than Apple was offering previously.
Swipe to scroll horizontally
iPhone Trade-in Values (March 2023)

| | | |
| --- | --- | --- |
| | May 2023 value | March 2023 value |
| iPhone 13 Pro Max | $630 | $600 |
| iPhone 13 Pro | $530 | $500 |
| iPhone 13 | $400 | $400 |
| iPhone 13 mini | $330 | $350 |
| iPhone SE (2022) | $160 | $160 |
| iPhone 12 Pro Max | $440 | $420 |
| iPhone 12 Pro | $350 | $330 |
| iPhone 12 | $300 | $300 |
| iPhone 12 mini | $220 | $250 |
| iPhone SE (2020) | $90 | $100 |
| iPhone 11 Pro Max | $280 | $280 |
| iPhone 11 Pro | $240 | $230 |
| iPhone 11 | $200 | $200 |
| iPhone XS Max | $200 | $200 |
| iPhone XS | $160 | $160 |
| iPhone XR | $150 | $150 |
| iPhone X | $130 | $130 |
| iPhone 8 Plus | $100 | $100 |
| iPhone 8 | $75 | $75 |
| iPhone 7 Plus | $60 | $60 |
| iPhone 7 | $40 | $40 |
As you can see, more recent iPhones are the big beneficiaries of Apple's rebate increase, with the iPhone 13 Pro Max and iPhone 13 Pro enjoying $30 hikes in their trade-in return. Likewise, the iPhone 11 Pro, the iPhone 12 Pro and iPhone 12 Pro Max are seeing increases of $10 to $20.
Bad news if you've been holding onto a mini model — both the iPhone 13 mini and iPhone 12 mini have dropped in terms of what Apple will offer for a trade-in.
Let's say that you've been holding onto an iPhone 11 Pro. Apple will now give you up to $240 in rebates depending on the condition of your phone. That means you can drop the cost of an iPhone 14 Pro upgrade to $759.
Trade-in values don't always stay high the closer we get to a new iPhone launch, so if you're mulling an upgrade, now's the time to strike.
You're pretty certain you don't want to wait for an iPhone 15
None of us really know what the future holds. But thanks to the constant stream of iPhone rumors, we can at least have a pretty detailed picture of what Apple's future may look like. And that can be very helpful when weighing the buy-now-or-wait decision.
For the standard iPhone, the biggest rumored change coming to the iPhone 15 sounds like it's the arrival of USB-C. That means potentially faster and more convenient charging, though some rumors claim Apple's going to reserve fast charging as an iPhone 15 Pro feature. You can also expect the iPhone 15 (and iPhone 15 Plus) to get new chipset — most likely a variant of the A16 Bionic that powers the current Pro iPhones. The Dynamic Island feature, currently restricted to the Pro phones, should be on all iPhone 15 models, too.
To put it another way, the iPhone 15 vs. iPhone 14 differences don't sound very vast at this point, depending on your feelings about notches and USB-C. If you prefer Apple's entry-level flagship to the more expensive models, you can probably buy an iPhone 15 without feeling like you're missing out.
The iPhone 15 vs. iPhone 15 Pro debate is another question entirely. Once again, it sounds like Apple is reserving its most impressive changes for its Pro models, from titanium sides that make the new phones lighter and more durable to an Action button that can trigger shortcuts. The jump to a rumored A17 Bionic chipset could be more significant than usual, as it's said to be built on a 3nm process that could boost both speed and power efficiency.
The iPhone 15 Pro Max could be getting a few major features of its own, most significantly a periscope-style telephoto lens that dramatically improves the zoom capabilities of this model. (We're talking a 6x zoom instead of the current 3x zoom.) So if you prefer Apple's super-sized phone, holding out for the iPhone 15 Pro Max could be worth it, no matter how big a trade-in value Apple is offering.
Having a phone now is more important than a discounted price
There's one other thing to consider, especially if you're pretty confident that you want an iPhone 14. Even though there's nothing stopping you from picking up the phone now, waiting until the fall could mean a lower price.
That's because Apple tends to shave $100 off the cost of the older models it keeps as part of its lineup after launching new phones. And our best guess as to which current iPhones will still be available from Apple after the iPhone 15 launch includes the iPhone 14.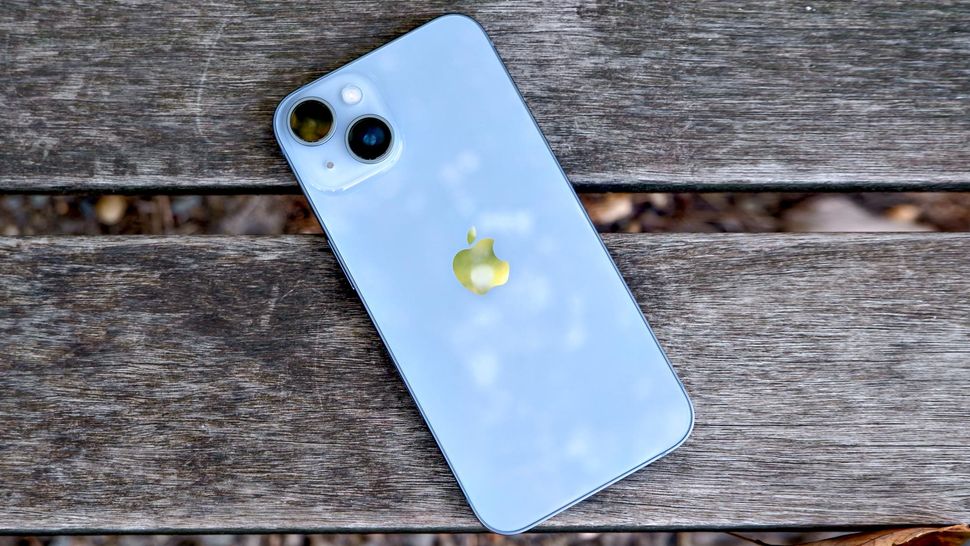 Now we're asking a different question entirely — get the $799 iPhone 14 now or hold off until the fall when that same phone will likely cost $699?
The answer to that question likely comes down to how badly you need a new phone. If your current model is on its last legs, there's no time like the present to pick up that new iPhone. Also, if you've got a phone that you can trade-in for the maximum discount — basically, the iPhone X or later will do — you can actually save more in rebates than you could with a future price cut.
Outlook
Everyone wants the latest and greatest handset, which is why it might be tempting to hold off until the iPhone 15 release date to get yourself a new Apple device. But there are enough incentives out there to make upgrading your phone now a perfectly sensible decision, especially if you have no plans to pay up for a Pro model.
More from Tom's Guide