The Last of Us on HBO has been nothing short of a total triumph. Arguably the best adaptation of a video game in any medium, it's the current frontrunner for the best TV show of 2023 — and I expect it to deservedly dominate during awards season.
Considering its critical plaudits and strong viewership figures that have continued to grow week on week, it wasn't exactly a shock when HBO confirmed earlier this month that The Last of Us season 2 has been given the green light. And while my initial reaction was excitement, after a little consideration I'm starting to feel just a tad nervous about the show's future.
The first season of The Last of Us adapts the entirety of the first video game and its DLC chapter, so it's logical to assume that season 2 will handle the story of The Last of Us Part II, the sequel that released in 2020. My concern is that the second The Last of Us is quite a lot messier than its predecessor — and I say that as somebody who personally considers it one of the greatest video games ever made.
It feels like The Last of Us on HBO has ridden a wave of goodwill with both gamers and non-gamers harmoniously enjoying what has been a phenomenally good series. I already have my doubts the same will happen when The Last of Us season 2 eventually debuts, let me explain why...
Please note this article contains significant spoilers for The Last of Us Part II video game, and it likely spoils future plot points for The Last of Us TV show. Please proceed with caution.

The Last of Us Part II has pacing problems
There is so much about The Last of Us Part II that I adore. It's a PS4 game that looks better than most PS5 games, its gameplay is a huge setup from The Last of Us Part 1 and its narrative is bleak but seriously compelling. I've revisited it three times since its original release and appreciate it more and more with each play-through.
But, even as a huge advocate for The Last of Us Part II, I cannot deny that the game's narrative has serious pacing problems. After the shocking prologue chapter, you play through a period of three days as returning protagonist Ellie, as she treks through the city of Seattle looking for the people responsible for — and remember, we gave you a spoiler warning — the murder of her father figure, Joel.
Then just as the story reaches a highly dramatic confrontation point, you're dragged back to the start and must play those same three days from a different perspective, that of Abby, the game's antagonist up to that point. It's an ambitious idea, and I love the way it allows you to see the story from two differing perspectives, but it also leads to frustration as you're forced to essentially restart just as things get really gripping.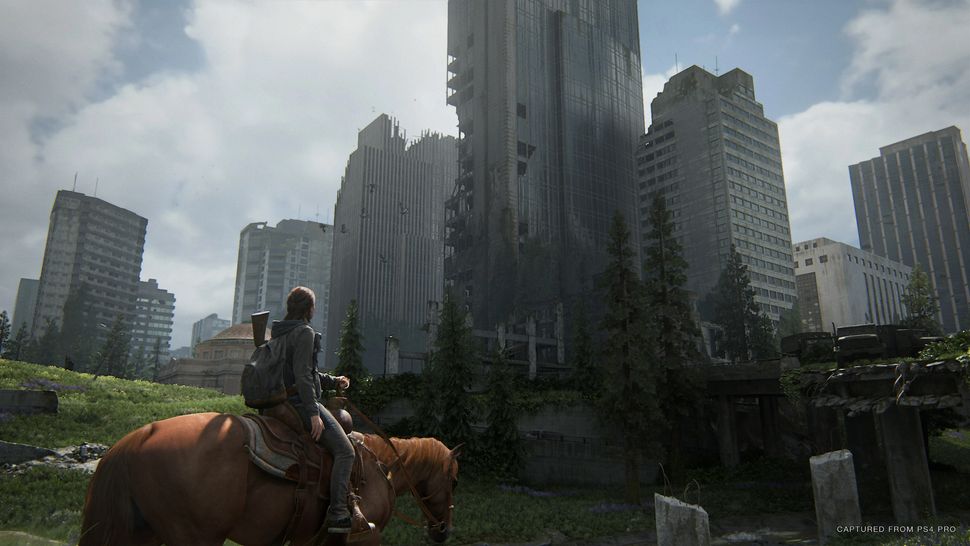 Both Ellie and Abby's campaigns are interspersed with flashbacks, and again these are extremely well constructed in isolation — and Ellie's let us spend valuable time with Joel — but they further hurt the pacing of the story. All the stops, starts and flashbacks prevent it from ever really flowing smoothly.
I'm really struggling to see how this somewhat unique structure will lead itself to the medium of television. The show's co-creator Craig Mazin has already hinted that The Last of Us Part season 2 may be too big a story to tell in a single season, but this only raises more questions than it answers.
The entirety of season 2 could focus on Ellie's half of the game with season 3 centered on Abby, but this would probably be a mistake. It would make the seasons feel disconnected. So perhaps the central duo will trade off episodes, but again this sounds less than ideal because if something really interesting happens in an Ellie episode, viewers are likely to view the next Abby episode as just annoying filler, and vice-versa.
The show's second season could take greater liberties with the source material than then season one did. But this is likely to anger purists and to be honest, I would also find it a pretty disappointing decision, as the show's current faithfulness to the source material has been commendable. Although, in fairness, the one time The Last of Us has really gone off-script we ended up with the stunning third episode, Long, Long Time, so maybe changing things up significantly could work out for the best.
It's a tricky problem for the showrunners to solve, and I'll be very curious to see how exactly The Last of Us season 2 tackles source material that is chock full of memorable moments but is also structured in a less-than-ideal way.
Time to trust the showrunners
Despite my concerns about how The Last of Us season 2 will be structured, I feel confident that I can trust Mazin and Neil Druckmann (The show's other co-creator and director of the original game and its sequel). These two have already proved they are capable of bringing Joel and Ellie's first journey across the U.S. to the small screen in remarkable fashion, I trust they can do the same once again.
I'm also really confident in the current cast. I won't pretend I didn't have some concerns about the casting of Bella Ramsey at first, but the young actress has made me feel foolish for ever doubting her. And while The Last of Us season 2 will require a very different kind of performance, I believe Ramsey displayed the acting chops required during the show's eight episodes.
There's a lot of rage in Ellie, and I've no doubt Ramsey can nail that aspect of the character now. Plus, I eagerly await news of who will take on the role of Abby — they have big shoes to fill as Laura Bailey does an incredible job voice-acting the complex character in the original game.
It should also go without saying that HBO is likely to give Mazin and Druckmann the creative freedom to tell this story how they see fit. And The Last of Us is now one of HBO's biggest hits so we can probably expect a bigger budget for the second season — and it's not like the first season looks cheap either.
Unfortunately, you can't really talk about The Last of Us 2 without acknowledging there is a uniquely toxic element that follows this particular game. Essentially, some players felt betrayed by narrative decisions in the sequel, and aren't shy about letting their feelings known. I'm expecting that group will be out in full force when The Last of Us season 2 debuts but I'll be doing my best to ignore anybody rallying against the show in bad faith.
So, even if I'm a little worried about exactly how The Last of Us 2 will be adapted for television, my overriding feeling is one of real excitement. I was definitely skeptical that The Last of Us even needed to be turned into a TV show, but now that it has, it's clear its story and characters were always ideally suited for the format. Hopefully when we finally get to see The Last of Us season 2 — please don't let the wait be too long — I'll be saying the exact same thing all over again.
More from Tom's Guide
The Last of Us season 3 just got teased — here's what we know