Here at Tom's Guide, we really like PC gaming peripherals. I've been reviewing the best gaming mouse, best gaming keyboards and best gaming headsets for just about a decade, and it's been rewarding to see the category grow from an enthusiast niche into a mainstream success story.
Whereas a lot of PC gaming gear used to be either incredibly expensive, or just cheap office gear with lights, there's now a gaming peripheral setup to fit every style and budget.
Over the next few weeks, we'll be taking a look at which PC gaming gear I'd recommend for a variety of price points. We'll start with budget peripherals, loosely defined as "less than $50" for gaming mice and headsets, and "less than $100" for gaming keyboards.
While these peripherals aren't the only viable contenders in the budget category, they are the ones I've liked the best, relative to how much they cost. Let us know in the comments which other gear you like – or if you've found a way to get a comparable setup for even less money.
Budget gaming mouse: $30
Gamers are spoiled for choice when it comes to ridiculously cheap gaming mice from major manufacturers. (Yes, you can get cheaper knockoffs from no-name brands on Amazon, but don't do it. Go with a name you recognize.) Our best cheap gaming mouse buying guide highlights a variety of $30 options, from the Logitech G203, to the HyperX Pulsefire Core, to the Roccat Burst Core. But for my money, you can't go wrong with the SteelSeries Rival 3.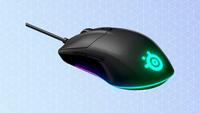 SteelSeries Rival 3: $29 @ Amazon
The SteelSeries Rival 3 is a small, inexpensive, no-nonsense gaming mouse with much better RGB lighting than you might expect from a budget model. With a high-quality sensor, a comfortable shape and a pretty LED lighting strip along the base, the Rival 3 is arguably just as good as some mice that cost a lot more money.
The Rival 3 is a small, lightweight mouse from SteelSeries, a Danish gaming peripheral company that's produced some of our favorite headsets over the years. But while the company excels on the audio front, its gaming mice are worth a look, too. The Rival 3 boasts excellent in-game performance, as well as a comfortable design and some incredibly pretty RGB lighting. It's a little on the small side, though, so gamers with big hands may want to opt for the Razer Basilisk Essential instead.
Budget gaming keyboard: $80
The gaming keyboard category is where I struggled most with the "budget" designation. Most of our best gaming keyboards hover somewhere around $150; many wireless models go for more than $200. While you can get gaming keyboards from major manufacturers in the $50 range, they're all membrane models, and I think mechanical switches are well worth the price for any serious PC gamer.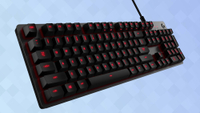 Logitech G413 SE: $79 @ Amazon
The Logitech G413 SE is a no-nonsense mechanical gaming keyboard. It features a full-size layout, a single backlighting color, and not much else. You don't get discrete media keys, software connectivity or any bells and whistles. But you do get a comfortable, high-quality peripheral that's considerably better than a membrane model.
As such, the cheapest keyboard we've reviewed from a major manufacturer lately is the Logitech G413 SE. I'm not going to claim that it's an amazingly good bargain for the price, or that it's a superlative peripheral on its own. The feature set is surprisingly bare-bones, lacking discrete media keys or software connectivity. But you do get a full-size mechanical gaming keyboard from a major manufacturer for only $80, which is pretty difficult to find elsewhere. And that alone puts it miles ahead of a cheaper membrane device.
Budget gaming headset: $50
Like gaming mice, there are a lot of cheap gaming headsets that are worth considering. "Budget gaming headsets cost $50" has been conventional wisdom for years, and manufacturers have done a terrific job of cramming a lot of functionality into some relatively simple devices. The Razer Kraken X is a solid choice, as is the Corsair HS35. But I think the HyperX Cloud Stinger 2 is just a little bit better.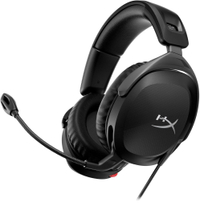 HyperX Cloud Stinger 2: $49 @ Amazon
The HyperX Cloud Stinger 2 is a much better gaming headset than you might expect for $50. It features an extremely comfortable fit, plus intuitive controls, widespread compatibility and better sound than a lot of its immediate competitors. The mic is a bit on the quiet side and the design feels a bit flimsy, however.
The Cloud Stinger 2 has pretty much everything you'd expect from a budget gaming headset, including a wired 3.5 mm design, a pretty good soundscape and a decently comfortable fit. It also has some common drawbacks, including a nonremovable mic and a flimsy-feeling chassis. But the audio quality and comfort level are better than what the price might suggest. It's not by any means a world-class gaming headset, but it's probably the best one you can get for $50.
Getting it all for less than $150
Before you commit to the three peripherals above, you should consider how married you are to the $150 price point. Good PC gaming peripherals can easily last five years or more, so over time, you'll definitely get your money's worth if you opt for something more expensive.
However, if you're tapped out from buying or building a PC, these products are perfectly good placeholders. Likewise, they should serve neophyte or casual PC gamers well, and the headsets double as good gaming console accessories.
Astute readers may have noticed one small problem with my analysis, however: If you add up the costs of the $30 Rival 3, the $80 G413 SE and the $50 Cloud Stinger 2, you get $160, not $150. While $10 may not be that much in the grand scheme of things, I still think it's fair to assign $150 as a ceiling for budget gear.
Luckily, these devices are usually available at significantly less than full retail price. At the time of writing, buying all three of these devices on Amazon would come to about $130, and there's no special sale going on at present. You could do even better if you hold off for a big sales event, such as Prime Day or Black Friday.
In any case, PC gamers who don't have a ton of money to spend need not despair. There's plenty of great, affordable gear out there. You can save up your money and invest it where it will do the most good: in your PC itself.