CES 2023 saw the return of 18-inch laptops. This was an interesting development given how much companies love boasting about their respective thin and light notebooks. I also found it intriguing that companies like Dell, Razer and Asus all seemed to have independently decided to bring back 18-inch laptops. Nevetheless, it's good to see companies offering massive laptops for those who want them.
Gigantic 18-inch laptops like the Alienware m18 and Razer Blade 18 appear out of place in a world dominated by lightweight, ultra-thin ultraportables like the MacBook Air M2. We haven't seen 18-inch laptops for the better part of a decade, so you could argue that demand wasn't there. Perhaps that's true, but I think releasing 18-inch laptops in 2023, even as a test, is a good thing.
Desktop replacement
I've always felt that the best gaming laptops are a great alternative to the best computers since they need to pack powerful components (including speedy CPUs and plenty of RAM) in order to play the best PC games.
Plus, many gaming laptops tend to have Ethernet and HDMI ports which also help them stand in for a full PC — they don't call 'em desktop replacements for nothing. And even though I use a real keyboard and mouse with my laptop, some gaming laptops like the Acer Nitro 5 and Maingear Vector Pro have fantastic keyboards that are almost as good the best mechanical keyboards.
An 18-inch laptop could be a true desktop replacement since it potentially wouldn't require peripherals to improve one's productivity. For example, there'd be little need to connect such a laptop to one of the best gaming monitors since its 18-inch screen is large for everyday work and gaming. Sure, a 24-inch monitor would give you more screen space, but an 18-inch display is far larger than the standard 13-inch display of most standard laptops.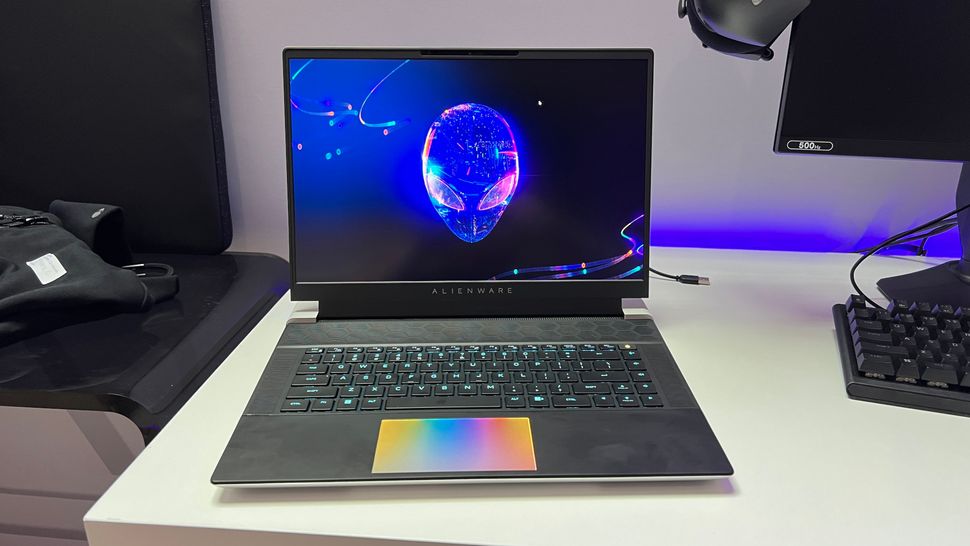 Similarly, an 18-inch laptop would provide more room to type on. I tend to type much slower on laptops, even on big machines like the MacBook Pro 16-inch. I imagine my large hands would have an easier time writing on an 18-inch laptop's spacious keyboard.
I should note that most (if not all) of the gaming laptops unveiled at CES 2023 feature the latest Intel, AMD, and Nvidia components. 13th gen Intel Core and AMD Ryzen 7000 CPUs, along with AMD Radeon 7000 and Nvidia RTX 40-series GPUs aren't exclusive to 18-inch laptops. But if you plan to make one of these gargantuan notebooks your primary computer, you're going to get a powerful machine that's arguably on par with a desktop.
More space, less clutter
This point is for folks like me who live in apartments an 18-inch laptop, despite its size, would take up considerably less space than a standard desktop.
I currently live in a studio apartment. Though roomy, I'm always trying to figure out ways to maximize my living space. I love my pre-built desktop PC packing an RTX 3080 Ti, but due to space constraints, I have to keep it on the floor. Worse still is the mess created by all the wires jutting out of the PC's rear ports.
With an 18-inch notebook, I'd not only be able to keep the laptop on my desk, but I'd all but eliminate my horrible wire situation since I'd only need to have the laptop plugged into an outlet. And while I could get one of the best mini PCs to save space, I'd feel more comfortable with a laptop since I could take it outdoors if I wanted.
I'm still on the fence about ditching a desktop for a laptop in the future. But if I decide to go all in with a laptop, it'll absolutely be an 18-inch one. Yes, it's a big machine, but it'd be far smaller than a desktop.
Outlook
I'm not sure why some laptop manufacturers decided to resurrect 18-inch laptops this year but I'm all for it, for the reasons listed above. I think the most important thing is that users will now have more choices when shopping for a new laptop. The only potential downside is that 18-inch laptops are decidedly expensive. But if you want a machine that delivers power comparable to a desktop, then it's going to cost a premium.
Are 18-inch laptops here to stay or will they eventually disappear as they have before? I can't answer that question. But I'm stoked to get my hands on some of these new machines to see if they're truly the desktop replacements I've been looking for.
Next: The Asus Chromebox 5 is my favorite PC of CES 2023 — here's why.