Nvidia GeForce RTX 40-series graphics cards are now available. The RTX 4090 and RTX 4080 were released late in 2022, while the RTX 4070 Ti was just announced at CES 2023. The release of these cards is significant because the GPU shortage that has plagued the industry since the start of the COVID-19 pandemic has finally started to let up. And as GPU prices crash, high-end graphics cards from AMD and Nvidia are seeing their once-inflated prices rapidly deflate.
That's good news for performance enthusiasts because it means you have a better shot at buying a new GPU for MSRP now than you have in years. But it might be bad news for Nvidia, which is releasing some of its most powerful — and expensive — new 40-series cards at a time when the GPU market is flooding with cheaper cards, many of which are being sold secondhand by miners disheartened by the recent crypto bust.
Here's everything we know about the Nvidia GeForce RTX 4000 series.
Nvidia GeForce RTX 40 series: latest news (Jan 6)
Nvidia GeForce RTX 40 series: Release date and price
The Nvidia GeForce 4080 was unveiled on September 20 and began shipping on November 2022 from third-party manufacturers like Asus, Gigabyte, PNY and more. Nvidia will also produce a special Founders Edition of the Nvidia GeForce 4080 16GB for those who are interested.
The Nvidia GeForce RTX 4080 launched with a $1,199 price tag. For that, you'll get 9,728 CUDA cores and 16GB of onboard memory. Nvidia claims it's more powerful than the 3090 Ti at lower power, and with DLSS 3 can achieve 2x the performance as the GeForce RTX 3080 Ti.
The discontinued GeForce RTX 4080 12GB had 7,680 CUDA cores and 12GB of Micron GDDR6X memory onboard. Nvidia claimed it's faster than the RTX 3090 Ti with DLSS 3.
If you've got your sight sets on a new Nvidia GPU, here are all the details you need on where to buy Nvidia GeForce RTX 4080.
Nvidia also unveiled the more powerful GeForce RTX 4090, its new top-of-the-line card. It went on sale earlier than the RTX 4080 (October 12) at a starting price of $1,599. As with the RTX 4080 16GB, Nvidia sold Founders Edition versions of the 4090 alongside configurations sold by third-party vendors like Gigabyte and MSI.
For that $1,599 price tag, you'll get a massive card with 76 billion transistors, 16,384 CUDA cores and 24GB of Micron GDDR6X memory. Nvidia claims it can consistently deliver up to 4x the performance (when using DLSS 3) of the GeForce RTX 3090 Ti using DLSS 2, as well as promising it can consistently deliver 100 frames per second when gaming at 4K. While Nvidia declined to specify which game(s) were run in 4K to achieve that performance, the CUDA core count alone is enough to impress.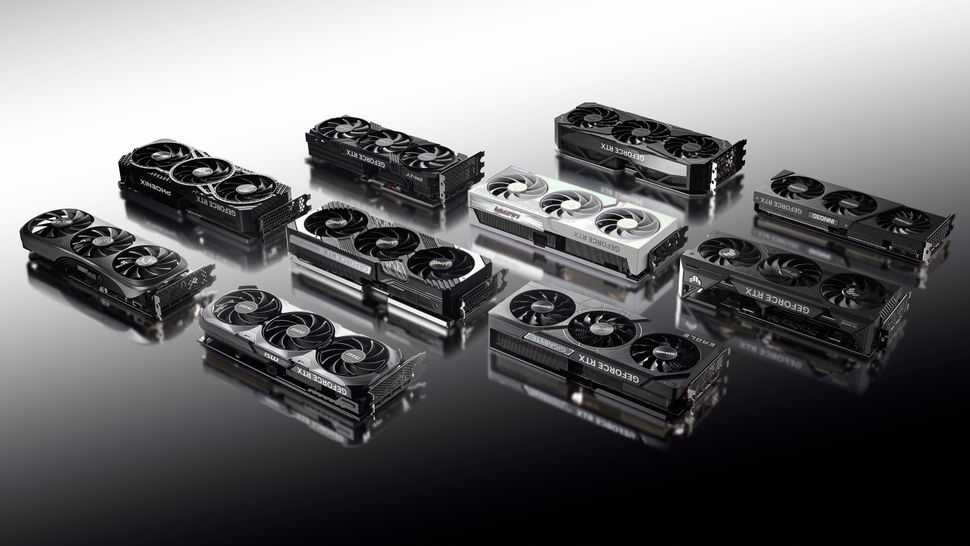 At CES 2023, Nvidia dropped the RTX 4070 Ti. We've expected to see this card launch for months now, so it's exciting to finally have a price and release date. The GeForce RTX 4070 Ti hit the market on January 5 with an MSRP of $799. Now that the worst of the GPU shortage is over, you may actually be able to buy one for that price.
As some predicted, this new RTX 4070 Ti GPU looks an awful lot like a rebranded version of the $899 GeForce RTX 4080 12GB GPU that Nvidia announced, then abruptly cancelled late in 2022. Based on the specs, the RTX 4070 Ti seems awfully likely that it's basically the same card Nvidia tried to launch as the RTX 4080 12GB last November.
Nvidia GeForce RTX 40 series: Specs
Per Nvidia's press release (opens in new tab), the RTX 4090 is "the world's fastest gaming GPU with astonishing power, acoustics and temperature characteristics." According to the company, in full ray-traced games, the RTX 4090 with DLSS 3 is up to 4 times faster compared to last generation's RTX 3090 Ti with DLSS 2.
It's also up to 2 times faster in modern games while maintaining the same 450W power consumption. This GPU features 76 billion transistors, 16,384 CUDA cores and 24GB of high-speed Micron GDDR6X memory. It is capable of consistently delivering over 100 frames per second at 4K resolution gaming, according to NVIDIA.
Swipe to scroll horizontally
| Header Cell - Column 0 | GeForce RTX 4090 | GeForce RTX 4080 (16GB) | GeForce RTX 4070 Ti |
| --- | --- | --- | --- |
| NVIDIA CUDA Cores | 16,384 | 9,728 | 7,680 |
| Boost Clock (GHz) | 2.52 | 2.51 | 2.61 |
| Memory Size | 24 GB | 16 GB | 12 GB |
| Memory Type | GDDR6X | GDDR6X | GDDR6X |
The RTX 4080 has 9,728 CUDA cores and 16GB of the aforementioned high-speed Micron GDDR6X memory. With DLSS 3, Nvidia claims the card is 2 times as fast in modern games as the GeForce RTX 3080 Ti and more powerful than the GeForce RTX 3090 Ti at lower power.
The Nvidia GeForce RTX 4070 Ti ships with 7,680 CUDA cores and 12GB of GDDR6X memory, Which puts it on the low end of the Nvidia GeForce RTX 40-series of GPUs, though according to Nvidia, it's still significantly faster than the last-generation RTX 3090 Ti when you enable DLSS 3 (unique to the 40-series GPUs).
Of course, the discontinued GeForce RTX 4080 12GB also had 7,680 CUDA cores and 12GB of Micron GDDR6X memory onboard. Hence, it's pretty clear Nvidia has listened to customer backlash and rebranded the $899 "4080 12GB" as the more reasonable $799 RTX 4070 Ti, cutting the cost by $100 in the process.
DLSS 3 is an AI-driven feature that's meant to boost performance while maintaining solid image quality and responsiveness. As Nvidia said (opens in new tab), DLSS 3 adds Optical Multi Frame Generation to generate entirely new frames, and integrates NVIDIA Reflex low latency technology (opens in new tab) for better responsiveness. DLSS 3 is powered by the new fourth-generation Tensor Cores and Optical Flow Accelerator of the NVIDIA Ada Lovelace architecture, which powers the RTX 40 series.
The new RT cores are capable of delivering two times faster ray-triangle intersection testing. They also include an Opacity Micromap Engine, which speeds up ray tracing of alpha-test geometry by a factor of two. In addition, a Micro-Mesh Engine generates micro-meshes on the fly to generate additional geometry. According to the company, the Micro-Mesh Engine provides the benefits of increased geometric complexity without the traditional performance and storage costs of complex geometries.
Nvidia GeForce RTX 40 series: Outlook
If you're a PC gamer, then the latest Nvidia cards are enough to get excited about. At the moment, RTX cards aren't as difficult to get as the RTX 30 series, though we have seen some price gouging at certain retailers. Thankfully, prices aren't nearly as exorbitant as the previous generation. Generally speaking, if you want a new RTX 40 series card, you should be able to find out at market value. Hopefully, this trend will continue throughout the duration of the GPUs' lifecycle.
With the RTX 4070 Ti's announcement, we'll likely see Nvidia announce lower-specced and more affordable GPUs in the future. After all, the company revealed mobile versions of the RTX 40 series during CES 2023, with models like the RTX 4060 and RTX 4070 which don't currently have desktop iterations. We can't say when we'll see additional RTX 40-series cards, but it shouldn't be too long.