The MacBook Air M2 is currently the best laptop for most people based on our testing. Yes, the cheaper MacBook Air M1 is fine, but the Air M2 is thinner, lighter and faster with a sharper webcam.
With the new MacBook Air M2 (from $1,199, tested at $1,899), Apple pairs a more powerful M2 chip with a much sleeker design. Carrying this 2.7-pound notebook around and using it, this is a laptop that reminds me of the iconic original Air that Steve Jobs pulled out of a manilla envelope all those years ago.
As you'll see in my full MacBook Air M2 review, the new Air has a great combination of portability, performance, display quality and overall comfort. Its over 14 hours of battery life in our testing is also very impressive.
However, the new Air is pricey (even though the $999 MacBook Air M1 is sticking around). Read our MacBook Air M2 vs MacBook Air M1 comparison to help you decide. Despite a few drawbacks, I'd argue the MacBook Air M2 is the best laptop overall for the money — and one of the the best MacBooks for college students if you can afford it.
MacBook Air M2 review: Price
The MacBook Air M2 starts at $1,199, which is $200 more than the MacBook Air M1. The starting configuration gives you an 8-core CPU, 10-Core GPU, 8GB of unified memory and 512GB of storage. This is a premium machine, but those are good specs for the money.
Upgrade options include 16GB ($200) or 24GB ($400) of memory, and 1TB ($200) or 2TB ($600) of storage. The MacBook Air M2 can often be found on sale. The lowest price we've seen is $899, so check out our best MacBook deals page for the latest discounts.
MacBook Air M2 review: Specs
Swipe to scroll horizontally
| | | |
| --- | --- | --- |
| Row 0 - Cell 0 | MacBook Air M2 (starting) | MacBook Air M2 (as tested) |
| Price | $1,199 | $1,899 |
| Colors | Midnight, Starlight, Space Gray, Silver | Midnight, Starlight, Space Gray, Silver |
| CPU | 8-core CPU | 8-core CPU |
| GPU | 8-core GPU | 10-core GPU |
| Display | 13.6 inches (2560 x 1664) | 13.6 inches (2560 x 1664) |
| Memory | 8GB | 16GB |
| Storage | 256GB | 1TB |
| Ports | Two Thunderbolt / USB-4, mic | Two Thunderbolt / USB-4, mic |
| Webcam | 1080p | 1080p |
| Charging | 30W USB-C | 35W Dual USB-C |
| Size | 11.97 x 8.46 x 0.44 inches | 11.97 x 8.46 x 0.44 inches |
| Weight | 2.7 pounds | 2.7 pounds |
MacBook Air M2 review: Design and colors
The MacBook Air M2 is so thin it could easily be mistaken for an iPad when closed (especially if the Apple logo is facing out). That's how slim this notebook is. Measuring just 0.44 inches thick with the lid open, an everyday Bic pen looks chunky next to this machine.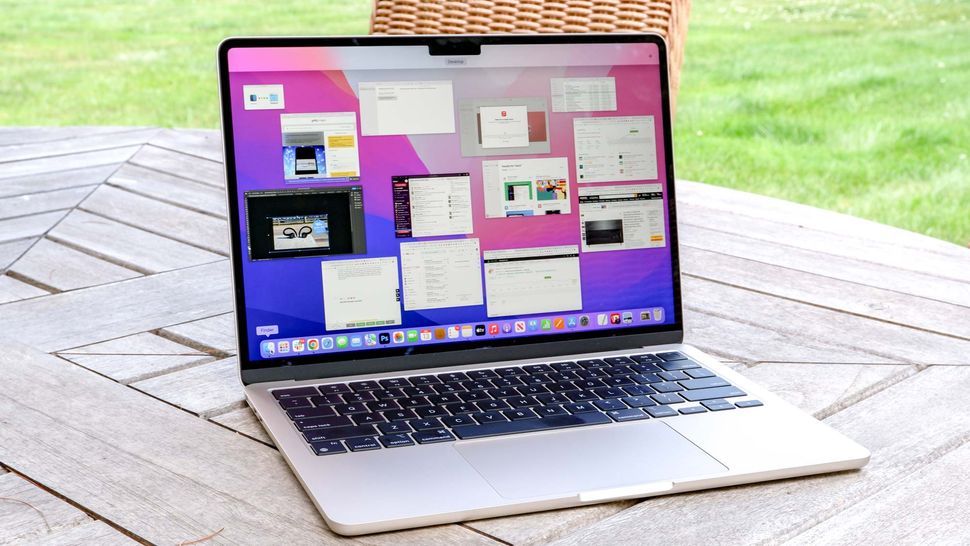 Overall, the Air M2 is 20% smaller than the previous Air in terms of volume, and yet you get a bigger 13.6-inch display. I'm honestly not a fan of the notch at the top of the screen, which breaks the aesthetics by swooping down to the bottom of the Menu bar, but it didn't prove too distracting during my day-to-day work.
The 2.7-pound all-aluminum chassis delivers a great balance of durability and light weight, and I appreciate the sleek rounded corners and pronounced lip that makes this laptop easy to hold and open with one hand.
If you want to make a statement, I would get the MacBook Air M2 in Starlight (pale gold) or Midnight (dark blue), but if you're feeling more conservative you can opt for Silver or Space Gray. Just watch out for scratches if you go for the Midnight one though, as this particular color can reportedly scuff easily.
MacBook Air M2 review: Ports
Apple keeps things minimal with the MacBook Air M2 port selection. You'll find two Thunderbolt 4/USB 4 ports on the left side along with a MagSafe power adapter.
The latter connection makes it easy to attach the cable connector magnetically to the system, and it also helps prevent the laptop from falling should someone accidentally tug hard on the cable. I'm really thankful Apple added this back.
The right side houses a headphone jack for those still using wired headphones, and it's nice to have just in case your wireless earbuds or wireless headphones run out of power.
MacBook Air M2 review: Display and audio
The MacBook Air M2 has caught up to the MacBook Pro M2 in terms of display quality, and that's a big deal. You get a bright and colorful 13.6-inch panel (2560 x 1664 pixels) for watching videos, editing photos and everything else you want to do with no trade-offs.
While watching the trailer for Minions: The Rise of Gru, I was captivated by the level of detail in little Gru's eyes, hair and scarf as he exploded down the road on a jet-powered bike. Plus, the picture was bright enough that I could enjoy the action from wide viewing angles.
The MacBook Air M2's panel impressed in our lab tests as well. It averaged 489 nits of brightness and peaked at 495 nits with HDR content. That's slightly better than what the MacBook Pro M2 turned in (474/490 nits) in the same tests and brighter than the Dell XPS 13 OLED's 357-nit average. The MacBook Air M1 hit 365 nits.
Things looked just as good in terms of color reproduction and accuracy. The Air M2's display registered 107% of the sRGB color gamut and 75.9% of the more demanding DCI-P3 color space. The XPS 13 OLED notched a higher 117% and 83%, respectively. However, the Air's Delta-E accuracy score of 0.2 was the same as the XPS 13.
The MacBook Air M2's four-speaker sound system is pretty good, delivering clear audio when I played "I Ain't Worried" from One Republic on Spotify. The lyrics had plenty of room to breathe, and the beat was punchy enough, but the sound wasn't as well rounded as the six-speaker sound system on the MacBook Pro 14. When I played both laptops side by side, the Pro had a fuller bass and was less tinny, but it's also $800 more.
MacBook Air M2 review: Performance
The best thing I can say about the MacBook Air M2 is that it easily handled my Prime Day deals workload (which is pretty freakin' intense) with ease. I was juggling dozens of open tabs in Google Chrome, jumping between lots of Slack messages and editing photos in Photoshop all while uploading files to our CMS. And the MacBook Air M2 powered through it all with ease.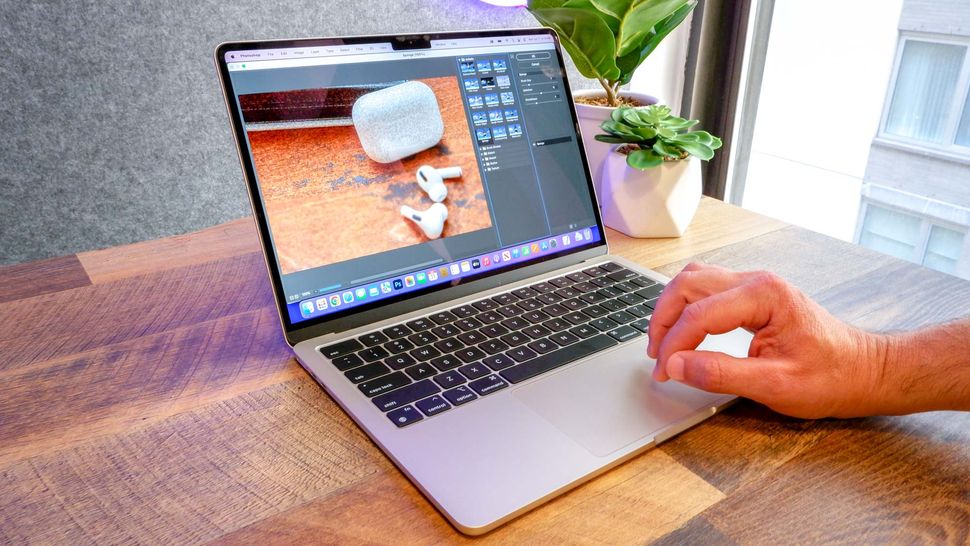 I noticed only one time when the new Air showed lag, and that was when I had more than 100 tabs open in Chrome across multiple windows. But in general I didn't notice a step down in performance for everyday tasks versus the MacBook Pro 14-inch with M1 Pro chip, which is a pretty big compliment.
On Geekbench 5.4, which measures overall performance, the MacBook Air M2 hit 1,932 on the single-core CPU test and 8,919 on multi-core. On a slightly older 5.3 test, the MacBook Air M1 hit 1,736 on single core and 7,575 on multi-core. That's 11% faster on single core and 17% faster on mutli-core. The MacBook Pro M2 was on par with the Air M2, reaching 1,898 and 8,911.
The Air M2 easily beats the best Windows laptops, defeating notebooks like the Asus Zenbook S 13 OLED (7,606) and Lenovo Yoga 9i Gen 7 (7,140). However, the new Dell XPS 13 Plus with a 12th gen Intel Core i7 reached a higher 10,621.
On our Handbrake video editing test, which involves transcoding a 4K video clip, the new MacBook Air M2 took 7 minutes and 52 seconds to complete the task. The previous Air M1 needed 9:15, so that's quite an improvement. However, the MacBook Pro M2, which has active cooling for better sustained performance, took a minute less than the new Air at 6:51.
The Dell XPS 13 Plus took 8:31 and the Yoga 9i needed over. The Zenbook S 13 OLED took a speedier 8:15 but was still slower than the MacBook Air M2.
Interestingly, the MacBook Air M2 and MacBook Pro M2 were evenly matched in the PugetBench for Adobe CC Photoshop test. The new Air scored 821 to the Pro's 817. But the Pro widened its lead on the Premiere Pro video editing test, notching 552 compared to 452 for the new Air.
The Dell XPS 13 Plus scored only 670 in the Photoshop test and 279 in the Premiere Pro test.
There's been some questions over whether the new MacBook Air would have a slow SSD. On the Blackmagic Disk Speed test, the new Air's 1TB SSD on our model averaged 2,800 MBps for reads and 2,210 for writes. That's slower than the same size 1TB SSD on the MacBook Pro M2 at 2,794 MBps/2,953 MBps, respectively, for reads and writes.
Interestingly, the Dell XPS 13 Plus notched 4,879 and 3,638 MBps for writes and reads, so it was considerably faster. See our MacBook Air M2 vs Dell XPS 13 Plus benchmark comparison for more info.
That's a bummer, but I never felt like the Air M2 was slowing me down. My biggest complaint is that the new Air is stuck supporting only a single external monitor (up to 6K). I would have preferred the option to plug in two monitors at once, which many Windows laptops in this price range offer.
For more details, check out our in-depth MacBook Air M2 benchmark results comparison with the MacBook Pro M2, and this report on MacBook Air M2 thermal throttling issues.
MacBook Air M2 review: Graphics and gaming
Our MacBook Air M2 came with a 10-core GPU and not the standard 8-core CPU on the $1,199 model, but we can share how this GPU performed and will follow up once we test the entry-level unit.
On Rise of the Tomb Raider, for example, the MacBook Air M2 achieved a fairly smooth 27 fps (30 fps or better is ideal) with the resolution set to 1920 x 1200. At 2940 x 1920 that dipped to 15.3 fps. The MacBook Pro M2 scored a slightly lower 24.9 and 12.2 fps, respectively.
The two Apple laptops were a bit further apart when we fired up Sid Meier's Civilization VI: Gathering Storm. The new Air achieved 40.3 fps at 1470 x 956 and the Pro M2 got 51 fps at 1440 x 900. The two laptops turned in nearly identical scores on 3DMark Wild Life Extreme.
MacBook Air M2 review: Battery life and charging
The MacBook Air M2 is one of the longest-lasting laptops for the money. On the Tom's Guide battery test, which involves continuous web surfing at 150 nits of screen brightness, the new Air averaged 14 hours and 6 minutes. That's a bit behind the previous Air M1 (14:41), but this is still superb endurance.
For comparison, the XPS 13 OLED lasted just 8 hours and the Asus Zenbook S 13 OLED endured for 11:02. The Surface Laptop 4 hit 10:46. Still, the MacBook Pro M2 remains the laptop champ with its obscene runtime of 18 hours and 20 minutes.
Our MacBook Air M2 came with a 35W Dual USB-C Port Compact Power Adapter, which is included with configurations that have a 10-core GPU and 512GB storage. The advantage of this adapter is that you can plug in another device at the same time, like an iPhone. The standard Air M2 for $1,119 comes with a 30W USB-C Power Adapter, but you can upgrade to the dual charger for $20.
If you want to charge more rapidly, there's a 67W USB-C power adapter for $20, but it doesn't use MagSafe.
MacBook Air M2 review: Webcam
I'd describe the MacBook Air M2's 1080p webcam as good but not great. Maybe it's not a fair comparison, but I wouldn't give up my dedicated Logitech C920 for video calls.
The overall picture quality is sharp enough from the Air, but I noticed a yellow cast and less detail in my hair, skin and green T-shirt versus my usual webcam when on a Google Meet call.
MacBook Air M2 review: Keyboard and touchpad
The MacBook Air M2's Magic Keyboard proved swift and responsive in my testing. The key mechanisms are snappy enough, and the travel suffices as well, as I had no problem writing and editing documents during my long commute on the bus. On the 10fastfingers typing test, I hit 69 words per minute with 96% accuracy, which is in my usual range.
As per usual, the Air's large touchpad is accurate and makes it easy to perform various gestures, from pinch to zoom to showing all your open apps. I do like having a Touch ID button embedded in the keyboard, which makes logging in easy, but I wish Apple would support Face ID to make unlocking the system even faster.
MacBook Air M2 vs. MacBook Pro M2: What should you get?
We have a fuller MacBook Air M2 vs MacBook Pro M2 comparison, but the gist is this. The MacBook Air M2 offers comparable performance to the MacBook Pro M2 with the exception of intensive tasks, especially video editing. The Pro M2 should also provide better sustained performance if you're doing heavy workloads.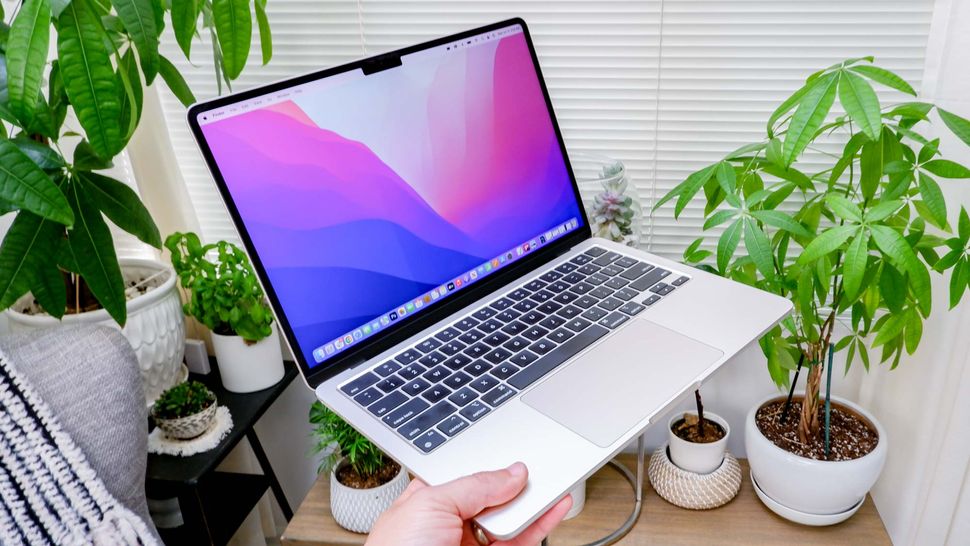 The other big difference is battery life. The MacBook Pro M2 lasted 18 hours versus 14 hours for the Air, but both are good runtimes. But the Air has other advantages, including a bigger display with slimmer bezels, a sharper 1080p webcam and MagSafe charging — plus a lighter design.
MacBook Air M2 review: Verdict
The MacBook Air M2 is simply the best laptop for the money based on my testing. You get stellar performance, a vibrant display and superb battery life all wrapped up in a design that is delightfully portable. Yes, $1,119 is a steep price, but I would easily recommend this system over the $999 MacBook Air M1 staying in the lineup because of its better performance and display, along with sharper webcam and MagSafe charging.
The Dell XPS 13 is another great choice, which starts at $999 for a 12th gen Core i5, 8GB of RAM and 512GB SSD. A Core i7 model with 16GB of RAM brings the price to $1,249. If you want an OLED display, you're looking at a Dell XPS 13 Plus for at least $1,599. (You can also check out our detailed Macbook Air M2 vs Dell XPS 13 Plus comparison).
There are some things I don't like about the Air M2. I wish you could connect more than one external monitor, and the notch at the top of the display is a bit of an eyesore. But overall I would highly recommend the MacBook Air M2. It is the new laptop to beat.
Take a look at our Apple Store coupons page to see the latest discounts.