Remember in the 90s and early 2000s when transparent plastic casings and covers were all the rage? dBrand certainly does, and the quirky brand's latest set of PS5 faceplates are a throwback to the "clear craze" that dominated the gaming market in days gone by.
Called the Retro Darkplates, there are four colorways to choose from: Atomic Purple, Ice Blue, Fire Orange and Smoke Black. If those names sound a little familiar that's because the Nintendo 64 was released in these four hues and dBrand notes that each of these PS5 covers is "a faithful reproduction of their N64 counterpart."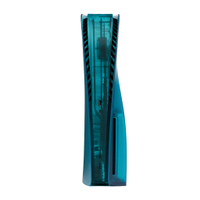 PS5 Retro Darkplates: $84 @ dBrand
The latest PS5 console covers from dBrand are a loving tribute to the transparent tech of years gone by. The Retro Darkplates give your edging-cutting console a nostalgia makeover, and come in four separate hues. Add the Lightstrip add-on pack for $15 to complete the look.
Slap on a set of these transparent covers and you'll be able to peer inside your PS5 console whenever you please….sort of. The PS5's stock white faceplates are designed to be removable, and Sony itself sells alternate covers. However, the internal components are protected by a large black plastic shield that's locked in place. So even with these Retro Darkplates fitted, you only get a good look at the cooling fan and the SSD storage expansion bay.
In between the PS5's two faceplates is a large black plastic face that cannot be removed. To get around this issue, dBrand worked with a metrology lab to scan the PS5 with industrial-grade X-ray equipment. These images were then stitched together to create a vinyl sticker that is placed on your console to give the impression you're looking straight through into its innards. It's a pretty effective solution, although we imagine the application process is a little finicky.
To further add to the effect, you can also pick up the Retro Lightstrips Pack which is sold as an optional add-on for an additional $15. This pack includes vinyl strips that turn the PS5's LED lights the same color as the plates. For obvious reasons, there is no Smoke Black option, but the pack includes strips in Atomic Purple, Ice Blue and Fire Orange.
The Retro Darkplates are available to buy directly from dBrand, and retail for $84 per set, or $99 with the lightstrips pack. Meanwhile, Sony sells officially-branded PS5 console covers for $54, placing these unlicensed plates at the higher end of the accessory market. But if you're super nostalgic for the days of transparent gaming consoles, you might want to pick up a set. Just don't expect to see much more than black plastic through these faceplates.
More from Tom's Guide