The Marvels reviews have been streaming into Rotten Tomatoes from all corners of the universe, and they … well, they're certainly a mixed bag. Critics have been reviewing the movie for a few days now and audiences can finally chime in now that the latest MCU movie is widely available in theaters. And at first glance, they definitely do not agree.
Critics seem to be less than impressed with The Marvels. They've given the movie an average score of 5.9 out of 10, with 61% of critics rating the film "fresh." We'll dive deeper into their reviews shortly, but overall the sentiment seems to be that it's fine, but it's not great.
Audiences though, seem to think significantly higher of the MCU movie, though that does depend on which fans you ask. The audience at large gives the movie a 3.65 rating, with 71% rating it "fresh." But if you narrow that down to Rotten Tomatoes verified audience members, that number skyrockets. Verified audience users give The Marvels a fairly impressive 4.2 out of 5 with an overwhelming 86% rating it "fresh."
So why are critics so down on the movie, while audiences seem at least relatively satisfied? And — more importantly — should you go see The Marvels? Let's see if we can answer those questions in this The Marvels review roundup.
Critical consensus: The Marvels is disjointed but still potentially fun
In its critical consensus, Rotten Tomatoes calls The Marvels "easy to enjoy in the moment despite its cluttered story and jumbled tonal shifts" thanks to the chemistry of lead actresses Brie Larson (Captain Marvel), Tenyonah Parris (Monica Rambeau) and Iman Vellani (Ms. Marvel). The movie largely centers around these three heroes, after they begin uncontrollably swapping places with each other every time they use their powers.
And there's more than a few negative reviews. Peter Howell of the Toronto Star calls the film "non-marvellous" and gives it just 1.5 out of 4 stars in his review. Howell clearly did not manage to have a fun time, describing The Marvels as "as if outtakes from other movies and TV shows were stitched together for a gag reel."
Even in an overwhelmingly negative review though, Howell still had praise for Vellani's performance as Ms. Marvel. And while I have yet to see The Marvels, I have seen the MCU show Ms. Marvel and found her performance to be a high point of that series, so I'm inclined to believe him on that front.
Other reviews were more forgiving. Neal Pollack of Book & Film Globe agreed that the film was disjointed, giving it negative marks for its "weird tonal shifting and hard-to-follow plot." But in his 3 out 5 star review, he said that despite these shortcomings The Marvels is still a fun time and certainly won't be the movie that destroys the MCU.
Audiences don't think The Marvels is a masterpiece, but it is a fun time
As previously mentioned audiences are split amongst themselves, but overwhelmingly more positive about The Marvels than critics. And thankfully, concerns about review-bombing seem to be largely overblown, with all the reviews I saw grading the film on its merits rather than who was cast in it.
Granted, while audiences do like The Marvels more than critics, that doesn't mean there aren't some that found it to be a waste of a movie ticket. The first page of movie reviews from audience members has quite a few mentions of it not being worth "movie theater money" or suggesting that "if you must watch it, watch it on Disney plus [SIC]."
But many praised the Marvels as being fun. In fact, If I had to find a positive word to describe The Marvels based solely on the reviews I've gone through, "fun" would be the winner by a vast margin.

One thing that audiences and critics had in common? Praise for Vellani's performance as Ms. Marvel. One user even went as far as to say "Iman Vellani is the whole movie. No one else can match her energy. And because of her, I give this movie 4 stars." High praise for a rising star in the MCU.
Conclusion: It's okay to wait for Disney Plus, but The Marvels isn't a disaster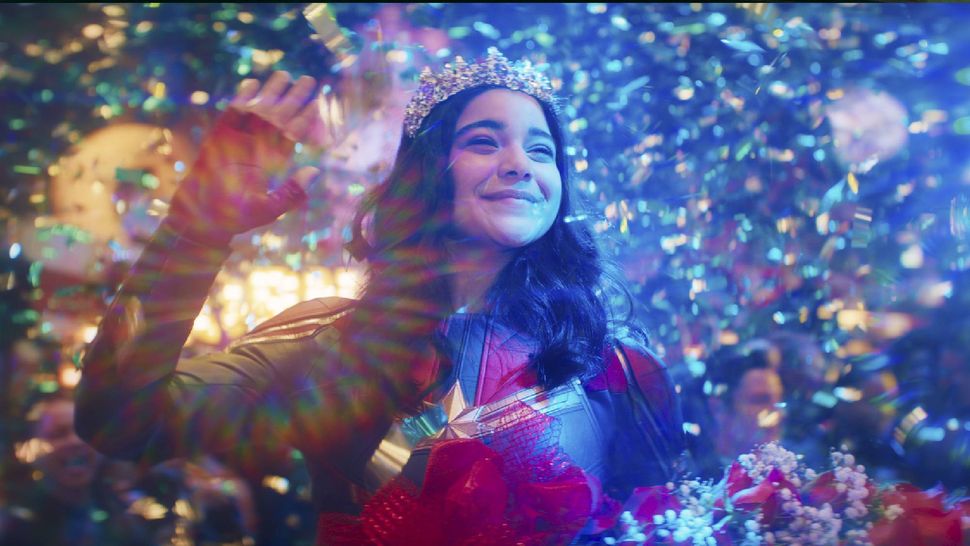 Based on the early reviews from critics and audiences, I wouldn't rush to theaters to see it. But if I had nothing else going on and wanted to kill 105 minutes, I might go see it this weekend — though there are personally other movies I'd go see, like The Killer or The Holdovers.
Neither of those scratches the superhero itch though. So if you need your fix of superpowers, I wouldn't blame you if you went and saw The Marvels. Especially since despite the mixed reception it could turn into a star-making performance for Iman Vellani, who has arguably gone 2 for 2 in her portrayals of Ms. Marvel.
Still, I personally will be waiting for The Marvels to hit Disney Plus. However, I now might actually watch it, something I wasn't positive I'd say before reading the audience reviews. And if enough people who had soured on the MCU reach the same conclusion, that might be enough to count as a win for Marvel.
More from Tom's Guide