The Marvel Cinematic Universe (MCU) is an ever-expanding saga, and the latest piece of the puzzle is about to hit theaters in the form of The Marvels. This sequel to 2019's Captain Marvel will also incorporate elements from multiple Marvel TV shows that have debuted on Disney Plus over the last few years and is flying onto the big screen on Friday (November 10).
To date, the MCU is comprised of 32 movies, nine TV shows (10 if you count Loki season 2 separately) and two TV specials. As it stands marathoning through every single MCU phase would take more than 7,000 minutes or about 117 hours. This makes the prospect of getting fully caught up ahead of the release of The Marvels a task only a time-altering superhero could comfortably complete.
Fortunately, you don't need to have consumed every single frame of the MCU so far to get up to speed ahead of Carol Danvers' next adventure. So, let's dive into what you need to have seen before The Marvels. And don't worry about where to watch these movies and shows either, they're all currently streaming on Disney Plus.
Captain Marvel (2019)
Released in between Avengers Infinity War and Avengers Endgame, Captain Marvel introduced us to Carol Danvers (Brie Larson), a member of an elite extraterrestrial military unit who has recurring memories of a former life as a U.S. Air Force pilot. Meeting S.H.I.E.L.D. agent Nick Fury (Samuel L. Jackson) while living on Earth in 1995, the two work together to uncover the secrets of her past and also stop a brewing intergalactic war between two alien civilizations.
The Marvels was originally announced as Captain Marvel 2, so naturally watching its predecessor is a necessity ahead of time. You'll also want to make time to see Captain Marvel as it's one of the MCU's most enjoyable movies to date. This is thanks in large part to the winning leading performance from Larson and the cosmic narrative. Plus, there's a scene-stealing turn from a feline called Goose (Who's also returning in The Marvels).
WandaVision (2021)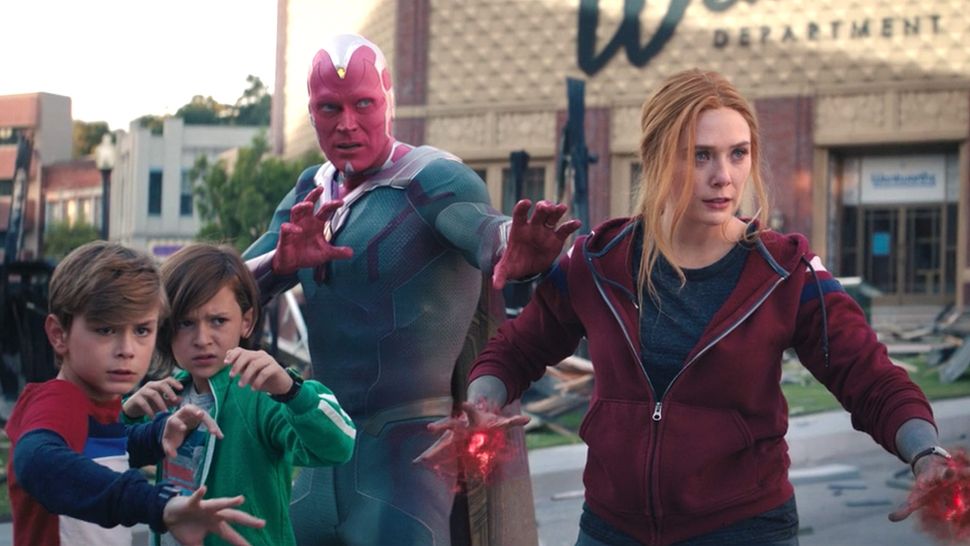 WandaVision was the first Marvel TV show to be released on Disney Plus, and over the last two and half years it's aged rather well in the face of the MCU's latest small-screen efforts landing with a bit of a thud. Its importance to The Marvels comes from the fact it marks the first appearance of Monica Rambeau (Teyonah Parris) who is one of the Marvels' three central leads.
The show itself is primarily centered around Wanda Maxmioff (Elizabeth Olsen) and Vision (Paul Bettany) and is set directly after the events of Avengers Endgame. Following the death of Vision at the hands of Thanos, Wanda has constructed a false reality to cope with her grief. In this surreal sitcom-inspired world Wanda and Vision live an idyllic suburban life, but things aren't as they appear, and there are secrets to uncover in the town of Westview.
Ms. Marvel (2022)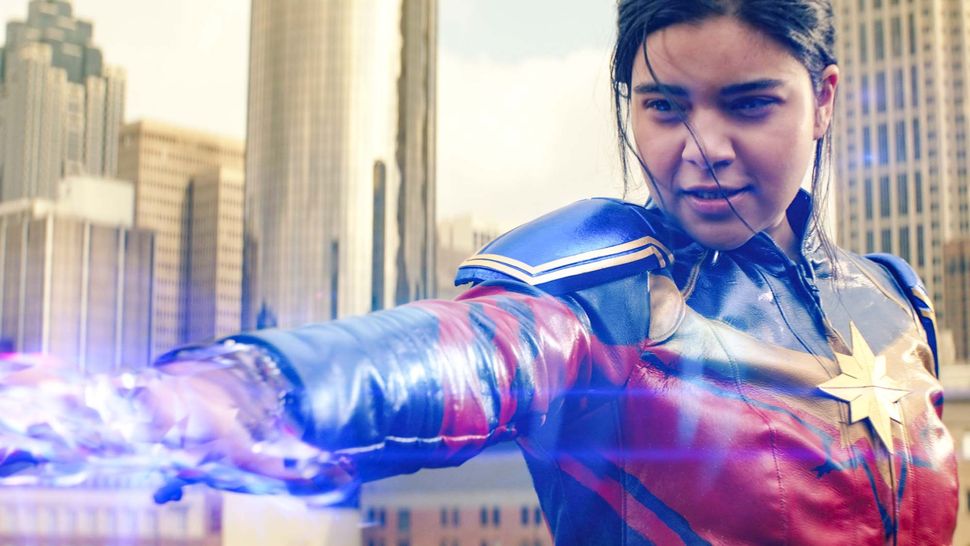 Kamala Khan aka Ms. Marvel (Iman Vellani) is the final member of the central trio, and the last scene of her Disney Plus show even sets up the core premise of The Marvels, so you'll want to watch this six-episode series before heading out to the theater on opening weekend.
Plus, you should also watch Ms. Marvel because it's utterly delightful. Khan is a wide-eyed and easy-to-root-for protagonist, and while the show stumbles a bit in its second half, the opening couple of episodes are particularly strong with some creative filmmaking on display as well. Ms. Marvel is also a huge in-universe Avengers fan, which makes her giddy excitement at getting powers of her own super relatable and very fun to watch unfold.
Anything else I need to see before watching The Marvels?
If you want to be fully up to speed on all of Captain Marvel's appearances in the MCU to date, then you could also watch Avengers Endgame (after Avengers Infinity War, naturally). Although, it's unlikely that the events of Endgame will have a direct impact on The Marvels but smaller references are not out of the question, and it also gives you a stronger sense of Carol Danvers as a character.
Samuel L. Jackson will also be returning as Nick Fury in The Marvels so some tie-ins with the recent Fury-led Secret Invasion show are highly likely. However, Secret Invasion is not very good. It's the lowest-rated MCU TV show on Rotten Tomatoes at just 54%. So, I'd advise skipping that one and just reading a Wiki summary if you want to be super thorough.
More from Tom's Guide