I'd bet "Ted Lasso season 4" are the words on every Apple exec (and some Lasso fans') wish list. So, if you've watched the Ted Lasso season 3 finale, and you've found yourself wondering what's next — we can help you figure it all out.
Will we get more of Coach Lasso, AFC Richmond, its woofing Diamond Dogs and that lovable scamp Jamie Tartt? It's hard to tell. But if social media posts are worth anything, it's clear that Apple's teasing another season — or a spin-off, more on that below.
Even though Apple doesn't release viewership numbers, we're guessing that Ted Lasso isn't just one of the best Apple TV Plus shows — it's one of its most popular titles in the service's short life. Which is why we bet that Apple TV Plus execs would be as happy as Higgins when they signed Zava were Ted Lasso season 4 to happen.
Here's what we know.
Is Ted Lasso season 4 going to happen?
Ted Lasso season 4 is not confirmed or even rumored to be taking place.
Is Ted Lasso season 3 the final season?
Confusingly, the answer(s) are yes, and possibly not. As those involved with the show have said (see below) the third season finishes the story as planned, but there's definitely a chance we'll see more.
In the "It's over" camp, we have quotes from the past. First up was showrunner and executive producer Bill Lawrence (Scrubs, Shrinking), who stated that the original plans only called for three seasons: "[W]hen we started, we plotted out everybody's beginning, middle and end of a three-season arc. This story is going to be over next year, regardless, even if the show finds another story to tell and goes on."
Yes, that quote ends teasing a spin-off, more on that below. Lawrence elaborated, saying "I don't think anything is closed off, but out of just respect, we're going to wait ... None of us are worried about Jason figuring out what he wants to do. And when he does, then we'll start talking about all that stuff."
Back when they were still writing the season, Brett Goldstein (i.e. Roy Kent) spoke similarly, saying "We are writing it like that ... It was planned as three."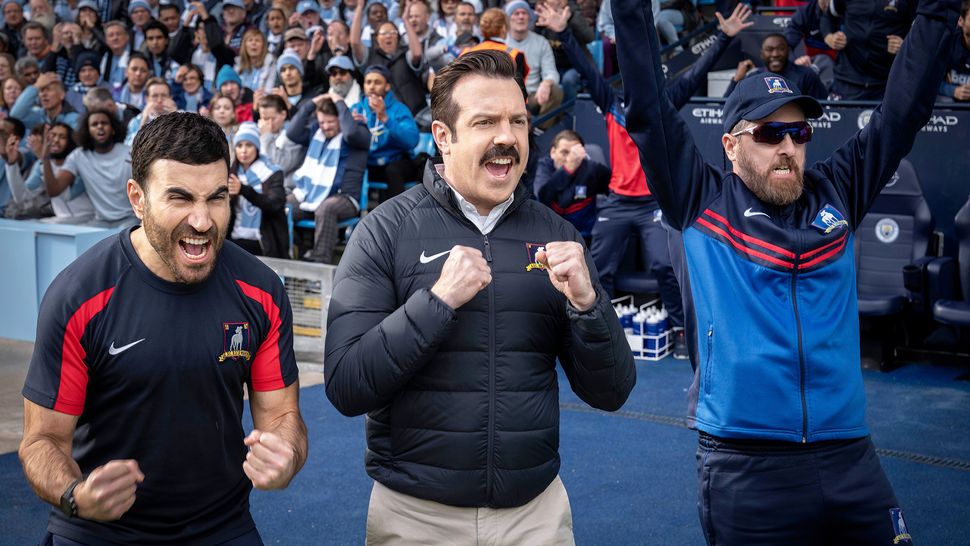 As for why Ted Lasso season 3 could possibly not be the big ending? Back in June 2021, an Entertainment Weekly interview with Jason Sudeikis quoted him mentioning Apple's "iMoney Truck" as a means for which more Ted Lasso universe content could come to fruition.
The man behind Coach Ted left things open, stating "I mean, I don't know. The story that I know is the one that I wanted to tell, and so that's the one we're telling with the help of numerous people in front of and behind the camera, so it's by no means me typing every key stroke and saying every word. It's nowhere near like that. But the story that's being told - that three-season arc - is one that I see, know, and understood. I'm glad that they are willing to pay for those three seasons. As far as what happens after that, who knows? I don't know."
Apple TV's Ted Lasso spin-off tease
And, now, Apple's tweeting like a Ted Lasso spin-off is in the cards, posting the following tweet on June 6th, 2023:
Then, Nick Mohammed (Nate) quote-tweeted that, with the "zipper-mouth face" emoji — as if to say "please stop asking me."
What could this be about? Well, as I'll explain below, I think a Ted Lasso spin-off called The Richmond Way seems like the most possible follow-up.
Ted Lasso season 4 possibilities
What could Ted Lasso season 4 be? Well, our best bet would be that it's something that happens a bit down the line, almost like Sex and The City's And Just Like That... revival, or Party Down season 3.
One expects that Ted Lasso (Jason Sudeikis) won't be coaching his son Henry (Gus Turner) forever. It's possible, but it would also be kinda weird for him to follow his son to high school or college, and keep coaching him throughout. Once that part of his "coaching career" is over, especially if Henry is off at college, we imagine Rebecca (Hannah Waddingham) would make an offer to bring Ted back. Richmond loves them some Coach Lasso, it makes sense.
Especially if, somehow Richmond still hasn't won the Premier League title and become champions by then. We doubt that Richmond would get relegated back down to the Championship league, because Ted Lasso's already told that story.
But, that leaves one problem: Ted Lasso, as a show, was never about winning the title. There's personal growth that underpins the whole story, and I can only see Sudeikis coming back if he found a new personal story that he wanted Lasso to live.
And what about Ted Lasso spin-offs?
TV show spin-offs that expand the universe of a show can be very tough to exectuite. If you don't believe me, just look up "Joey" — the quick-to-fail Friends spin-off.
So, say Ted doesn't come back to Richmond. It would be weird for Apple to declare it's got "Ted Lasso season 4," right? Which is why I'd bet on a spin-off show titled The Richmond Way, the title of Trent Crimm's book about the Greyhounds during Lasso's run.
The opportunity for material is all there, starting with Roy Kent (Brett Goldstein) going to therapy with Dr. Sharon Fieldstone (Sarah Niles). Despite his willingness to become a Diamond Dog, he's still a work in progress. Need evidence? Consider that preposterous moment where he and Jamie (Phil Dunster) asked Keeley to choose between them.
Speaking of Keeley, she's also pitched Rebecca on an AFC Richmond Women's Team ("a KJBR Joint," as she's working with Barbara now), which Rebecca seems to have bought in on. Finding a new coach for that team, or watching Roy try and coach that team, seems like a pitch that some Apple executive already has written in their iPhone's Notes app (what would a story about Ted Lasso be without Apple product placement?).
Outlook: Should there be a Ted Lasso season 4, or spin-off?
I could quote Roy Kent, but I'll opt to make like Ted and avoid profanity.
No, there should not be any more Ted Lasso content. Not only because of how its third season had as many problems as Dani Rojas (Cristo Fernández) has lovers, but because all of the characters seem to have (by design) finished their stories.
Even though I just pitched you on ideas for Ted Lasso season 4 and possible spin-offs, I just don't see the need for them. Much like I bet Jason Sudeikis is, I'm ready for something new.
More from Tom's Guide