Microsoft Surface Event recap: Surface Pro 9, Surface Laptop 5 and Surface Studio 2+ news
These are the big announcements made at the Microsoft Surface event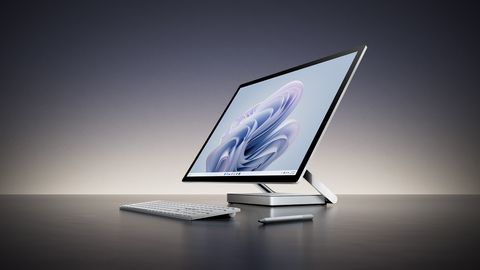 (Image: © Microsoft)
Microsoft held its annual Microsoft Surface October event today (October 12) and unveiled what's next for the Surface family of laptops, tablets and PCs. To be specific, we got our first glimpse of the new Microsoft Surface Pro 9, Microsoft Surface Studio 2+ and the Microsoft Surface Laptop 5. Based on what was shown, these machines seem likely bets to land a spot on our best Windows 11 laptops list.
We were expecting updated versions of the Surface Pro 9 and Surface Laptop 5. However, we were pleasantly surprised to see an updated Surface Studio, which is Microsoft's all-in-one desktop computer aimed at creative pros. In addition, we got a recap of all the new features coming to Windows 11 and some surprise integration with Apple features like Apple Music and iCloud photos.
Here's a closer look at what Microsoft announced at its Surface event today (October 12):
Surface Pro 9: As expected, the new Surface Pro 9 will be available in either Intel or ARM flavors. The ARM version comes with 5G connectivity (in select areas) and Microsoft's Qualcomm-powered SQ 3 chip, while the Intel versions will come with 12th Gen Alder Lake CPUs. This version also seems to have AI-driven NPU features that the Intel version doesn't.
At 0.37 inches thin and just under 2 pounds heavy it appears roughly the same, design-wise, as the Surface Pro 8, with the same 120Hz display and slick design. Regrettably, it seems as though Microsoft will still charge us extra for a stylus. This new machine isn't a radical overhaul of the Surface Pro line but the 5G model could be a major game changer.
Surface Laptop 5: The new Surface Laptop 5 looks pretty much like last year's model, and still comes in 13.5-inch and 15-inch variants powered by Intel's 12th Gen Alder Lake CPUs. Sadly, it doesn't look like you can order one with AMD chips this time around, but on the plus side, Microsoft finally added support for Thunderbolt 4.
It appears as though Microsoft has changed little else about its flagship laptop this time around -- and that's a little disappointing when you consider our that in our Surface Laptop 4 review from last year we praised this Windows laptop's performance and speakers but lambasted its dated design.
Surface Studio 2+: Whoa, we weren't expecting this -- Microsoft announced the Surface Studio 2+, a follow-up to its big-screen Surface Studio 2 all-in-one desktop that's fine-tuned for creative work. With a 28-inch 4K+ (4,500 x 3,000 resolution) touchscreen and an Nvidia GeForce RTX 3060 laptop GPU, this looks like a fantastic playground for creatives. Plus, it looks like Microsoft includes a Surface Pen stylus in the box, a must-have for a creative tool like this.
The only reservation we have is that this all-in-one is packing an outdated 11th Intel Core CPU, along with a mid-tier Nvidia GeForce RTX 3060 laptop GPU. This may be enough for its intended use (i.e. as a digital canvas), but given how the Surface Studio 2+ costs $4,299, we think it's warranted to look at this otherwise brilliant computer with increased skepticism.
How to Watch the Surface Event
While the Surface event took place already at t 10 a.m. ET, 7 a.m. PT, 3 p.m. BST on October 12, you can still head to Microsoft's event website to watch a replay. We'd expect the event to show up on Microsoft's YouTube channel, too, though it's not there as of this writing.
What follows is our minute-by-minute report on today's Microsoft announcements, along with some analysis in the build-up to the event.
Get the Tom's Guide newsletter!
Instant access to breaking news, the hottest reviews, great deals and helpful tips.
Thank you for signing up to Tom's Guide. You will receive a verification email shortly.
There was a problem. Please refresh the page and try again.