When it comes to building your smart home, the best security cameras, best smart locks, and best video doorbells are often the first devices people think about. However, there's another gadget that's overlooked, but can bring your smart home to the next level. Even better: It's cheap.
Earlier this year, I decked out my townhouse with a handful of motion sensors. I went with the Aqara P1 ($25, Amazon) sensor because it's affordable, has a battery life that lasts up to five years, and is easy to use since it plays nicely with both my Homekit and Alexa smart home platforms. This little guy accurately detects 360 degrees of activity to kick off automations within my smart home.
So, instead of having to say "Alexa..." or "Siri..." every time I want to turn on my lights, listen to some music, or change the temperature in my pad, all I have to do is walk into the room. Simply walking past this sensor tells my other devices what to do instead of forcing me to use voice commands or manually pull my phone out to start a routine.
For example, when I walk into the pantry, the lights turn on for 60 seconds and then turn off when I leave. But lighting is just the tip of the iceberg when it comes to motion sensor capabilities. These small upgrades can put parts of your daily routine on autopilot or provide you with live updates. Read on below to see five more ways you can use motion sensors to make your smart home even smarter.
Effortlessly wake up
I have a motion sensor placed on a shelf just outside of my bedroom door that's used to trigger my morning routine. The first motion event detected between the hours of 7 AM and 9 AM turns on both my kitchen and living room lights, powers on my Roku TV to live news (through Roku's Live TV app), and my single-serve coffee machine starts brewing a cup.
The light and TV automation is run through the Alexa app, but I have attached a Switchbot Bot Button Pusher ($29, Amazon) to press down the power switch on my "dumb" coffee machine. SwitchBot has an Alexa skill so it can be managed and controlled like you would a normal smart device, but if you have a newer Wi-Fi-connected coffee machine then you can skip this extra hardware and just add it from the Alexa app.
While I could have this routine start at a set time every morning, I don't like this because the volume levels on the news can vary and the lights are an annoyance when I don't feel like hopping right out of bed.
Receive a notification when mail or guests arrive
My mailbox is within range of my home's Wi-Fi network, so I placed a motion sensor in the back of it to detect whenever mail is dropped off. (Ring also makes a mailbox sensor, if you're on that platform). I have a simple Alexa notification that announces the event but you can get crazy and have your smart speakers play a loud sound or flash your lights to notify you.
If your network is extensive you can put a motion sensor at the end of your walkway (or even driveway) to be alerted when guests arrive before they hit your doorway. I no longer have to rush to grab the door when company shows up on my video doorbell. This is especially useful when I am hosting an event that requires a lot of cooking since I can better pause where I'm at in the recipe to clean up and greet everyone by the time they reach my front steps.
Move your music between rooms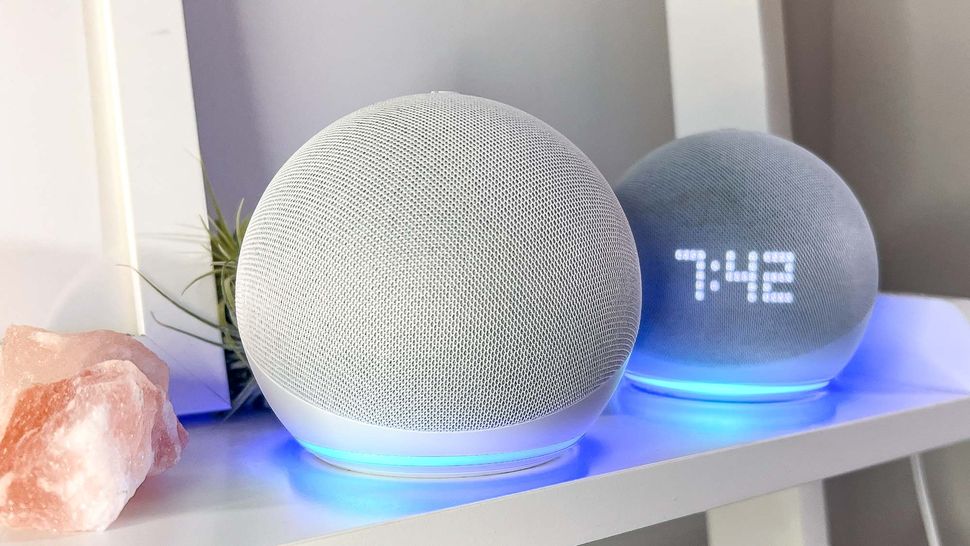 If I'm listening to music in one room, but move to another, I want to have it follow me. While there's an Alexa command to transfer the music from one smart speaker to another, why waste the vocal energy?
When I'm actively listening to music on Spotify through a smart speaker and I walk past a motion sensor in another room, it triggers the command "Alexa, move my music to (name room motion sensor is placed in such as office/bedroom/kitchen) speaker." This transfers what I'm listening to over to the speaker closest to the tripped motion sensor. Now my music doesn't have to play in every room I've been in and I'm using less power which the next tip takes a step further. The handoff between speakers is seamless and lets me go from jamming out in my kitchen or office to my living room.
Climate control for spaces like basements and lofts
My townhome's loft serves as my office, so I spend a lot of time there. Unfortunately, it doesn't have its own temperature sensors. That's a problem because this room shares the same climate information as my main open living space despite it running either too hot or cool upstairs depending on the season. If you don't have a smart thermostat like the Ecobee Smart Thermostat Premium (which has its own remote sensors), you can put third-party motion sensors to work. I have a motion sensor tell my smart thermostat to either bump up or bring down the temperatures when motion is detected in the loft.
Trying to regulate this space in the past has been a hassle since I would have to take the time to ask my voice assistant to set the temperature or pull out my phone and adjust the temperature from HomeKit a few extra degrees. As an added bonus of this routine, I have a rule that if no activity is detected for 30 minutes from the last motion event to not only return the temperature settings to normal but also turn off both the TV and lights. My ADHD brain will often jet out of the loft after work and forget I left everything powered on. This is a boon to helping save money on the electricity and HVAC bills.
Walk into a lively home
I've set a motion sensor on the corner of my entryway table and aimed it at my door. I have a basic routine set so that when I walk in I am greeted by lights, a welcome home message from Alexa, and a news briefing. By the time I place my bag down and remove my shoes my entryway lights turn themselves off (set to 60 seconds) and my smart lock activates itself. You can take this further for your needs and have Alexa start playing music or turn on your living room TV so that you can jump into your wind-down routine even faster.
More from Tom's Guide