Spring is officially here, and with it, our lawns need some care and attention. One chore which gets reintroduced at this time of year is cutting the grass. The time has come to wheel your lawn mower out of storage and get it ready for action. The trouble is, lawn mowers need as much care and maintenance as the lawn itself. Neglect your lawn mower, and you will soon notice the performance degrading.
A poorly maintained lawn mower, or a poor method in using it, can result in damage to your lawn. So it's essential that you take care of this machine. Getting the best performance from your lawn mower can help you achieve greener grass. It can also prevent damage and save you from learning how to plant grass seed. If you're keen to give your lawn mower some TLC, we've rounded up 9 ways to get the most out of your lawn mower.
And here are 7 ways you can reuse grass clippings after mowing. Also, if you want a rain chain , here are 5 reasons to buy or skip.
1. Sharpen the blade
First, you'll need to learn how to sharpen lawn mower blades and recognize when this chore needs to be done. Lawn mower blades should be sharpened after about 25 hours of use, so if your grass requires two hours to cut, and you cut it once a week, you will need to sharpen the blade after about three months of use.
You can tell when the blade needs sharpening because it will reflect on the quality of the grass you cut — it will be torn or shredded rather than cut cleanly. A dull blade can also damage the root system of your grass, ultimately killing it. Failing that, you can tell if a blade is dull or damaged just by looking at it. If it's chipped or dented, it needs sharpening.
To sharpen a lawn mower blade, you need to remove it from the machine and clean it before carefully sharpening it with either a metal file, a drill-powered blade sharpener or an electric angle grinder. You then need to refit it, making sure it's balanced. For step-by-step guidance, check out how to sharpen lawn mower blades. Don't skip this task, because at the very least it will result in a messy lawn.
2. Cut on the right day
You can't cut the grass on just any old day; you need to make sure the conditions are right for the best results. In short, don't cut the grass when it's wet outside. The grass will tear as you mow it and the cuttings are more likely to stick to and jam the mower. Even if it hasn't rained, make sure there's no residual moisture from the day before as the performance will still struggle.
You can check the conditions by having a feel of the grass with your hand. If your hand comes away damp, it's too wet, but if it's dry, you're good to go. You could alternatively take a quick walk over your lawn and check how damp the underside of your shoes are before making a judgement call. Don't mow in muddy conditions — your lawn mower can stick and you can easily damage the grass. Always mow on solid ground when it's dry outside.
3. Cut in the right direction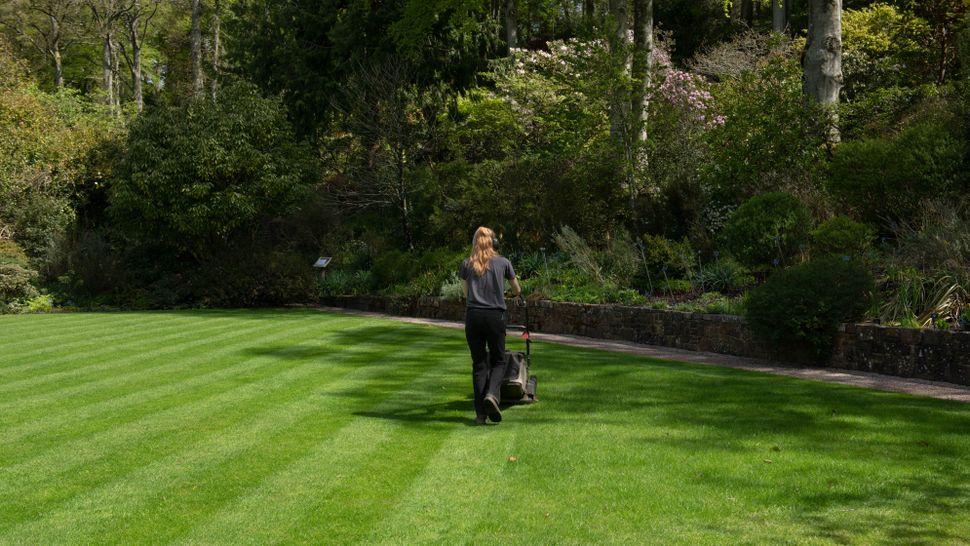 Whatever you do, don't mow the entire lawn in the same direction. As you pass over the grass, it will naturally bend as it's cut. And by bending all of your grass in the same direction, you're essentially flattening it and growing it at an angle. Alternate your direction as you cut the grass — cutting in rows is a good way to do this. That way, the grass will be able to grow vertically and it will have more spring to its growth.
If you want to create a striped lawn, you're going to need to pass over the grass in the same direction (alternating rows), using the rear roller on your mower. For full guidance, see how to stripe your lawn.
4. Cut to the right length
Cutting your grass to the correct length is essential when using your lawn mower. Cut off too much and it can hinder the health of your lawn. Because there's less surface area on each blade of grass, its ability to photosynthesize is impaired, which damages the overall growth. Should you scalp areas of your lawn due to an uneven surface, you will leave it vulnerable to weeds and pests as well. So, even if you think a short cut will give you more time before you need to pick up the lawn mower again, don't do it.
Experts recommend cutting your grass to 2½ - 3 inches in height to maintain a healthy lawn. As a general rule, don't cut more than a third from the total height of the grass. This will provide a neat appearance without impairing its health. Some grasses can be cut shorter, but it depends on the type and variety. Bermudagrass for instance, can be cut down to one inch. Ask for guidance on your grass type at your local garden center.
5. Clean it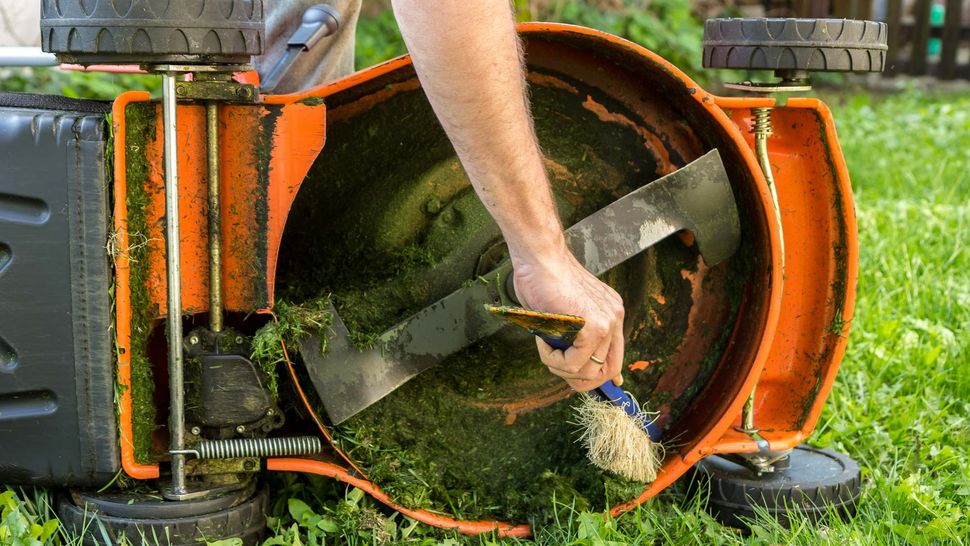 Just like every appliance, your lawn mower needs cleaning once in a while — especially the deck, where grass and dirt collects. Power off the lawn mower and drain the gas (if applicable) before you attempt to clean it. If it's battery-powered, remove the battery, or disconnect the spark plug for gas models. Then carefully tip it on its side, while keeping the air filter and carburetor upright.
Now, while wearing safety gloves and using a stiff-bristled brush, such as the Harrison Greys Scrubbing Brush ($14.99, Amazon), dislodge and scrub away any grass or dirt which has wedged itself in the deck. Take care around the stationary blade — you can wipe this with a damp microfiber cloth if necessary. You can also use warm soapy water to wash away any dirt from the deck, and then rinse afterwards with a garden hose. Make sure the lawn mower has dried completely before you reconnect the power and attempt to use it again.
You should clean your lawn mower deck as often as required, but twice a season is recommended by most.
6. Make sure it's stored correctly
While you might just be getting your lawn mower out of storage, it's important that you store it correctly between uses. It should never be left outdoors unless it's protected or covered with a waterproof layer — otherwise, the rain can lead to rust, and the lifespan will ultimately be reduced. Ideally, you should store your lawn mower in a dry and cool space, such as a shed or garage. It should have a dedicated spot here, so it's easy to access.
For long-term storage off-season, you will need to take a few more steps to prep your lawn mower. If you have a gas-powered motor, you will need to drain the fuel; if it's a battery-powered model, disconnect the power supply and store the battery where it won't get too hot or too cold. Storing your lawn mower properly will help it last longer and maintain its performance. For step-by-step guidance, see how to store a lawn mower and protect it through the winter.
7. Apply oil
This point applies to gas-powered lawn mowers. As these contain running engines, they will require fresh oil to help lubricate and cool the movements. Oil is stored on board the lawn mower and it will gradually deplete with everyday use. As such it requires regular checking between uses and topping up when necessary. You can check the levels via the dipstick.
When the lawn mower has cooled and powered off, simply locate the oil cap near to the engine — it will have an oil symbol displayed. Unscrew the cap, remove the dipstick, and wipe this with a microfiber cloth before re-inserting it and screwing the cap back on. Once you've done this, remove the dipstick once again to confirm the oil level. It should be between the low and full marks. If it's low, you need to add more oil.
Lawn mowers tend to require 10W30 motor oil to function, but your user manual should list which exact grade you need. Add fresh oil gradually to the crankcase if required, but do so slowly and continue checking the level with the dipstick.
Should the oil on the dipstick appear dirty when you check it, you will need a full oil change. This is recommended every 50 hours of use. To do this, you will need to drain the old oil first before applying fresh oil. Never overfill your lawn mower with oil, otherwise it can be slow to start, vent white smoke in use as well as leak excess oil.
8. Check the air filter
Gas-powered lawn mowers also contain air filters which need cleaning or replacing regularly. These protect the engine from dirt, but with regular use they can become overly dirty or worn down. Should the air filter fail, dirt can find its way into your engine, potentially damaging it, so it's important that you keep on top of maintaining this component.
Depending on whether you've got a paper filter, a foam filter or a hybrid filter, it will need either cleaning or replacing. If the filter appears heavily stained, damaged in places, or it's falling apart, a replacement will likely be necessary. Otherwise, if you're dealing with a foam filter, it can usually be washed in soapy water, rinsed and then dried. For hybrid filters, you should always follow the manufacturer's instructions for cleaning. Paper filters can't be washed, but you may be able to knock the dirt off before replacing.
A paper filter should be replaced once every season, but you should check whether foam filters need to be cleaned more regularly; after 25 operating hours or so.
9. Service it
If you're concerned about attempting any of the above tasks yourself, or you'd rather someone else did the work for you, you can always get your lawn mower serviced. Local home department stores should be able to change the oil, sharpen the blade and get your lawn mower working as good as new again. It doesn't matter whether you choose to go down this route, or maintain your lawn mower yourself. In either case, your lawn mower will get the care it requires, helping it to last longer.
More from Tom's Guide