When it comes to household tasks, borax is often praised as the "laundry booster", known for whitening and brightening clothes. It's also known for getting rid of odors, and making clothes softer by reducing hard water mineral deposits. But, besides being a laundry powerhouse, did you know there are other uses for borax around the home?
For those unfamiliar with the name, borax is a white powdery substance (also known as sodium tetraborate), commonly found in most cleaning products. Not to be confused with baking soda, borax is slightly alkaline and forms a basic solution when added to water. Unlike boric acid, sodium tetraborate is not toxic. However, borax is essentially a chemical water softener, so always handle with caution to avoid possible skin or eye irritation, and keep away from children and pets.
In the meantime, if you have an endless supply in your laundry cupboard, check out these 9 things you didn't know you could do with borax. Plus, these are the 7 things you never knew you could clean with denture tablets.
1. Carpet cleaner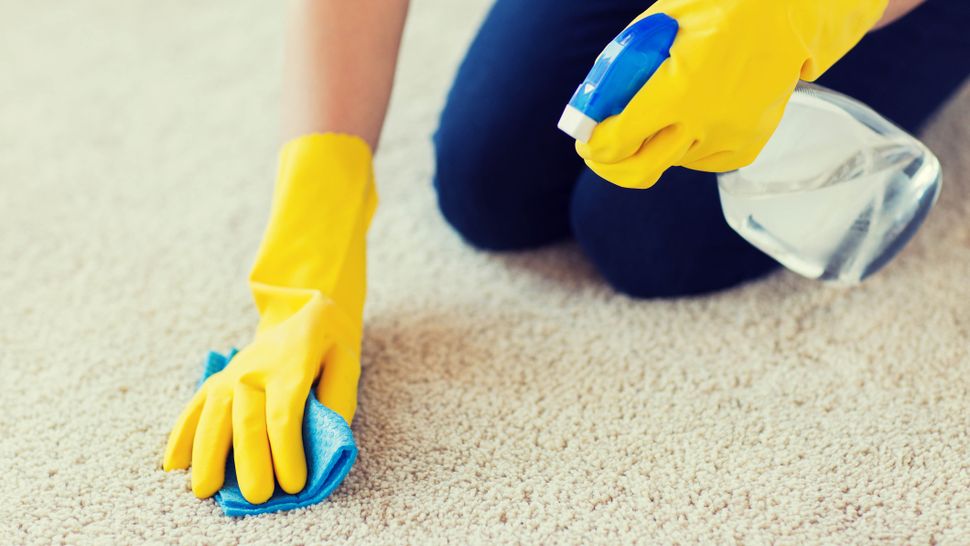 Borax can make an effective natural carpet cleaner. From removing spillage stains and smelly odors to giving your carpets a refresh, borax will get the job done.
To remove fresh stains from spills, first blot the stain with a clean cloth to absorb as much liquid. Next, lightly spray the area with cold water before sprinkling borax over the stain. Lay a wet cloth over it, and press down using a spoon or other flat utensil to work the borax into the stain. Blot the stain again with a clean cloth, and continue steps to remove stain. Spray with cold water to rinse and blot until all the borax is removed. Then dry the area with paper towels.
If you want to remove odors and freshen it up, sprinkle borax across your carpet or rugs and leave for about an hour. This will absorb any odors, and remove bad smells, before vacuuming up excess powder. Before you begin, always remember to spot test a small area in the corner first to avoid damage or discoloration.
2. Unblocking drains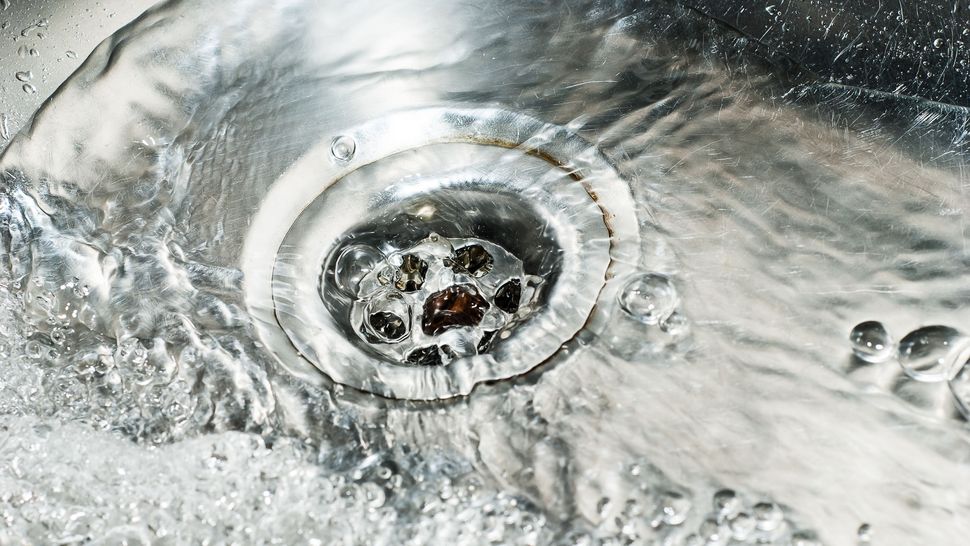 Knowing how to unclog a drain can be challenging at the best of times, but borax is great for clearing out drains. Best of all, it's easy to do. Simply pour half a cup of borax to two cups of boiling water down the drain. Allow it to sit for about 15-20 minutes before flushing it with hot water. Repeat if necessary until the sink is completely clear, and water flows freely.
Similar to baking soda, borax works well to loosen up grime and debris which should unclog a drain in minutes. To prevent future blockages however, check out these 7 things you should never put down the drain.
3. Cleaning windows
If you want spotless and smudge-free windows, borax will have your glass gleaming in no time. Simply dilute one part borax to one part warm water into a clean spray bottle. Shake to mix thoroughly before spraying it on the windows. As you clean and wipe with a microfiber cloth, your glass will look clear and spotless.
Borax is slightly abrasive, making it the ideal agent for cleaning glass. You could even try this when cleaning a glass shower door for sparkling results.
4. All-purpose cleaner
If your kitchen cupboard is full of various cleaning products, ditch them all for a homemade cleaner. Borax is a great all-purpose cleaner thanks to its ability to remove tough stains and odors.
You can make your own solution by mixing two tablespoons of borax with two cups of water in a clean spray bottle. Shake thoroughly and you can use it to spray on dirty surfaces and countertops. In addition, this will also brighten white surfaces, and make them look brand new again.
What's more, this DIY cleaner will save you money from buying expensive products in the long-run!
5. Deodorize smelly shoes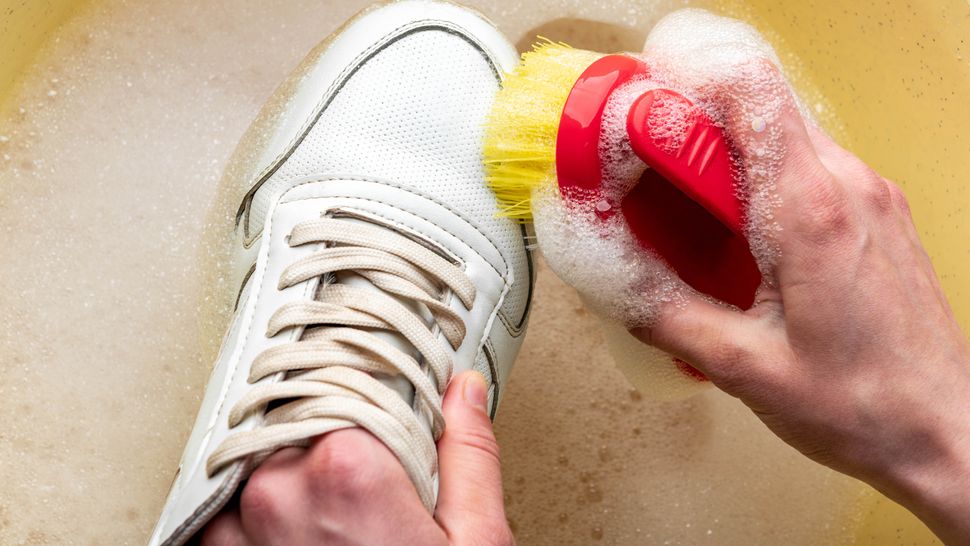 Similar to baking soda, borax absorbs odors, making it a great deodorizer. If you or family members have smelly shoes or sneakers, you can easily get rid of odors with a simple borax solution.
When it's time to clean sneakers, simply mix about 1 liter of water and two tablespoons of borax into a clean spray bottle. Replace the bottle top before shaking the solution. Then, spray inside your footwear, allowing the mixture to sit there for about 20 minutes.
Use a clean brush to scrub the inside of your shoes to remove any excess borax, and dry thoroughly before wearing. You can repeat this for as many days as needed until the odors disappear.
If you're a sneakerhead, check out our guide on how to clean and protect your sneaker collection.
6. Killing mildew
It's always a worry when you spot signs of mold and mildew in the home. Mildew can even get on clothing and other fabrics such as a sofa — making it a hassle to remove. Luckily, borax is one of the few chemicals which will kill mildew on fabrics. Simply scrub the area with a solution of one part borax to four parts water. This will loosen the mildew which can be washed as normal.
If you have mildew on hard surfaces, you can mix one cup of borax to one quart of hot water in a spray bottle. Then, spray solution on the mold or mildew until it is completely covered. Allow to sit for a few hours or so before rinsing with water thoroughly, and wiping clean with a microfiber cloth.
Typically, mildew is caused by high levels of condensation and moisture in the home. Although one of the best dehumidifiers can help, if you have a serious mold or mildew problem, always seek professional advice.
You might also want to try one of these 5 houseplants that will help prevent mold in your home.
7. Get rid of rust
Rust is notorious for being hard to clean, but borax makes a great rust remover. First, mix a small amount of borax with a few squeezes of lemon juice to make a paste. Then, apply the paste to the rust with a flat spatula or tool, and leave to sit for a few hours. Wipe clean with a cloth to remove traces of rust that had lifted.
Depending on how badly the rust is, repeat this several times until the rust eventually comes off. The borax should be abrasive enough to cut through the rust without damaging or scratching surfaces.
Similarly, lemons are another natural bleaching agent, and can deodorize bad odors, leaving a fresh scent. Check out these 9 things you didn't know you could clean with a lemon.
8. Preserve cut flowers
For those who like to decorate the home with dried flowers or use them for pot pourri, borax is a great way to preserve them.
Similar to those tiny packets of silica gel found in shoeboxes, borax acts as a desiccant. Essentially, this eliminates the moisture from the flower petals, but still allows them to retain their natural shape and color.
Simply mix one part borax with one part sand (or cornmeal), and lay mixture in a box. Trim off the leaves and set the flowers face up on top of the borax — spacing them about 1 inch apart. Cover the flowers with the borax mixture, using a toothpick to gently push the borax between petal layers before leaving flowers in the mixture for seven days. If it feels dry after this period, it's time to remove the flowers. Also, dried flowers can be used for pot pourri, craft projects or table decoration for special occasions.
9. Deter unwanted pests
If you have unwanted pests around the home, borax can be used as an effective repellent. Whether you want to get rid of mice, ants or roaches, sprinkle a mix of borax and caster sugar on the floor, along skirting boards or holes where pests are likely to enter.
Similar to commercial pest killers, borax contains chemical components that will kill rodents or pests if ingested. While the sugar is a clever way to entice pests to the borax. This should eliminate your pest problem, and get rid of unwanted pests for good!
Just ensure you keep this away from children and pets who might accidentally ingest this.
More from Tom's Guide