The Xbox Series X is the most powerful game console currently available, featuring detailed graphics, fluid frame rates and rapid load times. The device also sports a fantastic game library, with backwards compatibility going all the way back to the original Xbox. With the Xbox Game Pass Ultimate subscription service, the Series X can be the centerpiece of a robust ecosystem.

For
The only Xbox you need
Lots of power
Games load very fast
Against
Few next-gen exclusives
Large and heavy
The Xbox Series S is a smaller, sleeker console than the full-featured Xbox Series X. While it's not quite as powerful as the Series X, the Series S has a nearly identical library, and is optimized to run games on 1080p or 1440p displays. It's also considerably cheaper, making it an excellent starter console.
For
Fantastic game selection
Smooth performance
Sleek, quiet design
Against
Not very future-proof
Graphics and storage limitations
We're now at a stage where the Xbox Series X and Xbox Series S are fully current-generation consoles. Not only do they both have solid rosters of games, but they are also a lot easier to buy than they were at launch more than two years ago.
But some people may have yet to move into current-gen console gaming and are still weighing up the Xbox Series X vs. Xbox Series S.
The Xbox Series X is a true powerhouse of a games console, looking a bit like a compact PC than Xbox machines of the past. And its price tag reflects that.
Meanwhile, the Xbox Series S on paper looks less powerful than the Xbox One X. But it uses newer chip architecture to deliver 1440p gaming for a price that's around half that of its bigger sibling. There's also a 1TB Xbox Series S available in black, which ramps up the price but offers double the SSD space, which is useful for modern games that seem to be constantly ballooning in install size.
Neither console is likely to leave you disappointed; the Series X is for people who want true 4K power, while the Series S would make a good companion for people who most err on the side of the PS5.
But read on to see how the face-off between the Xbox Series X vs. Xbox Series S plays out and which would be best for you.
Xbox Series X vs. Xbox Series S: Price
The Xbox Series S' price is one of only a few categories in which it definitely beats the Xbox Series X. Simply put: the Xbox Series S costs $299, whereas the Series X costs $499. (Prices vary from country to country, but the differential is similar.) The 1TB Xbox Series X cost $349, putting it a little too close to the PS5 Digital Edition for us.
You can make plenty of arguments about how the Xbox Series X does more to earn its price, or how "price" and "value" aren't the same thing, or how the Xbox Series S might not be as useful in the long term. But for right now, the Series S is $200 cheaper than the flagship Xbox, and that might make a big difference, depending on your budget and your current entertainment setup.
Xbox Series X vs. Xbox Series S: Performance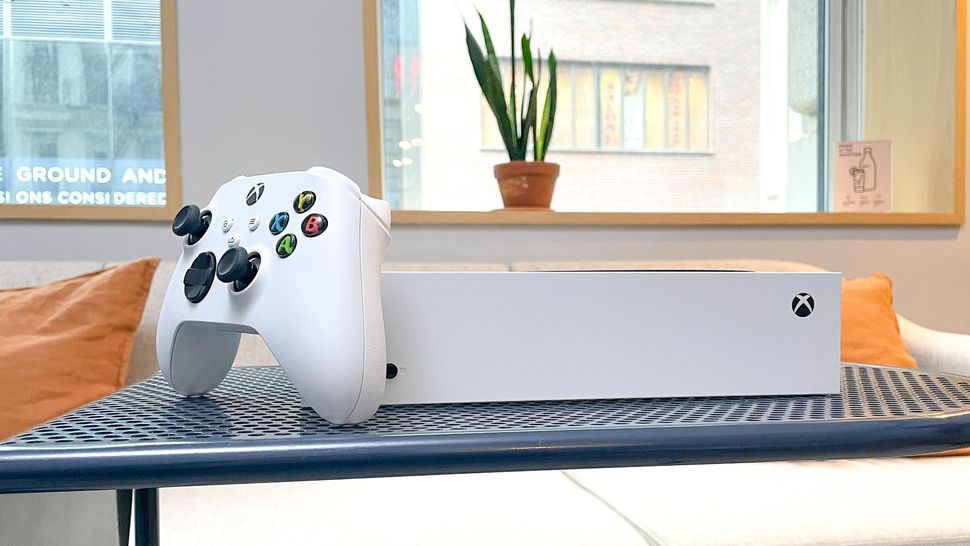 Whereas the Xbox Series S has a clear price advantage, the Xbox Series X has a clear hardware advantage. While the two systems have the same CPU, they have different storage and RAM capacities. There's also a significant difference in the two consoles' GPUs. Consult the chart below for a full breakdown of Xbox Series X vs. Xbox Series S specs:
Swipe to scroll horizontally
| Header Cell - Column 0 | Xbox Series X | Xbox Series S |
| --- | --- | --- |
| Price | $500 | $300 / $349 |
| Processor | Custom Zen 2, 8-core, 3.8 GHz | Custom Zen 2, 8-core, 3.8 GHz |
| GPU | AMD RDNA 2, 12 teraflops, 1.8 GHz | AMD RDNA 2, 4 teraflops, 1.6 GHz |
| RAM | 16GB | 10GB |
| Storage | 1TB | 512GB / 1TB |
| Display (Targeted) | 4K, 60 fps | 1440p, 60 fps |
| Display (Max) | 8K, 120 fps | 1440p, 120 fps |
In our tests, the Xbox Series X performed better than the Xbox Series S across the board — not surprising, considering the Series X's hardware. While the Xbox Series S has 4K upscaling and HDR features, it's not quite the same thing as having a native 4K display. The Xbox Series X supports ray-tracing on a huge variety of games, while the Series S has much more limited ray-tracing support. The Series X also has much better draw distance in optimized games.
Qualitatively speaking, the Xbox Series S looks good and plays well, even on 4K displays. If you have a 1080p TV or 1440p monitor — and plan to keep using it for a few more years — the Series S is an easy sell. But if you have a high-end TV, save your pennies for the Series X. It's worth the upgrade price.
The Xbox Series X also has a 4K Blu-ray player built in; the Xbox Series S is a purely digital console. This means that if you have a lot of physical media — be they movies, TV shows, or backwards-compatible games — the Xbox Series X offers a huge advantage over the Series S.
Xbox Series X vs. Xbox Series S: Design
While the Xbox Series X is a pretty console, there's no denying that it's pretty big: 11.9 x 5.9 x 5.9 inches, and 9.8 pounds. It's not at all guaranteed to fit in your entertainment center, particularly if you want it in a horizontal configuration.
This is where the Xbox Series S positively shines. The little white console (with the tasteful black vents on top) is only 10.8 x 5.9 x 2.6 inches, and 4.3 pounds. It's one of the smallest, lightest consoles in years, and it fits perfectly in an entertainment center — or simply next to a TV on a dresser. The Xbox Series S is easy to fit into any setup, and easy to move around.
For this reason, the Xbox Series S makes a fantastic secondary console for a bedroom, child's room, guest room — you get the idea. This is particularly true since most Xbox Series X/S games are also available on PC, and your save data can carry over — especially true if you use Xbox Game Pass Ultimate ($17 per month). On the other hand, we also realize it's a luxury to own a single console for the living room; an extra one might be pushing it.
Xbox Series X vs. Xbox Series S: What's the same?
In many ways the Xbox Series X and Xbox Series S are very similar. Sure their overall power and design is different, but both use the same controller, interface, and other features.
Most pertinent, the game library is the same for both. Sure you'll get better graphics and faster frame rates in the latest games with the Series X, but the Series S isn't likely to let you down either. There are a lot of older Xbox games now optimized for both of the new consoles, and also run well on each. Both consoles can also use the Xbox's signature Quick Resume feature, which lets you suspend multiple games and pick up right where you left off in each one.
Xbox Series X vs. Xbox Series S: Buy now or wait?
Now that we're more than two years into the lifespan of the Xbox Series X and Series S, you may be asking if it's worth taking the plunge on either console.
Well, we'd say yes. There are now some solid exclusive Xbox games that run well on both consoles. And we are now at a point where new games aren't always cross-generation (but plenty still are), so you'll need a current-gen Xbox to enjoy the games we expect to see in the future such as The Elder Scrolls 6 and Fable.
The Xbox Series X doesn't get discounted very often, so you'll definitely need to pay for the power. However, the Xbox Series S can occasionally be found with a $50/£50 discount, which almost makes it an impulse buy, relatively speaking.
Xbox Series X vs. Xbox Series S: Verdict
There's no denying that the Xbox Series X is the more powerful of the two systems, and the better investment, if you can afford it. However, there are a few circumstances under which an Xbox Series S might still be a smart buy.
The "secondary console" case described above carries some weight. If you have a 1080p TV and no plans to upgrade anytime soon, the Series S is the way to go — and when you do get a 4K TV, it'll still be a good stopgap system thanks to upscaling.
Otherwise, get the Xbox Series X, even if you have to put off your purchase and save up for it. With more powerful hardware and better physical media features, it's more future-proof and versatile than the Series S. Yes, $200 can buy a lot of games, but you may only be delaying a more expensive purchase a few years down the road.