A Pixel 6 vs. Pixel 5a comparison is just what you need if you're trying to figure out which new Pixel phone may be right now that Google has overhauled its smartphone lineup for the year.
The budget-friendly Pixel 5a has been available to buy since August, and it ranks as one of the best Android phones you can buy. That's not a surprise — the Pixel 5a has a lot going for it, including offering the best camera experience under $500.
But the Pixel 6 and Pixel 6 Pro are here, and they're impressive phones, too. From improved camera hardware to Google's own Tensor system-on-chip, the new Pixels deliver great things, earning places among the best camera phone and the best phones overall.
With all three phones available, our Google Pixel 6 vs. Pixel 5a face-off looks at how the phones stack up . The Pixel 5a does a lot right for $449, but the Pixel 6 (starting at $599) and Pixel 6 Pro (starting at $899) have a lot to offer for their higher prices.
We've also got a Google Pixel 6 vs Pixel 5 comparison if you want to see what's new since the last generation.
Google Pixel 6 vs. Pixel 5a: Specs
Swipe to scroll horizontally
| | | | |
| --- | --- | --- | --- |
| Row 0 - Cell 0 | Pixel 6 | Pixel 6 Pro | Pixel 5a |
| Starting price | $599 | $899 | $449 |
| Screen size | 6.4-inch OLED (2400 x 1080) | 6.71-inch OLED (3120 x 1440) | 6.43-inch OLED (2400 x 1080) |
| Refresh rate | 90Hz | 120Hz | 60Hz |
| CPU | Google Tensor | Google Tensor | Snapdragon 765G |
| RAM | 8GB | 12GB | 6GB |
| Storage | 128GB, 256GB | 128GB, 256GB, 512GB | 128GB |
| Rear cameras | 50MP wide (f/1.85), 12MP ultrawide (f/2.2) | 0MP (f/1.85) main, 12MP (f/2.2) ultrawide, 48MP (f/3.5) telephoto with 4x optical zoom | 12.2MP (f/1.7), 16MP (f/2.2) ultrawide |
| Front camera | 8MP (f/2.0) | 11MP (f/2.2) | 8MP (f/2.0) |
| Battery size | 4,614 mAh | 5,000 mAh | 4,680 mAh |
| Battery life (Hrs:Mins) | 8:13 | 7:49 | 9:45 |
| Wired charging speed | 30W | 30W | 18W |
| Size | 6.2 x 2.9 x 0.4 inches | 6.5 x 3.0 x 0.4 inches | 6.1 x 2.9 x 0.3 inches |
| Weight | 7.3 ounces | 7.4 ounces | 6.5 ounces |
Google Pixel 6 vs. Pixel 5a: Price and availability
Right now, you can get a Pixel 5a through the Google Store or the Google Fi phone carrier. No other wireless service offers this phone, though you can find it through some online retailers.
There's only one Pixel 5a model that costs $449. Furthermore, the Pixel 5a is limited to the US and Japan.
The Pixel 6 and Pixel 6 Pro are more widely available, as each of the major carriers offers the new phones; so does Google Fi, and you can buy the Pixel 6 unlocked through Google.
You can grab a 128GB Pixel 6 for $599, or a 128GB Pixel 6 Pro for $899. In the case of the Pixel 6, not everyone is offering that $599 starting price — Verizon and AT&T charge more because their versions of the Pixel 6 work with their respective high-speed mmWave-based 5G networks. AT&T also charges $40 extra for the Pixel 6 Pro.
Google Pixel 6 vs. Pixel 5a: Design
The Pixel 5a kept the same safe design language that the Pixels have thus far been known for. Google's function-over-form mentality isn't a bad thing, but the Pixel 5a is not a pretty phone. It's a plastic slab in an off-black shade with the Pixel square camera module and fingerprint sensor. That's it.
After teasing us with previews of the Pixel 6's radical new design, the new flagship phones don't look any less unique now that we've gotten our hands on the Pixel 6 and Pixel 6 Pro. Both models feature a centered front-facing camera in a hole-punch cutout (versus being in the left corner like the Pixel 4a, 4a 5G, 5, and 5a) and a camera bar spanning the width of the phone. This bar will replace the square camera module that we've had since the Pixel 4 and Pixel 4 XL in 2019.
Because the horizontal camera bar spans the width of the phone, there's no wobble when you lay the Pixel 6 on its back. The bar does add to the thickness of the Pixel 6, however — it's 0.4 inches thick vs. 0.3 inches for the Pixel 5a.
The Pixel 6 also has a tri-tone color scheme, a far cry from the single color options on the last three Pixels. And Google has gone back to fun colors — the Pixel 5 took a break from the interesting colorways, with a soft sage color as the only alternative to black. The Pixel 6 comes in coral, seafoam and black colors, while your options for the Pixel 6 Pro are black, white and a sunny yellow.
The Pixel 6 has a metal frame and glass back, which is very different from the Pixel 5a's polycarbonate body. Though, to be fair, that is a budget phone and no one expected premium materials. Overall, the Pixel 6 feels like a high-end device.
Google Pixel 6 vs. Pixel 5a: Displays
The Pixel 5a rocks a 6.43-inch FHD+ OLED display with a 60Hz refresh rate, which we quite liked in our review of that phone. It has decent colors, nice brightness, and the larger size is great for movies and games. It's by no means on the same level as the Galaxy S21 Ultra or the OnePlus 9 Pro, but at more than half the cost of those phones, the Pixel 5a's display is rather good for the money.
The Pixel 6 has a 6.4-inch OLED FHD+ display with a 90Hz refresh rate. The Pixel 6 Pro has a 6.7-inch OLED QHD+ display with a 120Hz refresh rate.
Faster refresh rates help separate the Pixel 6 models from the Pixel 5a, but the phones' displays differ in other ways. The Pixel 6 and 6 Pro have brighter screens, registering at 842 nits and 843 nits, respectively, when we broke out our light meter. The Pixel 5a topped out at 501 nits.
All three Pixel models are about as colorful, showing off between 100% and 111% of the sRGB color spectrum. But the Pixel 5a is the more accurate of the trio in reproducing color, as its Delta-E rating is 0.2. That's better than the 0.28 result of the Pixel 6 and the 0.3 score of the Pixel 6 Pro. (The closer to 0, the more accurate the display.)
Google Pixel 6 vs. Pixel 5a: Cameras
Whether flagship phone or midrange model, where Pixel devices absolutely shine is in the photography department. Google has long pushed the envelope on what's possible with smartphone photography, and even though other manufacturers have seemingly caught up, the Pixel 6 pushes things even further with powerful hardware and the AI chops for the computational side.
The Pixel 5a uses the same 12.2MP main sensor as its predecessor, but Google added a 16MP ultrawide lens to the budget phone. This significantly enhanced the Pixel 5a's photography capabilities, making it the best camera phone for less than $500.
The base model Pixel 6 has a huge 50MP main sensor paired with a 12MP ultrawide. While megapixel count isn't the be-all-end-all (as Google has repeatedly shown throughout the Pixel line's lifespan), the extra resolution will further add to the professional appeal of the Pixel 6's photos.
The Pixel 6 Pro adds a third 48MP telephoto lens with 4x optical zoom. Google already has one of the best digital zooms with what it calls Super Res Zoom (which uses AI to clean up a zoomed-in image), and have a dedicated optical zoom makes the Pixel 6 Pro an even better camera phone.
The Pixel 6 family also gets new photo editing features, highlighted by Magic Eraser. Using this tool, you can remove extraneous people and objects from your photos with the help of Google's AI. Motion mode adds stylish blurs to action shots and a face unblur feature makes sure the people you photograph remain in focus, even if they move at the last second.
It sounds as if these new capabilities rely heavily on the Pixel 6's Tensor chip, so it's unclear if they'll find their way to other Pixel phones, including the Pixel 5a.
Google Pixel 6 vs. Pixel 5a: Tensor chip and specs
Speaking of Tensor, Google's new in-house system-on-chip has us really excited, especially now that we've seen the new silicon in action. While the Pixel 5a uses a Snapdragon 765G, the Pixel 6 and Pixel 6 Pro are the first Google phones to not use a Qualcomm chip. In fact, Tensor stands to set new standards when it comes to AI and machine learning applications, making the phones very powerful in that regard.
You can read our Pixel 6 benchmarks report to see how the Tensor compares to other flagship phone. (Long story short, it more or less matches a Snapdragon 888, but still lags the iPhone's A15 Bionic.) Certainly, the Tensor-powered Pixel 6 models outperform the Pixel 5a. The Pixel 6 and Pixel 6 Pro posted respective results of 34.3 and 40 frames per second on 3DMark's Wild Life Unlimited graphics test, compared to 10 FPS for the Pixel 5a.
The Pixel 6 has 8GB of RAM while the Pro has 12GB of RAM. The Pixel 5a makes do with 6GB, which is fine for most applications.
Let's go back to Tensor. This new chip allows Google to offer five years of security updates. That's unheard of for Android phones. Apple is well-known for supporting its iPhones for several years (with its 2015 phones having gotten iOS 15 this year).
In terms of 5G, the Pixel 6 and Pixel 6 Pro support both mmWave and sub-6GHz 5G networks, just like the Pixel 5a does, though as we've mentioned, you'll need to buy Pixel 6 models directly from Verizon and AT&T if you want to use their high speed networks.
Google Pixel 6 vs. Pixel 5a: Batteries and Pixel Stand
The Pixel 5a had the biggest battery to date in any Pixel phone at 4,630 mAh. That has translated to real-world improvements over previous Pixel phones in terms of battery life. But the Pixel 6 Pro takes that one step further.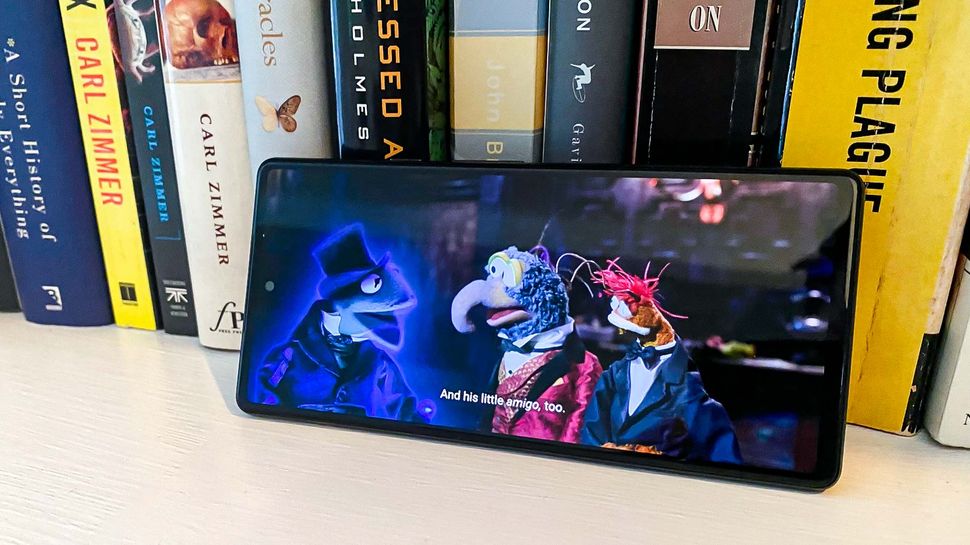 The smaller of the new Pixels has a 4,614 mAh battery while the Pro has a huge 5,000 mAh power pack. Unfortunately, those batteries don't translate to great results on our battery life test.
The Pixel 6 lasted only 8 hours and 13 minutes while the Pixel 6 Pro held out for 7 hours and 49 minutes. We suspect that's related to the 5G modem in those phones, which is a generation behind the one used in other top flagships. Whatever the reason, the Pixel 5a outlasts both flagships, holding out for 9 hours and 45 minutes on our test. That's just about average for a smartphone.
Google did speed up the charging for the Pixel 6 and Pixel 6 Pro, which now support 30W wired charging, even if Google doesn't include a charger with those phones. Still, that's a huge leap above the Pixel 5a's 18W speed. With a new Pixel Stand, the Pixel 6 gets faster wireless charging (which the Pixel 5a lacks altogether).
Google Pixel 6 vs. Pixel 5a: Outlook
The Pixel 6 and Pixel 6 Pro offer a lot of upgrades over the Pixel 5a, most of which are driven by the Tensor processor. That said, Google's current budget offering gets the job done for most people quite well at $449. It's definitely a strong camera phone.
Despite worries that the Pixel 6 series would be expensive, the 5a's sub-$500 price might remains attractive in the face of the new phones' price tags. It might be hard for a lot of people to justify a Pixel 6 when the 5a does such a good job at most tasks. But hardcore Android fans might choose to spring for the Pixel 6 or Pro given the improved smarts driven by Tensor.