January sales are offering big discounts on some of the best tech of 2022, and that includes one of the best cheap Bluetooth speakers you can buy at its lowest price ever. That sounds like a pretty epic deal to us!
Right now, the Tribit StormBox Micro 2 Portable Speaker is on sale for $50 at Amazon. That's a $19 saving compared to its full retail price of $69. This Amazon deal drops the micro-Bluetooth speaker down to its lowest price ever, just make sure you check the coupon box in order to get the full discount.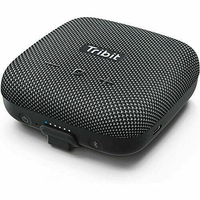 Tribit StormBox Micro 2 Portable Speaker: was 659 now $50 @ Amazon
The Tribit StormBox Micro 2 proves that big things can come in small packages. It boasts solid sound, weighty bass, IP67 waterproofing and a tear-resistant silicone strap for attaching the device to your backpack. It's the ideal portable speaker for taking just about anywhere, and is currently $50 courtesy of Amazon's New Year sales.
Here at Tom's Guide we rank the Tribit StormBox Micro 2 as one of the best budget speakers you can buy, and I've also got extensive personal experience with this miniature gadget. I took one on vacation last year, and quickly found it became a new travel essential — I've subsequently been on a few more trips in recent months and the StormBox Micro 2 has always found its way into my carry on bag.
The speaker's biggest asset is most certainly its portability. It's lightweight, compact and can be crammed into just about any sized bag, or even a large jacket pocket. It also sports a tear-resistant silicone strap, which can be used to fix the speaker to backpack straps or handlebars for listening to a favorite playlist while on the go.
In our Tribit StormBox Micro review, we were impressed with the audio quality from such a pint-sized device, and this second-generation speaker sounds even better. It's also a remarkably rugged gadget. For starters, its IP67-rated waterproofing means it can withstand complete submersion, and it can also handle snowy and muddy conditions. If you want to soundtrack an adventure in the great outdoors, look no further than the StormBox Micro 2.
When it comes to battery life, Tribit promise around 12 hours of music on a single charge. And even more impressively, the speaker can actually function as a portable charger for your smartphone. Just connect your device via the USB-C port, and you can juice up another device while still listening to music. Sure, you won't get the results you will with one of the best portable chargers, but this nifty feature works great in a pinch.
Now is an ideal time to invest in a portable speaker as the spring and summer months lie ahead, and the Tribit StormBox Micro 2 is an easy option to recommend. Especially for those who will be racking up plenty of travel miles over the next few months. So, if you are on the hunt for a small but powerful micro-speaker that is ideally suited for outdoor excursions, look no further.