The Meta Quest 2 and the Meta Quest Pro are both excellent virtual reality headsets that are easy to use and don't require a complicated setup.
That's why I'm so excited to see huge reductions on Meta hardware, with the Meta Quest 2 (256GB) is $429 at Amazon right now. That's the lowest price I've seen for the Meta Quest 2 (256GB) after the recent price hike. Even more impressive is you can get the Meta Quest Pro for $999 at Amazon; a huge $500 off. This is the lowest price I've ever seen for the Meta Quest Pro, no caveats. They're some of the best Amazon deals available right now.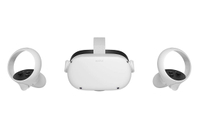 Meta Quest 2 (256GB): was $499 now $429 @ Amazon
In our Meta Quest 2 review, we called the Meta Quest 2 the best VR headset you can buy. It has an impressive game library, intuitive controls, and good built-in audio, all of which makes this one of the best overall virtual reality headsets to date. This model with 256GB storage is now $70 off its regular price.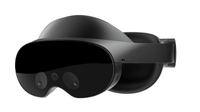 Meta Quest Pro (256GB): was $1,499 now $999 @ Meta
Lowest price! Meta's top-of-the-line headset allows you to play games and work out in VR just like the Quest 2, but with upgraded visuals and performance. It also allows you to take your immersion further with AR full-color passthrough and enhanced productivity features for working in mixed reality. At $500 off, it has hit its lowest price ever.
If you're dipping your toes into VR for the first time, the Meta Quest 2 is the headset you should get. We rank it as the best VR headset, because it's relatively affordable, comfortable to use and easy to set up. You don't need to connect to a PC to use it and it has a large software library.
Last year, the Meta Quest 2 had a $100 price hike, and it honestly still stings a bit. Still, the Meta Quest 2 is competitively priced against other VR headsets, and a $70 discount makes it more bearable. You also get two games, Golf Plus and Space Pirate Trainer DX bundled with the headset. And there will be plenty of space for more games and apps with 256GB storage.
The Meta Quest Pro still plays the best VR games, but is also made with designers, scientists and other creatives in mind. Its mixed virtual reality features get you a clear, full-color view of your surroundings while allowing you to interact with virtual elements. If you just want to play VR games, the Meta Quest 2 is probably the more sensible purchase. If you want to be a part of the Metaverse revolution, and work in a virtual office space, now's the time to pick up the Meta Quest Pro.
My biggest issue with Meta's VR headsets is their disappointing battery life. Both the Meta Quest 2 and the Meta Quest Pro last between 2 and 3 hours. If you want to use your headset for longer, the Meta Quest Pro includes a power cable, but it's less convenient to use when you're tied up to wires.
No matter which headset you choose, you'll be getting an incredible VR experience with Meta Quest. Looking for more sales? Stay tuned to our Amazon deals coverage.