Black Friday is a couple of weeks away, but you don't need to wait — there's an awesome opportunity to save on the best smartwatch we've tested right now.
The Apple Watch 9 (41mm/GPS) is $349 at Amazon. (Walmart offers the same price.) This is sure to be the most popular Black Friday Apple Watch deal ahead of the event, so make sure to grab this sale before it's gone.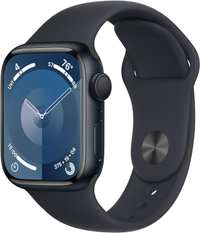 Apple Watch 9 (GPS/41mm): was $399 now $349 @ Amazon
The new Apple Watch 9 features a faster S9 chip for better performance, 4-core neural engine, and an 18-hour battery life. It also supports Apple Double Tap, a new gesture that can be used to answer/end a call, stop a timer, play/pause music, or dismiss an alarm. In our Apple Watch 9 review, we said the Editor's Choice watch got significant performance upgrades and remains the best smartwatch you can buy.
Price check: $349 @ Walmart | $399 @ Best Buy
The Apple Watch 9 is easily our choice for the best smartwatch on the market. In our Apple Watch 9 review, we said "The Apple Watch Series 9 is the best smartwatch yet thanks to significant performance upgrades and the addition of a handy new double-tap gesture."
The Apple Watch 9 comes with the new S9 processor, which delivers up to 25% faster performance. There's a 30% faster GPU, which leads to smoother visuals on screen. Plus, Siri can now execute certain commands without being connected to WiFi or your iPhone. The watch's display has gotten a boost in brightness, while still maintaining a strong 18-hour battery life. Turn on low power mode and this battery life extends up to a total of 36 hours.
Skin temperature, heart rate, ECG and SpO2 sensors are all present on the Apple Watch 9. On the software side, WatchOS 10 sports new tools for cyclists, mental health tracking, vision health monitoring using the watch's ambient light sensor.
Best of all the new additions is the double-tap feature. Rather than operating the Apple Watch with your opposite hand, you can now double-tap your finger and thumb together on your watch hand to start and end calls, send texts, set timers and start remote content capture.
The Apple Watch 9 is at its lowest price ever right now, so I recommend taking advantage of this sale before it disappears. And make sure to stay tuned to our Black Friday coverage for the best sales from across the web.