Something strange has been happening in the world of TVs — they launch in either May or June, then, in the same month, get a huge discount. I saw it happen last year with a 65-inch Toshiba M550 that sold for under $500 at launch and now it's happening again.
This time it's happening for the TCL QM8 Mini-LED TV. It's not even a month old yet, and now the TCL 65-inch QM8 Mini-LED 4K TV is on sale for $1,199 at Best Buy. That's $500 off and one of the best TV deals around.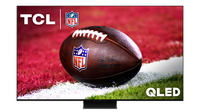 TCL 65" QM8 Mini-LED TV (2023): was $1,699 now $1,199 @ Best Buy
It's not every day that you see a brand-new TV on sale for 30% off, but that's exactly what's happening with the TCL QM8 that launched just last month. This Mini-LED TV is one of the brightest TVs we've ever tested, making it a great choice for movies and gaming. If you're ready to watch your favorite shows and films in a whole new light, we definitely recommend getting this while it's on sale.
Not only is this deal shocking because of how new this TV is, it's shocking because this is an actually good TV that has no reason to be on sale this early in its lifecycle.
Our testing, which was only just completed last week, mind you, shows that this TV is one of the brightest on the market, hitting a peak brightness of 2992 nits in a 5% window and an astonishing 2888 nits in a 25% window. Those brightness numbers crush anything that LG or Vizio have put out in the last year.
Ultra-bright but still affordable? That's Mini-LED's m.o.
If you haven't heard of a Mini-LED TV before, don't worry, we'll recap it for you. Essentially, Mini-LED uses the same technology as an LED-LCD TV except that its backlight, the actual LED part, uses tens of thousands of smaller mini-LEDs instead of larger modules.
Because they're smaller and more clumped together, not only do these LED modules get brighter but they can be controlled in smaller groups which then enhances contrast.
Amazingly, Mini-LED TVs aren't that much more expensive despite the vast improvements that they offer compared to older LED-LCD TVs. As you can see with the TCL QM8 as well as other Mini-LED TVs like the Hisense U8H, there's not a huge leap in price.
Of course, if you want the absolute best backlight control, nothing's going to beat an OLED like the LG C3 OLED — but it's going to be nearly impossible to find another 65-inch 2023 TV with this level of performance at this price point. If you want one, you'll have to act fast. (Make sure to follow our Prime Day TV deals coverage for more sales in the coming days).
More from Tom's Guide