Hisense U8H Mini-LED TV: Specs
Price: $999
Screen size: 65 inches
Model: 65U8H
Resolution: 3,840 x 2,160
HDR: HDR10, HLG, Dolby Vision
Refresh Rate: 120 Hz
Ports: 2 HDMI 2.1, 2 HDMI 2.0 3 USB
Audio: 20W + 20W
Smart TV Software: Google TV
Size (without stand): 57.2 × 35.9 × 14.8 inches
Weight (without stand): 56.4 pounds
ATSC 3.0 support? Yes
The Hisense U8H Mini-LED TV is all about bringing high-end features to a mid-level price bracket. To wit, it's packing a light sensor for Dolby Vision IQ that can raise or lower the brightness to match the ambient light in the room and a Mini-LED panel that has up to 528 local dimming zones. Its peak brightness exceeds any TV around that price, and its color reproduction is as good as some of this year's best TVs.
Not only does it have some smart-looking specs under its belt, it has some killer additional features — there's two HDMI 2.1 ports that support 4K@120Hz and on-board Google TV 11 with Chromecast Built-in. Around back you'll find a hefty sound system that delivers bass in spades, though it could be a bit stronger in the mid-range.
The really bad news? As powerful as a TV as this is, Hisense's upscaling and motion processing skills aren't on par with that of LG, Samsung or Sony's, which means some scenes you're going to notice poor motion smoothing and color banding. If those terms don't mean much to you, these issues won't ruin your experience — but videophiles might notice them and they can turn an otherwise positive experience into a sub-par one.
With the right settings and content, the Hisense U8H is the epitome of a value TV, providing strong performance for under $1,000. Put under duress with fast-motion movies or paired up with older, sub-HD content, however, this Mini-LED powerhouse lacks finesse.
Hisense U8H Mini-LED TV review: Price and availability
Update: Save $500 on the Hisense U8H Mini-LED TV at Best Buy for Black Friday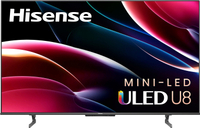 Hisense 55" U8H Mini-LED Smart TV: was $1,149 now $599 @ Best Buy
This is an excellent deal on an excellent TV. This limited-time deal shaves $550 off the Hisense U8H, Tom's Guide's pick for TV of the Year 2022 as it brings Mini-LED lighting to a more affordable price tag. Its peak brightness exceeds any TV around that price, and its color reproduction is as good as some of this year's best TVs.
The Hisense U8H review unit we tested is the 65-inch configuration, but there's also a smaller 55-inch version and a larger 75-inch version if the 65-inch screen isn't right for your room. Not sure which size to buy? Check out our guide on 'What size TV should you buy?'
55-inch Hisense U8H Mini-LED TV (55U8H): $699
65-inch Hisense U8H Mini-LED TV (65U8H): $999
75-inch Hisense U8H Mini-LED TV (75U8H): $1,499
The Hisense U8H was released in mid-2022 alongside the new Hisense U7H and Hisense U6H TVs. It's the successor to the Hisense U8G that was released in 2021, but uses a Mini-LED backlight instead of traditional LEDs. That makes a substantial difference in the picture, so we'd recommend picking the new U8H over the older U8G model.
Hisense U8H Mini-LED TV review: Design
While the Hisense U8H may not have the flattest profile or cutting-edge design, it does a good job of keeping bezels to a minimum. There's a long, noticeable silver bar along the bottom that you'll find the Hisense insignia, but the rest of the edges are all screen.
Unlike OLED TVs, the back of the Hisense U8H isn't slim. From front to back you're looking at a depth of around 3 inches. That's not unreasonable — but it's certainly going to hang out a bit if you want to wall-mount it.
The Hisense U8H uses standard VESA 400 x 400mm brackets so it shouldn't be a difficult job, but inside the box you'll also find two legs if you'd rather put it on a table.
The good news is that the legs can be placed further apart if you want more stability or closer together if the table that you're placing the TV on isn't very wide. This offers some decent versatility in where you can place the TV.
Hisense U8H Mini-LED TV review: Ports
In terms of ports, you've got four HDMI ports on the back. Two of those ports will support 4K@120Hz, while the other two only support 4K@60Hz. That's not incredibly uncommon on mid-range models like the Hisense U8H, but having all four of them be full-spec HDMI 2.1 would've been great and would probably cause fewer headaches.
Besides HDMI, the rest of the ports include an RF antenna input that hooks up to an ATSC 3.0 tuner, and a single composite video input, as well as two USB ports. For sound you can connect via the 3.5mm headphone jack on the side or optical digital audio or 3.5mm serial input on the back, or go wireless with Bluetooth. Inside the TV has an 802.11 ac Dual-band Wi-Fi antenna or you can use the Ethernet port on the back.
Hisense U8H Mini-LED TV review: Performance
In terms of performance, the Hisense U8H is a roller coaster, with some of the best performance we've ever seen from a ULED TV in terms of brightness, contrast and color saturation, but extremely lackluster when it comes to motion processing and upscaling.
A great example of both the highs and the lows of the Hisense U8H happens in The Batman, when Bruce confronts Falcone about what really happened before his parents' deaths. In it, there's an incredibly heavy grain that the U8H's processor just can't clean up. While the colors look great, it's the digital clean-up process that really fails to do the film justice.
This is backed up by our testing. Using an X-Rite i1 Pro spectrophotometer, a SpectraCal VideoForge Pro pattern generator and Portrait Displays' Calman calibration software, we measured an incredible 1,300 nits in a 10% window right out of the box in Standard mode with 99.6% of the Rec.709 color gamut covered. That's significantly higher than most LED-LCD TVs you're going to see out there, minus one or two of Sony's top models.
If you switch the modes to its calibrated settings, you can easily squeeze upwards of 2,000 nits from the TV and 80% of the Rec. 2020 color standard. For a mid-range TV, these numbers are extraordinary.
The problem here is when you put these numbers against real-world content, especially content that isn't native 4K HDR. Everything from YouTube videos to HD Netflix streams just don't pop the way they do on other TVs with the same specs and performance data. That doesn't mean they look bad, however. For the price of the TV, shows and movies are fine. It's just that the numbers tell one story of a TV that punches well above its weight class, while the real-world viewing data suggests that it's performing right where it ought to.
One issue we noticed was some noticeable color banding, where in sunsets you could see a distinct cut off point between the end of one hue and the start or another rather than one flowing mural. Another issue was the way in which it handles motion, as objects simply look blurry when they're in motion. Thankfully, you can turn motion interpolation off entirely in the settings, but it's a shame motion processing isn't a bit better than what it is.
The good news is that, as you'd expect with a Mini-LED TV, there's no noticeable blooming and the black levels look great. For HDR content, the U8H provides a great experience and gamers won't have an issue with motion or lag time as the U8H supports auto-low latency mode and 120Hz VRR.
Hisense U8H Mini-LED TV review: Audio
Audio performance is a lot like the HDR performance — it's great. The U8H has two 10W speakers and a 20W woofer that handles dialogue and dynamic audio with aplomb. Normally difficult-to-hear dialogue like the whispering that happens in the Red Keep in House of the Dragon became instantly more discernible when watching it on the U8H and the volume of the iconic introduction music was enough to rattle the walls.
Of course, you might not want blaring bass at all times, so it's worth playing around in the sound settings a bit to get things how you like them.
If you really want to milk the most out of this system, though, you'll want to connect it to a Dolby Atmos soundbar. You can pass Atmos signal to a soundbar using the eARC port on the back of the TV, which is nice for folks who are ready for the full effect of spatial audio.
Hisense U8H Mini-LED TV review: Interface and apps
On-board the U8H is Google TV, the successor to Android TV — and arguably one of the better smart TV platforms on the market right now.
What we like most about Google TV is its ability to surface content that you might like from any number of streaming services. Like Roku, Google TV is fairly agnostic — it doesn't really care which streaming services you use and won't refer you to one more than any others.
Although it's responsive and speedy right out of the box, we're of course worried about how well the platform will age on this model. Yes, it has a decent processor, but Google TV is a resource-heavy platform with lots of graphical elements. You can always add on a smart streaming stick sometime down the road once Google TV starts slowing down, but ideally you would be able to use the smart platform built into TV for its entire lifespan…something other Hisense TVs have had problems with.
Hisense U8H Mini-LED TV review: Remote
The pack-in remote for the U8H is like the design itself: it's functional but maybe not stylish. While LG includes a Wii-like motion remote with its OLED TVs, the U8H's remote is a simple Bluetooth voice remote with a built-in microphone and hot buttons to the most popular streaming services.
The remote feels nice in the hand, but it would've been great if Hisense found a way to include a remote finder feature just in case it gets lost in the couch.
That said, there's not really as much innovation happening with this Hisense remote as, say, Samsung's new remotes that can now charge off of both sunlight and RF energy from your Wi-Fi router, but the U8H's remote is very functional if nothing else.
Hisense U8H Mini-LED TV review: Verdict
The Hisense U8H doesn't bring down the house with its performance, but thanks to its Mini-LED backlight it does shake the foundation of what it means to be a mid-range TV. Its specs are truly eye-watering for the price, as were the results from our tests.
Admittedly, though, the real-life results didn't really live up to the hype. Some scenes looked brilliantly crisp and colorful with exceptional contrast while others couldn't quite clean up the grain or handle motion in a way that didn't look unrealistic.
Tweak a few settings and you'll find that things can become substantially clearer, but if you were hoping for a fantastic out-of-the-box experience, you'll not find it here.