Sure, you could pick any model from our list of the best TVs to pair with your PS5 or Xbox One Series X, but there are some TVs that are better for gaming than others — and not all of them break the bank.
So what do the best gaming TVs have in common? They combine a particular set of features to produce a great gaming experience like a 120Hz refresh rate or better, HDR support for a wide range of formats, two or more HDMI 2.1 ports, Auto Low Latency Mode and more that really take your games to the next level.
With those specs in mind we've curated a list of three TVs you can buy right now that are great options if you're looking to upgrade your TV gaming setup. We also are going to warn you against a TV that — while appealing — should be skipped over for one of our three recommendations.
Buy this: LG C3 OLED TV
The LG C3 OLED TV was recently described to me as the best gaming TV we've ever tested. And while it currently hasn't replaced the LG C2 OLED TV on our best gaming TVs buying guide, if you read through our LG C3 OLED review it's not hard to see why this will contend for the title of best gaming TV.
This OLED TV comes fully loaded with features. There's a 120Hz panel with Variable Refresh Rate (VRR) and Auto Low Latency Mode (ALLM) to get the most out of the TV's four HDMI 2.1 ports. You also get support for Nvidia G-Sync and AMD FreeSync Premium. Software features literally boost the performance — using the Boost function of the built-in Game Optimizer took the input lag we measured in testing from a respectable 12.9ms to a blistering 9.1ms.
In short, this TV is excellent, and that excellence translates to the gaming experience as well. The OLED display provides beautiful picture quality and you get support for HDR10, Dolby Vision and HLG to take that quality a step further. The sound isn't amazing, so you'll need one of our best soundbars to make your setup complete. And at $2,399, it's easily the most expensive TV of the three I'm recommending. But if you want the best of the best, the LG C3 OLED is it.
Buy this: Hisense U8H Mini-LED TV
I'm going to cheat a little and recommend two TVs here. But let's start with the Hisense U8H Mini-LED TV.
This TV ticks all the boxes you want from a great gaming TV and it does it for a lot less than the LG C3 OLED. At $999, this TV costs just a fraction of the price of the LG OLED. And you still get a ton of the same great gaming features. 120Hz VRR, ALLM, support for HDR10, Dolby Vision and HLG — it's all there. You only get two HDMI 2.1 ports and the picture isn't quite on the level of the LG, but with a peak brightness that's truly stunning (1,300 nits in a 10% window in standard mode), the Hisense U8H Mini-LED is still an excellent choice for gamers.
But it's not currently our pick for the best gaming TV in our best TVs buying guide. That honor belongs to the Hisense U7H QLED TV. The panel on this TV can't match the peak brightness of its more expensive sibling, but you still get all the gaming features from VRR to HDR. And at just $549 for a 55-inch model at Best Buy, you cannot get those features for a better price. So if your primary concern is gaming, the Hisense U7H is probably a better value.
Buy this: TCL 6-Series Roku TV
If you want a high-end gaming TV, go with the LG C3 OLED. But if you want a mid-range gaming TV, the Hisense models have some competition from last year's TCL 6-Series Roku TV.
If you look at the spec sheet for the TCL 6-Series, it will have a lot in common with the Hisense models. Support for HDR10, HDR10+, Dolby Vision and HLG, two HDMI 2.1 ports and ALLM are all standard on the TCL 6-Series. But this TV does have a couple of tricks that the Hisense doesn't.
First, the input lag on the TCL 6-Series crushes both Hisense TVs. In our testing, the Hisense U8H and U7H both produced a respectable 14.6ms signal lag in gaming mode. But the TCL 6-Series only had an input lag of 10.1ms, which is truly exceptional. The other trick that the TCL has is a 144Hz VRR display panel — an upgrade over the 120Hz VRR featured on the other TVs we've discussed so far. You'll need a gaming PC plugged into one of the TCL's two HDMI 2.1 ports to unlock that 144Hz VRR and its a feature limited to the 55-inch and 65-inch models, but this is a feature that gives the TCL 6-Series a reason to be considered over the other models on this list.
The best part? Both the 55-inch and 65-inch have the same features, so if you need a smaller TV or want to save a bit of money, don't be afraid to go for the 55-inch. It's currently just $649 at Best Buy, which is a great price for such an excellent TV. I personally would pick the Hisense U7H over the TCL, but if you want the TCL 6-Series Roku TV's 144Hz panel over the Hisense's 120Hz panel, I don't blame you.
Skip this: TCL 4-Series Roku TV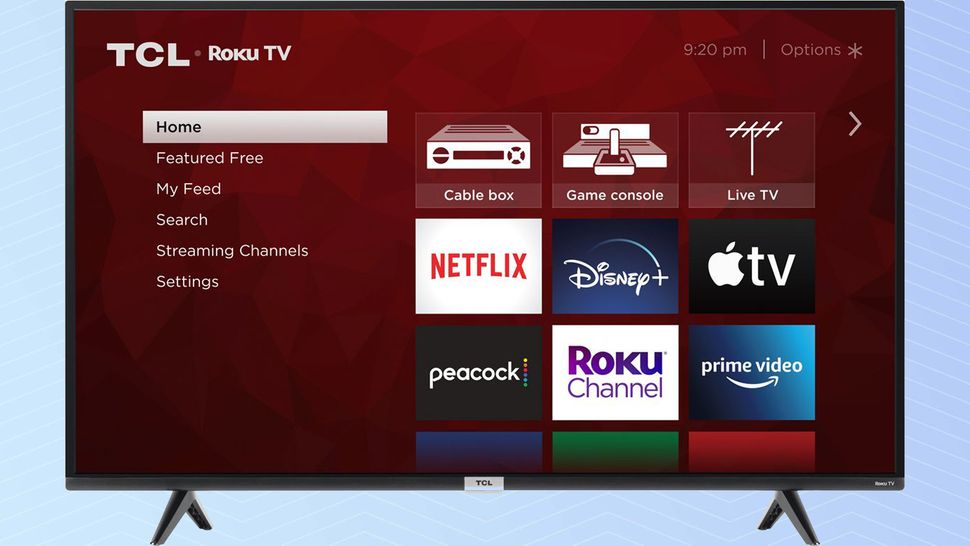 Given all the praise I just heaped on the TCL 6-Series Roku TV, you might be shocked that I'm advocating against its cheaper sibling. But I promise you, when it comes to gaming, the TCL 4-Series Roku TV doesn't come close to the 6-Series.
There's no Dolby Vision HDR support on the TCL 4-Series. There's no Dolby Atmos support either. Do you want ALLM to improve latency? Well then don't get this TV, because it isn't there. There are no HDMI 2.1 inputs either and its display panel only has a 60Hz refresh rate. That's a far cry from the 144Hz VRR you get from the TCL 6-Series.
The input lag also suffers significantly, as the TCL 4-Series only manages 14.1ms lag. That's not terrible — it's slightly better than both Hisense TVs — but it's sluggish compared to the 10.1ms lag the TCL 6-Series produced in our testing. Brightness also suffers, with the TCL 4-Series managing just 292 nits in a 10% window in standard mode. That's nearly 1,000 nits less than the Hisense U8H.
But the TCL 4-Series also costs about 50% less than even the Hisense U7H. Right now, you can get last year's 55-inch TCL 4-Series TV for just $279 at Best Buy. And if you just wanted a cheap 4K smart TV, it'd be tough to beat that price.
However, as a gaming TV, the TCL 4-Series just doesn't have any of the features you want. So for that reason, we recommend skipping it and paying a bit more money for significantly better features and performance.
More from Tom's Guide