Black Friday deals are coming in hot now that just a few days away from the start of the shopping season. If you're looking for the best tablets, now is the time to save big thanks to some incredible Black Friday tablet deals. To that end, I wanted to spotlight one of the best Samsung tablets that's big enough to double as a laptop.
Right now, the Samsung Galaxy Tab S8 Ultra is just $799 at Best Buy. That's $400 off the full $1,199 price — making this one of the very best deals out there. Though the Samsung Galaxy Tab S9 Ultra exists, its predecessor is still one of the best Android tablets thanks to its solid performance and gorgeous 14.6-inch display. We're not sure how long this deal will last, so act fast before stock runs out!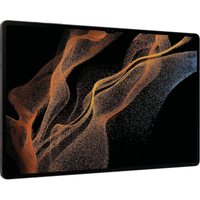 Samsung Galaxy Tab S8 Ultra: was $1,199 now $799 @ Best Buy
The Samsung Galaxy Tab S8 Ultra screams: "Go big or go home!" This gargantuan slate has a 14.6-inch OLED display, a Snapdragon 8 Gen 1 CPU, 16GB of RAM and 256GB. If you need the biggest Android tablet possible, this is a deal worth taking advantage of.
At 12.85 x 8.21 x 0.22 inches, the Samsung Galaxy Tab S8 Ultra is one of the biggest tablets I've ever reviewed. Despite its enormous size, it's surprisingly light at 1.04 pounds. While it's not easy holding it in one hand, it's certainly comfortable holding it with two. Overall, the Tab S8 Ultra shares the same light and slim chassis that Samsung's flagship slates are known for.
The ginormous 14.6-inch (2,960 x 1,848) 120Hz AMOLED display is the Tab S8 Ultra's defining feature. Its screen is bright and vibrant and makes whatever you're looking at — from YouTube videos, streaming content and games — look stunning. The 120Hz refresh rate ensures that web pages scroll smoothly and that apps open quickly, though you can lock it to 60Hz to conserve battery.
This configuration features a Snapdragon 8 Gen 1 chip, 16GB of RAM and 256GB of storage space. That's plenty of power for web browsing, watching videos and playing some Android games. DeX mode, which readjusts and repositions apps and windows to make the display resemble a desktop works well enough. However, if you frequently use laptops, you'll find DeX mode lacking. It's responsive, but it doesn't feel as snappy or as fast as Windows 11.
The slate comes with the usual slew of Samsung apps. If you like Samsung's software then you'll be happy with the offerings on the Tab S8 Ultra. For instance, Samsung Flow is a standout piece of software that allows you to transfer files between Samsung devices and PCs. Receiving Tab S8 Ultra notifications on my PC and vice versa is very handy.
The Tab S8 Ultra has two front-facing 12MP cameras capable of shooting regular and ultrawide shots. On the back, you'll find 13MP and 6MP cameras. All cameras can record video at up to 4K resolution and at 60 frames per second. Auto-framing technology pans the camera to keep you in the frame and works well during video calls.
Note that this sale is only for the Samsung Galaxy Tab S8 Ultra. If you want the optional Book Cover keyboard, you'll need to shell out an additional $349. And while this is a small consolation, you can use the $400 savings to purchase the keyboard cover. Other than that, this is a fantastic deal worth taking advantage of now while supply lasts.