This week it's been reported that the hotly-anticipated Star Wars Jedi Survivor will likely demand a hefty 150GB of install space on PS5, so now might be a good time to consider upgrading your console's storage with one of the best internal PS5 SSDs.
Right now, this XPG 1TB Gammix S70 Blade SSD is on sale for $66 at Best Buy. That's a sizable discount compared to its regular list price of $109, and it's also the lowest price we've ever spotted for a 1TB PS5 SSD. You'll need to be quick though as the retailer warns that this deal is set to end tomorrow (Thursday, April 20).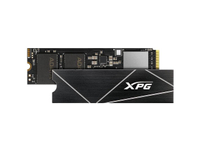 XPG 1TB Gammix S70 Blade SSD: was $109 now $66 @ Best Buy
This 1TB PS5 SSD from XPG has dropped to just $66 at Best Buy. This is the lowest price we've ever spotted for a console-compatible drive of this configuration. There are a few caveats with this model (including a longer formatting process) but it's still one of the best PS5 internal SSDs you can buy. This is the ideal purchase if you want to boost your storage capacity ahead of the release of blockbuster titles like Star Wars Jedi Survivor and Diablo 4.
While this XPG drive does make our list of the top PS5 SSDs, it comes with a couple of caveats that are worth flagging. For starters, in our testing, it took noticeably longer to format than rival drives such as the WD_Black SN850 and Samsung 980 Pro. Plus, while it does come with a heatsink, you will need to manually attach it yourself. This can be a slightly finicky task, but at least it doesn't require any form of additional tools.
Nevertheless, once the heatsink is attached, and the drive is safely slotted into the PS5's storage expansion bay, this SSD shines with a read speed of more than 6,000MBps and specifications that meet all of Sony's requirements for a compatible drive. Plus, this model adds an extra 1TB of storage space to your console without sacrificing the 667GB stock hard drive, so after the installation is complete, you'll have a roomy 1.6TBs to play with.
If you want to install several of the best PS5 games at once then this PS5 SSD deal can't be missed. It will considerably boost your available hard drive space, and thanks to this Best Buy sale, it currently costs less than the price of a new AAA game.
Alternatively, if you demand even more storage, there is also a 2TB model on sale for $124 which is also a solid option, but we'd avoid the very pricey 4TB model for $299 as that much additional storage space is definitely more than the majority of users will ever need.