As a fitness editor, I review sneakers for a living, so I know what I'm looking for when it comes to workout shoes. I want them to be comfortable, to fit well, and to be supportive as I run, squat, and walk around. So when I heard all of the hype around the Skechers slip-in shoes, I decided to put them to the test over 100 miles.
The result? I was impressed — if you're looking for a super-cushioned, super-comfortable pair of slip-on sneakers, you won't find anything more comfortable than the Skechers Slip-in Max Cushioning Smooth shoes. They're wonderfully plush and really do make you feel like you're walking on clouds. The best part is, they're currently on sale ahead of Amazon's October Prime Day sales event.
Update October 9: This deal appears to be in stock but it may not be available in your size.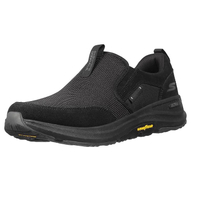 Skechers Go-Walk Slip-On Hiking Shoes: was $84 now $60 @ Amazon
The Skechers Go-Walk slip-on shoes are currently on sale in the men's sizes on Amazon. You'll have to cycle through the different colorways and sizes to find a pair at the discounted price, but there's still plenty in stock at the time of writing. This is the hiking variation, with extra grip for clambering over uneven terrain.
It's worth mentioning that I didn't test the hiking variety of these shoes. From the get-go, I found them extremely comfortable. I could easily wear them all day, but I wouldn't have recommended them for longer trails, as they simply weren't grippy enough. This variety, on the other hand, appears to have a gripper outsole, making them better suited for outdoor workouts.
The shoes are also, by design, wonderfully easy to slip on and off, so if you have mobility issues, you're traveling a lot, or you're just looking for shoes you can slip on in a hurry after a yoga class, these are fantastic.
If they're not for you, Amazon also has a number of other Skechers shoes in the early Prime Day sale event.