I need a new iMac. As much as I love my iMac 5K, it's slowly starting to show its age. If you're in the same boat as I am, you'll want to listen up.
Right now you can get the 2023 iMac 24-inch (M3/256GB) on sale for $1,199 at B&H Photo. That's $100 off and the first price drop I've seen on Apple's new Mac. And trust me, I've been actively looking for deals on this iMac.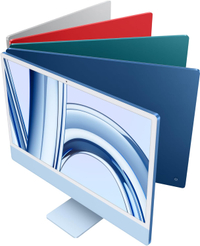 Apple iMac (M3/256GB): was $1,299 now $1,199 @ B&H Photo
First price cut! The new iMac (M3) sports Apple's latest M3 processor and is 2x faster than its predecessor. In our iMac M3 review we said the new chip makes this iMac more capable of multi-tasking, gaming and getting things done than any iMac before it. The base configuration sports a 24-inch 4.5K display, M3 CPU with 8-core GPU, 8GB of RAM, and a 256GB SSD. It's $100 off for the first time.
Price check: $1,299 @ Amazon | $1,299 @ Best Buy
The new M3-based iMac is the best all-in-one computer on the market. In our iMac M3 review we called it the best iMac yet and the best all-in-one for families. The new Apple M3 chip makes this iMac more capable of multi-tasking, gaming and getting things done than any iMac before it.
In our testing, we never felt limited or bogged down by the system's lack of resources, and we were able to seamlessly go from task to task while keeping 20+ tabs open in Chrome and streaming music from iTunes with absolutely zero slowdown. In our Geekbench 5 (single-core) test, the new iMac hit a 2,235 score. By comparison, the HP Envy 34 (2022) scored 1,621 and the iMac M1 scored 1,739.
If you're deciding between the Mac mini M2 or the iMac M3, it's worth mentioning that the performance differences are small in a few areas. While the M3 chip outperforms the M2 in basically every test, the difference was pretty meager in terms of raw CPU performance and disk read/write speeds. Even in our video editing test, which times how long it takes a PC to transcode a 4K video file down to 1080p using Handbrake, the M2 Mac mini is just as fast as the new iMac M3 able to convert the file in 6 minutes and 46 seconds. Likewise, if you have an iMac M1, there's no massive performance upgrade in the new iMac M3, despite that it skips over the M2 processor.
Buy now or wait for Black Friday? iMac M3
The iMac M3 is an awesome machine and a solid buy if you want an all-in-one. Could it get cheaper on Black Friday proper? I doubt it. iMac deals are fairly hard to come by and not a single retailer is price matching B&H's deal right now. (I'm looking at you Amazon and Best Buy). Yes, the Apple Store will announce its annual Black Friday sale in a few days, but instead of a dollar-off discount, Apple will likely bundle an Apple gift card with your purchase. Additionally, because the iMac M3 is new, it's likely it won't even qualify for Apple's gift card deal. My advice — get this deal before it expires on November 18.