The Apple M3 chip hasn't officially been announced, but sources claim it could potentially arrive as soon as the end of the year.
If what we've heard so far is accurate, the M3 chip could give future Apple computers a severe boost in power and performance. However since Apple hasn't yet said anything publicly, it's best to take everything we've heard with a grain of salt.
With that said, here's what we know so far about the Apple M3 chip.
Apple M3 chip: Latest news (May 16)
Apple M3 chip: Rumored release date
In his Power On newsletter, Bloomberg's Mark Gurman reported that Apple has started testing third-party apps on Macs packing M3 chips to ensure software compatibility with the company's ecosystem. As the experienced Apple reporter notes, we've seen early glimpses of new chips through this process in the past, such as with the rumored 15-inch MacBook Air.
Gurman's sources claim the first Macs with M3 chips will arrive either at the end of 2023 or in early 2024. Previously, both Gurman and leaker Revegnus, claimed Apple won't release M3-powered MacBooks or iPads in 2023. According to the latter, TSMC can't produce enough M3 chips for Apple's next-gen tablets, laptops and desktops. iPads and Macs with the new generation of silicon will only appear in 2024.
So whether it's late 2023 or early 2024, it shouldn't be long until Macs with M3 chips arrive.
Apple M3 chip: Rumored specs
The Apple M3 chip will allegedly use TSMC's 3nm process. Apple would be the first company to use this advanced process node, if true. In practice, this would make the next MacBook Air and iPad Pro far more powerful than their predecessors which use TSMC's 5-nanometer technology.
According to Gurman's sources, Apple has tested a version of the M3 Pro chip with 12 CPU cores, 18 GPU cores and 36GB of memory. The CPU will be made up of up to 6 high-performance cores and 6 efficiency cores. Apparently, this particular chip was running in a future "high-end" MacBook Pro with the upcoming macOS 14 and will allegedly be the base-level version of the M3 Pro.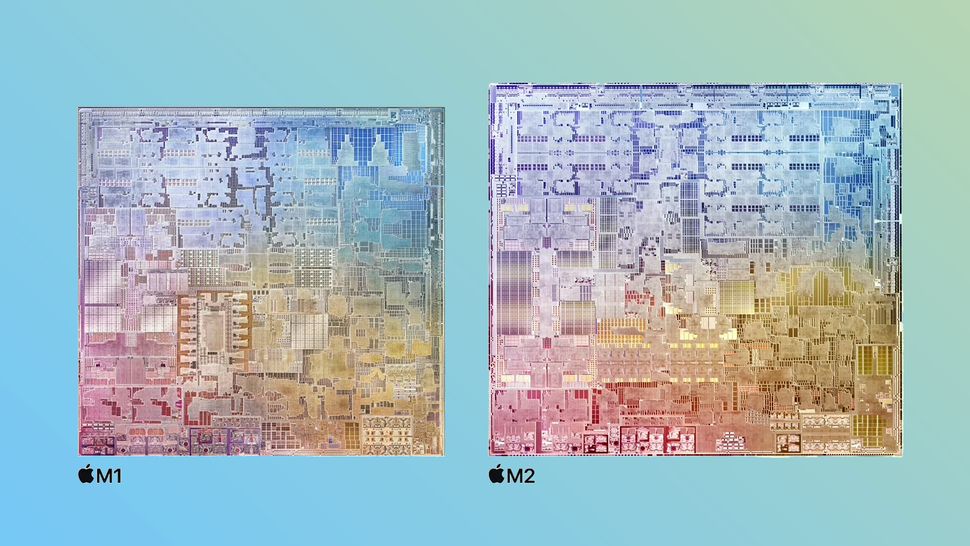 For reference, the M2 Pro chip features a 10-core CPU, a 16-core GPU and 16GB of RAM. If true, the increase in core counts over the M2 Pro would be identical to the jump from the M1 Pro to the M2 Pro. Gurman speculates that if the M3 Max received a similar gain as the M2 Max (compared to M1 Max), it would mean the next high-end MacBook Pro might pack 14 CPU cores and perhaps more than 40 GPU cores.
Along that line of speculation, an M3 Ultra chip could have up to 28 CPU cores and over 80 GPU cores, which would be up from the 64-core limit on the M1 Ultra chip.
Apple M3 chip: Outlook
The Apple M3 chip is still very much in the realm of speculation but it's possible that Apple might at least announce its rumored new processors at WWDC 2023. Even if we don't hear any M3 chip-related news, we should see our first glimpse at the long-rumored 15-inch MacBook Air, along with other M2-powered MacBook refreshes.
Though Macs like the MacBook Air M2, Mac mini M2 and MacBook Pro 16-inch 2023 (among others) offer better performance over their respective predecessors, it's not the same leap seen when Apple switched from Intel chips to its own silicon with the original M1 chip. This is likely one of the reasons Apple's Mac business suffered a 31% sales decline last quarter. If Gurman's latest report on the M3 chip comes to pass, we could see a substantial boost in computational power over M2. Perhaps that will reignite interest in Macs.
We'll update this page with all the latest Apple M3 chip news, rumors and leaks we come across. Stay tuned for more!
More from Tom's Guide