I might be slightly guilty of sounding a little too definitive when recommending tech products I own, so apologies in advance. But screw it. The LG C2 OLED is by far the best TV I've ever owned.
And I should know. Over the past few years, I've owned a looooot of OLEDs. The LG E6, the LG B8, the LG C8 and the LG C1. Phew! I'll be the first to admit I upgrade TVs at an alarming rate, but the LG C2 beats the pants off every other 4K television I've bought in the past. It's such an amazing screen, and it fully deserves to sit atop our list of the best TVs.
Right now, the 55-inch LG C2 OLED TV is on sale for $1,196 at Amazon — a hearty $300 discount off its regular $1,499 price tag. Getting what I consider to be one of the best OLED TVs ever made for under $1,200 is close to a steal in my book. Though granted, it's still a fair chunk of change.
Update Aug 11: This LG OLED TV deal is still in stock for now.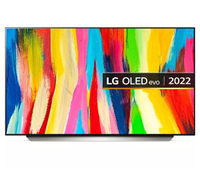 LG C2 OLED 55-inch TV: was $1,499 now $1,196 @ Amazon
This exceptional 4K OLED is my favorite TV of all time... and I've owned a lot of televisions. Contrast is superb, HDR performance is really strong for a traditional W-OLED panel and I can't think of another display I've ever had a better time playing video games on. You also get a 120Hz refresh rate, four HDMI 2.1 ports and easy access to all the best streaming services.
While this year's LG C3 OLED remains an excellent 4K TV, it's considerably more expensive than the C2 and doesn't offer quite the same bang for your buck as the 2022 model. Not only is the panel more or less identical to that of the C2, there's very little between the two sets in terms of brightness. The C3 hits a respectable HDR brightness of 820 nits, while the C2 is only a tiny bit behind, measuring 794 nits. That's a razor-thin difference.
I'm such a big fan of the LG C2 OLED, I own two of them. One is a 77-inch beast that is wall mounted in my living room, ready and waiting for me in the evening when I want to watch the best Netflix shows or play the best PS5 games. The smaller 48-inch model lives in my home office, acting as part of a double act in my dual monitor setup.
Using a 48-inch OLED TV as a PC monitor may sound like overkill, but honestly, it's amazing. I love my Alienware AW3423DWF QD-OLED — for my money, it's one of the best gaming monitors you can buy. Yet while its 21:9 aspect ratio is perfect for juggling multiple browsing windows, intense Photoshop work and playing racers and first-person shooters on, that ultrawide aspect ratio isn't always well suited for story-driven titles.
That's where the LG C2 comes into its own. Though ultrawide support for cutscenes in games has gotten better over the years, many titles still display chunky vertical black bars when cinematics occur. That's obviously not a problem for a 16:9 display like the LG C2 OLED, which is a truly sensational screen to play the best PC games on.
While I've not played my gaming PC as much as I should have this year, the amazing contrast and endless blacks OLED as a tech offers has at least ensured what titles I have spent time with have looked amazing. Playing the excellent PC version of Resident Evil 4 at 4K / 120 fps remains one of the highlights of my gaming year.
If you're in the market for a new TV, there's not a screen on this planet I'd recommend as highly as the LG C2 OLED.
More from Tom's Guide