One reason to invest in a MagSafe charger for iPhone is because of the extra utility you'll get experiencing StandBy Mode with iOS 17. Your iPhone will double as an alarm clock, and you can quickly access widgets like stocks, calendar and photos.
If you're looking for a travel friendly option that can fit easily into your pocket, right now the ESR Kickstand Wireless Power Bank is just $33 on Amazon — which is nearly 50% off.
What's even better about it over other MagSafe chargers is the extra utility that it offers, since it's effectively a portable battery bank that lets you charge all of your favorite gadgets. With its 10,000 mAh battery capacity, you can get nearly two charges using it on newer models like the iPhone 15 and iPhone 15 Pro.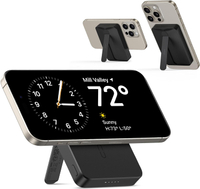 ESR Kickstand Wireless Power Bank: was $63 now $33 @Amazon You can save 47% off right now on the versatile ESR Kickstand Wireless Power Bank. Why carry pesky charging cables and adapters when this is the single iPhone charger you'll need. it also supports Standby Mode in iOS 17, so you can use your iPhone as a mini alarm clock.
ESR's been making some impressive accessories and MagSafe chargers, including its folding 3-in-1 MagSafe Charging Stand, which we love for how it folds down to nearly the footprint of a credit card. While the ESR Kickstand Wireless Power Bank is chunkier, it's still portable enough to throw in a backpack to let you charge while on the go.
Thanks to the magnetic connection of MagSafe and its built-in kickstand, you'll be able to use iOS 17's Standby Mode almost anywhere. In fact, you could use it in the office to let your iPhone act as a digital photo frame — or in the living room at home to act as a smart home hub to control the lights and other connected smart home devices you have. As a bedside addition, it can transform your iPhone into an alarm clock complete with dynamic clock faces.
When you're on the road or vacation, it's basically the only charger you'll need because its USB-C port will also charge other phones, smartwatches, and accessories.
There are MagSafe chargers that cost just as much, but they often don't double as a battery bank — nor are they this compact in size, which is why the ESR Kickstand Wireless Power Bank is hard to pass up on. For more savings, see our roundup of the best early Black Friday deals now.
More from Tom's Guide