When I'm traveling, even if it's just commuting to the office, I like to pack very light. That's why I always keep the ESR 3-in-1 Magsafe Travel Charger Stand in my backpack. Insteading of having to bring all the pesky charging cables for my favorite Apple gadgets, I can charge them with this folding MagSafe charger.
I've been using it for a couple of months now, but it's currently 22% off after October Prime Day — which makes it $69 for a limited time. It's one of my favorite things still
happening after Prime Day sales.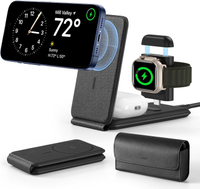 ESR 3-in-1 MagSafe Charging Stand: was $89 now $69 @Amazon You can save 22% off right now on the versatile ESR 3-in-1 MagSafe Charging Stand. I always make sure to keep this in my backpack because it can charge my iPhone, AirPods and Apple Watch simultaneously.
Normally I'd have to bring a Lightning cable to charge my iPhone 14 Pro Max and AirPods Pro 2 — along with a charger for my Apple Watch Series 8. Well, the beauty in the ESR 3-in-1 MagSafe Travel Charger Stand is that it can charge all three gadgets simultaneously. There's the MagSafe wireless charger for my iPhone, while a smaller cutout behind it lets me charge my AirPods Pro 2 and Apple Watch Series 8.
Even better, I love how it makes for the perfect deskside companion as I work throughout the day because of StandBy mode with iOS 17. Not only is it like having an actual clock on my desk to see the time, but it also acts as a smart home hub and digital photo frame.
Another thing I love about this MagSafe wireless charging stand is the fact that it's incredibly compact. I'm talking about something as thin as my wallet, which can be stowed away easily in my pocket when it's time to pack up and go. You can't get better charging utility in such a compact design