We, like you, have been scouring the Black Friday deals that have launched early for some excellent offers on new smartphones. And it so happens that one of the best Black Friday phones deals we're likely to see this year is already live for the OnePlus 11.
You can currently buy the OnePlus 11 for $549 from Amazon, Best Buy or OnePlus' own online store. Buying from Amazon or Best Buy means you can parcel it into one of your other shopping season orders, with Best Buy also offering further discounts via trade-in. Getting the phone from OnePlus also lets you get a trade-in offer, along with 550 RedCoins (the OnePlus Store's loyalty points system) and discounts on further items such as the OnePlus Tablet, OnePlus Buds Pro 2 or 6 months of 100GB cloud storage for free with Google One.
We know the OnePlus 12 is waiting in the wings, but that doesn't mean you should pass the current model over. In fact, sitting in our best phones guide as the best value pick, this OnePlus 11 deal only makes that phone more tempting. And the fact you have a choice of three different stores to buy it from means it'll fit in with whatever your Black Friday shopping plans are.
Just note that this deal is for the basic model with 8GB RAM and 128GB storage which only comes in the Titan Black colorway. If you want the full-fat 12GB/256GB model in Eternal Green, you'll need to spend more.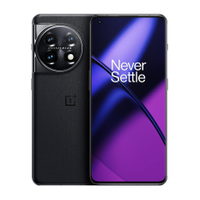 OnePlus 11 (128GB storage): was $699 now $549 @ Amazon
This is the OnePlus 11 deal to get if you're only interested in the handset itself, and why wouldn't you be? It's a powerhouse of a phone, but still offers power-efficient performance, great cameras and a large, bright and colorful display for your gaming and streaming needs.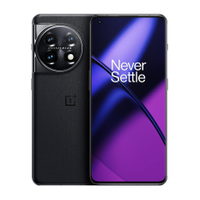 OnePlus 11 (128GB storage): was $699 now $549 @ Best Buy
Best Buy will give you this excellent OnePlus flagship phone for the same price as Amazon, but you can take the price down further with a trade-in.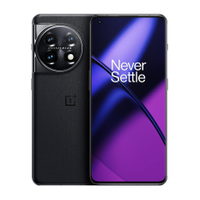 OnePlus 11 (128GB storage): was $699 now $549 @ OnePlus
Buying your OnePlus 11 from OnePlus itself gets you the same great flagship-grade phone, but with the added special offers of further trade-in discounts, money off of other items and more.
Check our OnePlus 11 review, and you'll see that the phone's excellent battery life and even better charging speed (thanks to its included 80W charger), its powerful Snapdragon 8 Gen 2 chipset, and its brilliant display are the key reasons we love this phone beyond its attractive price (which is only more attractive now there's 20% off). I can vouch for all of these myself, as I spent a few weeks testing the OnePlus 11 in everyday scenarios, and my trips to the charger between races in Grid: Autosport and YouTube video marathons were infrequent, and didn't last long when they did happen.
Its Hasselblad cameras are strong, with the main, ultrawide and selfie cameras producing particularly bright and colorful images. It's a shame that the zoom camera only offers 2x zoom as opposed to the more common 3x or 5x magnification, but it's still ideal for taking portrait mode photos of people and objects.
One minor frustration is that there's no wireless charging on the OnePlus 11, which is unusual for a modern flagship phone. As long as you're happy hunting for a USB-C cable when your phone needs power, even if it's only for a little top-up before heading out for the day, I think this is something you can easily set aside as a concern.
If you've made up your mind about buying the OnePlus 11, then head over to our main Black Friday deals to find other great offers to take advantage of this November. But if you're not convinced by this OnePlus deal, no matter. Keep an eye on our Black Friday phone deals page for updates throughout the next two weeks for the best available offers.