I loved the JBL Bar 1300X soundbar when I tried it out with my big-screen TV at home. The Dolby Atmos performance blew me away on movie night at the full asking price. It delivered big, immersive multi-channel soundtracks, and I wouldn't mind betting that it sounds even better with $700 off.
Right now, the JBL Bar 1300X is just $999 at Best Buy. That's more than 40% off the original $1,699 list price that comes packaged with a wireless subwoofer and detachable Dolby Atmos surround speakers. That's still a lot, I know, but this is an amazing deal and likely to be its lowest price for Black Friday. Similar deals can be found at Amazon, Crutchfield, and Walmart.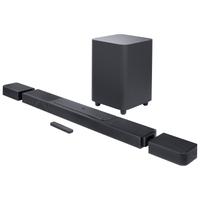 JBL Bar 1300X w/sub and detachable surround speakers: was $1,699 now $999 @ Best Buy
Save $700! This 11.1.4-channel soundbar with wireless subwoofer and detachable Dolby Atmos surround speakers blew me away on movie night. In fact, I'd say that it's one of the most versatile Dolby Atmos Soundbars I've heard, delivering big immersive, multi-channel soundtracks. It's a contender for one of the Best Dolby Atmos soundbars and comes equipped with Wi-Fi with AirPlay, Alexa Multi-Room Music and Chromecast built in. This is the lowest price I've seen for it so far.
Price check: $999 @ Amazon | $999 @ Crutchfield | $999 @ Walmart
Although I haven't reviewed the JBL Bar 1300X for Tom's Guide, I've spent months using this Dolby Atmos soundbar with wireless subwoofer and detachable speakers as part of my home theater setup. It's perhaps not as glamorous looking as the new Bose Smart Ultra Soundbar or the Sennheiser Ambeo Plus I've reviewed. But in terms of sound output, I'd say that the JBL is one of the most versatile Dolby Atmos soundbars I've tried, delivering big, immersive 11.1.4 multi-channel sound for my favorite shows and movies.
The detachable surround speakers are a master stroke, and they really came into their own at the back of the room with big movie soundtracks like Extraction 2. With 1,170W of power output on tap, the JBL delivered a spectacular performance with every grueling action sequence, aided by the partnering 12-inch wireless subwoofer.
The JBL Bar 1300 runs 54-inches wide beneath the TV screen (it can also be wall mounted), so you're going to want to partner it with one of the Best 55-inch TV screens (or larger). The setup is Wi-Fi compatible, and has AirPlay 2 and Chromecast built-in.
The two detachable surround speakers are battery powered, meaning they can quite literally be placed anywhere to create a true surround experience. JBL claims that they can run wirelessly for up to 10 hours; in real world use, I managed to get about three days with them detached watching TV for several hours a night before the front display on the soundbar popped up to tell me that the charge was getting low.
Topping them up is simply a case of reconnecting them to the ends of the main soundbar. There's also a USB-C power socket on each speaker to keep them topped should you want to keep them permanently installed as rear speakers, rather than having to regularly reattach them to the main soundbar. You can also pair one of the detachable wireless speakers to any Bluetooth device to use as a standalone speaker, or pair them together for stereo sound.
It integrates with popular music streaming platforms via a new JBL One app, and there are customizable EQ settings for a personalized listening experience. Alexa, Google Assistant, and Siri voice-activated assistance are all on board.
Make sure to snag this deal before it disappears. Plus, stay tuned to our Black Friday deals coverage so you don't miss out on the best sales from across the web.